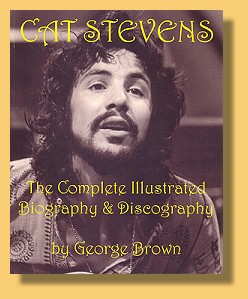 CAT STEVENS
THE COMPLETE ILLUSTRATED BIOGRAPHY & DISCOGRAPHY
IS AVAILABLE NOW!
NEW INTERVIEW NOT YET PUBLISHED!!! Just how did Cat Stevens get his name? Find out by clicking here.
. LAVISHLY ILLUSTRATED - A VALUABLE RESOURCE OF RARE AND UNPUBLISHED MEMORABILIA
· FEATURES INTERVIEWS WITH COLLEAGUES AND FELLOW TRAVELLERS
· DETAILS HIS SPIRITUAL DEVELOPMENT AND HIS RECENT RETURN TO THE CONCERT STAGE AND RECORDING STUDIO
· FINALIST IN THE ARSC (Association for Recorded Sound Collections) AWARD FOR EXCELLENCE IN THE FIELD OF RESEARCH IN ROCK MUSIC CATEGORY - HISTORY AND DISCOGRAPHY ....arsc-audio.org
PRICE INFORMATION:
UK= £12 + £2 postage and packaging
USA = $21 + $10 air shipping or + $5 surface
All other countries please email for price information
Now Accepting PAY PAL

MAILING INFORMATION:
Please make cheques payable to: George L. Brown
Enquiries: george.henry-brown@virgin.net
SUBLIMINAL MESSAGE FOLLOWS: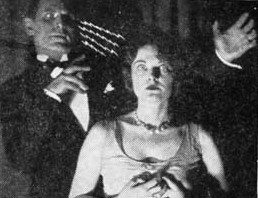 "BUY THIS BOOK TODAY"

Small Bio ~~~~~~~~~~~~~~~~~~~~~~~~~~~~~~~~~~~~~~~~~~~~~~~~~~~~~~~~~~~~~~


"In 1967, he was the Cat that got the cream. Steve Georgiou became Cat Stevens and a teenage pop sensation overnight. He was a prolific writer of songs for himself and others. By late '68 he was washed out and had almost died with a bout of tuberculosis – he was miserable with the whole pop process. His re-emergence in '70 was with more integrity and with perfect timing – riding the "singer-songwriter" wave with James Taylor, Carole King, Joni Mitchell and others. His thoughtful, spiritual and reflective material ensured a string of top selling albums. In America especially, the term "super-star" could not have been more appropriate. A dozen albums later in '78, Yusuf Islam, formerly known as Cat Stevens, announced he was leaving the music business for good. He was solely committed to the Muslim faith and said that everything he had wanted to say was written in the Qur'an in any case. He had no need to continue and there were far too many contradictions in the music world of sex and drugs and rock'n'roll. Today, he has mellowed in his views on his past. This biography traces his musical and spiritual career. It is the most comprehensive account to date and an indispensable reference point for seekers of his musical output. It contains details of the most obscure releases and collaborations he has made over the years – with complete and extensive discography.
George Brown is a 52 year old resident of Leigh-on-Sea in Essex, England. An ardent '60s pop music archivist and long term Cat Stevens fan, since listening to the pirate radio stations in the '60s. He began researching Cat Stevens for a magazine article and expanded it into a book, which he continues to update for future editions."