Cat Stevens in Paris
This wonderful little article with it's rare photographs comes courtesy of Majicat user, Hardheadedsfthrtd. Because the article is written in Dutch, which neither of us could read, it has been placed into the on-line Bablefish translator. As you know, on-line translators aren't really reliable and can make articles sound more comical than they really are. By using this process though, we are at least able to interpret most of what was written, but please bear in mind it's strange wording.
______________________________________
Popshop Magazine (Netherlands)
November 20, 1977
Courtesy of hardheadedsfthrtd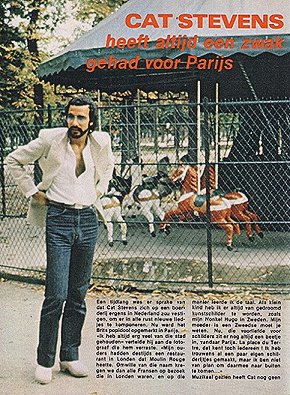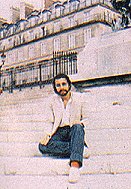 Babelfish translation:

Time-long was of it talk that Cat Stevens would establish himself on a farm somewhere in the Netherlands, for songs new in all rest at to compose. Now the British pop idol was noticed in Paris. "I have always terrible much of that city kept" told he to the photographer which him surprised. "My parents had then a restaurant in London that Moulin Rouge hot. Because of that name we got then all French on a visit which was in London, and this way learned I the language. As a small child I have always dreamed of art painter to become, suc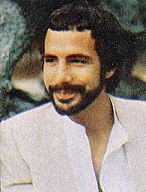 h as my uncle Hugo in Sweden. My mother is Swedish must you know. Now, that craze for painters sits there still a bit, hence Paris. La Place du Tertre, which nevertheless knows everyone! I have as a matter of fact already a couple own paintings made, but I am not of plan with that to come outside... "

Musically Cat have seen concrete still no plan. "Look, I have then had tuberculosis, and afterwards still a throat operation. It had all do something with over fatigue. Hence that I no longer hurry myself. I compose if I have in this sense, I no longer make myself nervously. As an artist I have come on a point that I can permit myself that. Which you cannot if you are new... "