MOJO

September 2006

Courtesy of Murphy Anderson
In The Studio This Month
YUSUF ISLAM
Title: TBC
Date: October
Production: Yusuf Islam and Rick Nowels
Songs: There Is A World, One Day At A Time, Don't Let Me Be Misunderstood, Heaven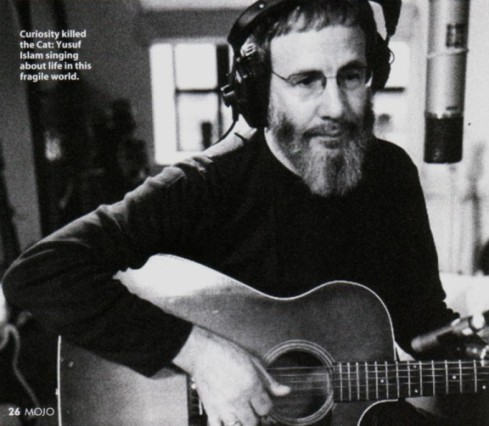 The Buzz "Today there are probably 101 good reasons why I feel right making music and singing about life in this fragile world again." Yusuf Islam
Yusuf Islam, the artist formally known as Cat Stevens, retired from the music industry in 1978. In the intervening years he has devoted himself to his Muslim faith, Islamic education, and other charitable works; of abandoning the pop success he'd enjoyed since 1966, he would later write, "The only real regret I have is that the link that existed between those who listened to my songs and me ceased to exist."
His first album of pop songs in 28 years may be seen as an attempt to re-establish that link. Recorded in London and Los Angeles in approximately five two-week periods between December 2004 and December 2005, it was co-produced by Islam with Rick Nowels, whose writing and production credits Madonna, Dido and K.D. Lang.
"I am a huge fan of Cat Stevens' music," says Nowels, who adds, "[the recording was] fantastic, one of the best musical experiences of my life. I got to sit on the floor in a big recording studio with a couple of acoustic guitars and help him put his songs together… All his musical powers are there."
There is enough in the warm, melodious music that resulted in make those who've missed Cat Stevens feel a glow of recognition.
The music is played on mainly natural acoustic instruments and predominantly acoustic-guitar driven, with Islam's voice striking unchanged since the '70's. While songs are open to religious interpretation – see the orchestral, pleading cover of "Don't Let Me Be Misunderstood", or the gentle "One Day At A Time" and it's references to the gardens of paradise- they are harmony with the spirituality of his early, ostensibly secular work. "Musically it's a contemporary Cat Stevens record," said a spokesman. "It's not a religious record per se, but one which seeks to understand the gulf between ideologies. It doesn't set out to preach, more to question the position taking that causes so much strife in the world. There is a direct connection between what Cat Stevens was trying to achieve musically and the songs by Yusuf Islam."
As well as singing Islam played the central guitar parts, piano and keyboards. Among the musician who contributed are Cat Stevens' guitarist Alun Davies, and keyboardist Jean Roussel, double bass player Danny Thompson, string player John Themis, percussionist Luis Jardim and former 'Damned' member Lu Edmonds, who played oud, darbuka and saz. On one song additional vocals were provided by Youssou N'Dour.
Early reports have compared the album to the 1971 Cat Stevens LP Teaser and the Firecat, though Rick Nowels disagrees. "The songs are reflections of where he is now in his life. I would say that hs is conscious of starting a new chapter, of creating a Yusuf Islam body of work."