Record Mirror
18th March 1967
Courtesy of Linda Crafar
The Missing Walker Brothers Tour Date
I often wondered, why there were 25 dates shown on the Walker Brothers Tour flier, but only 24 actually known performances. I mentioned something to Linda Crafar about this one day, so she decided to do some research on what happened to the missing concert date. Linda's reasearch paid off and this small article may explain the discrepancy.
---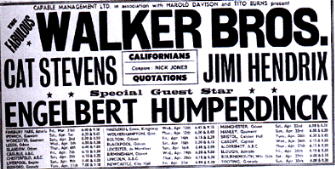 Walker Fans Protest & Scott Blames Promotors
Hundreds of girl pop fans have protested on learning that The Walker Brothers' Tour will not be visiting Hadleigh, Essex, as advertised. The Nationwide Tour, which includes Cat Stevens, Englebert Humperdinck and The Jimi Hendrix Experience begin on March 31 and was due to give two evening performances at Kingsway Theatre, Hadleigh.
However, as the promoter has not put up the required deposit to the tour organisers, they have now switched the date to the Gaumont Southampton. Scott Engel comments: "We are furious about this sort of thing, it's not fair on the public and it's not fair on the artists. It's usuaIly us who gets the blame from fans who don't realise that it's promoters and such people who cause the trouble."