Go-Set
Snippets
September 2, 1972
Courtesy of Linda Crafar
---
Cover
Cat Arrives! Wild Scenes At Sydney Airport
Fan mania reared its head in Australia again last Sunday when more than 300 Cat Stevens fans gave him a riotous welcome. As soon as Stevens emerged from the customs gates, police and excited, enthusiastic fans surrounded the touring cat. Police had their hands full protecting him from the fans.
Police formed a ring around the stunned Stevens and tried to rush him to the waiting car but fans broke the human barricade and tore at Stevens's clothes, causing him to stumble and almost fall.
Once inside the car Cat was able to relax once more, safe from the enthusiastic fans, some of whom had clambered onto the bonnet of the car to catch a look at him.
Go-Set will be doing a full coverage of the tour, the behind-the-scene happenings, reports of Cat on stage and special insights into the star. Our London representative Michele O'Driscoll is travelling around the country with Cat.
Charts Page 2
Top 20 Albums
1 (1) Thick As A Brick Jethro Tull Reprise MS 2072
10 (10) Teaser And The Firecat Cat Stevens Island SIL 934323
Welcoming Advert Page 4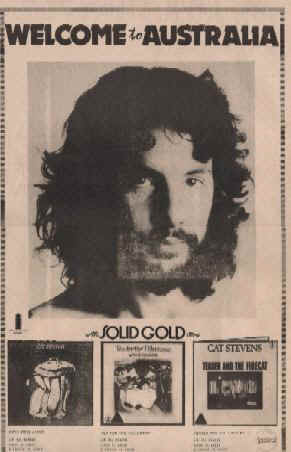 Flashes Page 19
Cat Stevens' support act, Rambling Jack Elliot, was added to the Zimmering concerts because Stevens wanted Jack to replace Alun Davies' spot of opening the show. Cat Stevens is apparently a perfectionist so he thought Jack was more appropriate than Jill….no, I mean Alun.
Winners Page 20
Below are the names of the lucky people who have won albums from the Festival Records competition.
Cat Stevens album Judy Friendlander 8 Borambi Place, Longueville, 2066
Write On Page 21
Cat's Promoter Replies
Dear Sir,
I would like to attention my letter to 'Me" Perth, "Low on the Doe" "Start Scabbin" and "Penny Squeezer" The Paul Dainty Corporation has always played its acts in Perth as part of the Australian circuit because we feel its not fair to only take the "profitable" shows over. I must explain here that certain shows, because of enormous freight costs and the number of people travelling, make it impossible to recoup costs and show a profit and lets face it promoters should not be expected to work for weeks on end risking enormous sums of money for no return. After all you wouldn't go to work every day for a month if you knew you wouldn't be paid at the end. However, in our case we look at it slightly different in as much as we consider that if the Perth public support us on the shows when we do make money then we should present the unprofitable ones as well. To sum up, Paul Dainty really cares about the people who support him however; it's not fair to ask all promoters to think as he does.
I have read with interest the various comments on the price of the Cat Stevens tickets, and I have found one very valid point. THE PEOPLE COMPLAINING ARE THE ONES WHO HAVE NOT BEEN ABLE TO OBTAIN TICKETS. I had really given up on the general attitude of today's teenagers when out of the blue. Start Scabbin and Penny Squeezer returned my faith in the young Aussie. Congratulations to you both for your attitude and your initiative and I'm sure there are plenty more young people with the same outlook, we just haven't heard from them yet. Thank you.
RON BLACKMORE

Tour Director

The Paul Dainty Corporation (Aust.) Pty. Limited.
---
Links to September 2, 1972 Goset articles.