Disc & Echo Magazine

Saturday, 21st January 1967

Written by Penny Valentine

Courtesy of Linda Crafar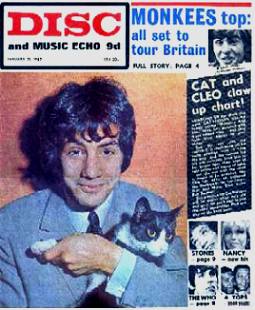 Cover Story
Cat And Cleo Claw Up Chart!
Charging up the chart this week: Cat Stevens, with his highly catchy "Matthew And Son". Here, he's pictured with a cat named Cleo - and they both have plenty to purr about! Cat, the one with the capital C, is confirming all his early promise with "I Love My Dog" and the current big hit will certainly keep him in far better fare than cups of cold coffee and pieces of cake. Cat, the one with the small c, ought to be grinning, too. Cleo has, after all, captured the front-page for her owner, Disc and Music Echo writer Bob Farmer! But grinning for Cat Stevens will be easier when he's old and grey. He can't wait to join the older generation. Find out why on page 16.
---
CAT: What A Drag It Is Being Young
By Penny Valentine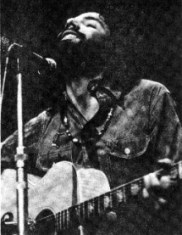 The lyrics in Cat Stevens' songs would imply that he was a simple person involved with the simple things in life. Working for a rotten boss, loving his dog, here comes his baby looking fine.
But his attitude to life is far removed from the Brian Wilson image of soft, understandable things: He has a habit, unnerving, of falling-off sofas when you interview him, sticking on his dark glasses, hugging three orange cushions and generally rolling around. A psychiatrist might say this showed a distinct lack of security.
"I used to feel very sorry for myself. When I was about 15 I used to lock myself away and draw and think I was the only person who ever thought about anything. It's God's gift like just to me, I used to think. Then one day I was talking to my friend and found out that he could think too and that was a gas. I really started writing because I was lonely. My parents ran the shop all day and there was me stuck, in the middle of Soho. I grew up very quickly. Well, what do you think in an area like that? I'm not being silly. It has an effect on you growing up in London, rather than Tooting or somewhere you can see animals running around. I couldn't ride a bike because my parents thought I'd get killed.
My parents didn't really have a happy life and I wasn't really happy. I never had a big family thing. I used to see my mates and then around 5 p.m. they would go home and have a tea time. I never did have a tea time because my parents weren't in. I used to think it was pretty rough. It made me a bad mixer. Now I hate parties. Immediately I walk into a room full of people, I think — bang there goes my identity. Terrible."
All these things contributed to the being of Cat Stevens, song writer. He locked himself away in Soho and wrote and wrote, knowing that one day he would be discovered.
"It's funny, because although I was lonely I always felt secure within myself until I came into the business . Now I'm frightened. I was scared stiff that 'Dog' would be a gigantic smash because of trying to follow it up. As it was I spent longer on 'Matthew' than on anything else I've ever written. I'm not mixed up but when I try to sit down and work out what I am, it worries me because I don't know. All I know is I'm a liar. I lie all the time. And I find myself getting into violent arguments with myself through lying. And I'm very money conscious. Well, why not admit it? I have two worlds. The world of my music which I love and the world of money which is great. But I like to know where my money is all the time and what's happening to it. It worries me. I like money."
It is often hard to realise that Cat is only 18. He hates being young and is looking forward to being an old man with an enthusiasm that is almost terrifying.
"I think being a kid now is hard. That's why they all look old and worried. The pressures are too great. They don't get a chance to really enjoy themselves. They should really have a new world, more than any other generation. But they're still put down. The older generation seems to be very stubborn. When I'm old I'm sure I'll be very happy. I'm looking forward to it and the sooner it happens the better. It's peace of mind. It's knowing what it's all about and not having to chase yourself round in circles. Being old will be great."
What will definitely not be great as the devious and successful life of Cat Stevens progresses is the delicate subject of love. It is something he is very worried about.
"One day I'm going to meet the right girl and I'm going to come unstuck. I'm keeping things very casual at the moment because I've been in love once and it ran my life. It just took me over — like that! It was a fatal period — I was in a daze all the time. And at the moment I can't afford it. I want to concentrate on my work."
Which might lead you to believe that Cat may be a rather lonely person for quite a long time to come.
---
Snippets-Disc & Music Echo- Saturday 21st January 1967
Chart Climbers Page 3
Top 50 Chart
1 (2) I'm A Believer - Monkees - RCA Victor

5 (21) Matthew And Son - Cat Stevens - Deram
Hit Talk By Ron Wood
Cat Stevens is very nervous on stage, but I think it's a great number and I like the big backing. He'll be here for quite a while.
Stars In The News Page 4
Top Of The Pops
Tonight's (Thursday 19th January) 'Top Of The Pops' TV - Cat Stevens, Georgie Fame, Move, Jimi Hendrix, Wayne Fontana, Tremeloes, Searchers plus films of Four Tops and Monkees.
Palladium
Cat Stevens—whose "Matthew and Son" shoots to number 5 in the chart this week—makes his Palladium TV debut next month. Two dates have been offered — either February 12th or 19th.
He also appears on the Mamas and Papas' bill at the Royal Albert Hall on February 16th.
At Tiles, London, on February 10th an evening will be devoted to Cat and titled "Cat On The Tiles."
He is on "Doddy's Music Box" (January 28th ), "Monday, Monday" (30th ) and "Parade Of The Pops" (February, 4th). He tours Scotland for three days from February 17th, and may make a major tour of Britain in March.