Go-Set Magazine (Australian)

Sauturday, August 19, 1972

Written by Michele O'Driscoll

Courtesy of Linda Crafar
Tea With The Tillerman
A World Exclusive Close-Up On Cat Stevens
What's he really like? Is he as unco-operative as we're led to believe? Is he a total introvert? What does he eat? What does he wear?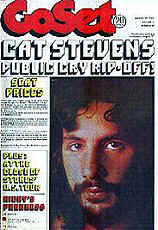 I've been back in Australia a mere 24 hours, but it seems 90% of my time has been spent answering endless queries about a certain Mr. Cat Stevens.
Back in London, the great wad of press cuttings received each Monday, gave some indication of the singer/songwriter's popularity Down Under, but I could never have been prepared for the barrage of questions that greeted me on my arrival. The cat, himself, has little or no conception that he is some sort of Pop Messiah here and, if he did, I'm sure he'd be more than a little terrified.
I guess Cat Stevens is a success more by accident than design — though he is undoubtedly an ambitious young man. However, like the James Taylors, Joni Mitchells, CSN&Y's etc, he has always been elusive as regards press, television and radio. Hard-core media people all over the world often complain about The Cat's reluctance to talk about himself and generally believe he owes it to them because they assisted him in the past.
This is an argument that holds little water as Cat Stevens has rarely used media as his means to reach the public. As has happened so many times in the past, the media people simply jumped on the bandwagon after Cat's records were selling in the hundreds of thousands, witness the fact he has never been extensively promoted in Australia where, on a population basis, he has had more success than anywhere else in the world. At this stage, 23 Gold Albums are waiting for him at Festival Records in Sydney.
As I pointed out in my Go-Set interview two weeks back, Cat Stevens believes "words take you nowhere" and he elaborates on this:
"When I do an interview, I'm never satisfied. There are always things I wish I had said".
Conversely, in his songs, Cat can crystallise any chosen situation and make you wish you'd thought of expressing yourself as eloquently. Most of all, his lyrics closely deflect the ideology of millions of young-thinking people in the world today. We can so easily identify with "Father And Son", "Where Do The Children Play", "Peace Train" or "If I Laugh". Within these songs lies the key to Cat Stevens' philosophy, both theoretical and practical.
On the other hand, there are more abstract pieces which capture the mystique of Cat Stevens. Songs like "Into White", "The Wind" and "Lilywhite". Yet whatever you read into these songs is fine. Interpret them as you wish and put, a little of yourself into them.
Cat Stevens has done this with the hymn "Morning Has Broken" the only song he has recorded which he hasn't written ("Portobello Road" from his early days was written in collaboration with Kim Fowley"). For the word "recreation", he has substituted "recreation". Whereas the former means creating afresh, the latter infers some sort of folly. That is how Cat Stevens views God's role in our universe. He feels we and the world we live in are the result of God's recreation:
"I have made it my song," he told me. "As you can separate my musical philosophy from the way I live," is how he puts it.
While he is almost embarrassingly "open" in many tunes —"Lady D'Arbanville" for example —he still holds back just enough to keep you wondering; eager to discover more; anxious for the next album to be released. In my own case, I found him much more considerate and fiery than the business people surrounding him had led me to believe. In fact, it took three sedatives to put me in a frame of mind where I was able to talk to him at all. Of course, I should have remembered the words of praise lavished on him by those closest to him; lovely people from the Cat family. like Alun Davies and Del Newman.
It was Alun who helped the interview atmosphere tremendously by going to Steve, unsolicited, and saying some very nice things about me. This resulted in Steve's secretary phoning the next day to save Steve suggested I go to his home instead of the recording studio to do the interview. As you can imagine, Steve has made a good deal of money in the past couple of years, yet he chooses to live very simply. His house is just another semi-detached in the working-class suburb of Fulham. He asks if you'd like tea and wanders into the kitchen to boil the kettle on the floor. If he senses you're a little ill at ease in his territory (I never feel quite at home at someone else's place unless I've known them for ages), he suggests a walk in the fresh air. If he thinks you're paranoid about doing the interview (and you are because you actually think he's right not to talk to the press) he remarks: "Michele. I'm speaking to you with affection — don't worry. I'm enjoying the questions — keep asking them. I'm sure you know a great deal more about me."
Of course I do, but I explained I didn't want to pry too deeply. It must be slightly disconcerting to have someone read you like a book on first meeting. You see. Cat Stevens takes his time getting to know and trust people — an admirable trait, I have to admit, and one I endeavour to possess myself. Because of this and the fact I am female rather than male (making him slightly more wary) I've learnt very little about the man from my encounter with him.
Being on tour will possibly decide whether or not we are meant to be friends. Either way, my life is richer by far since I discovered Cat Steven. For that, I'll be forever grateful.
Goset Cover Story and Snippets