CIRCUS MAGAZINE SEPTEMBER 1973
Written by Steve Gaines
'Foreigner'

Cat Puts An End To'The Cat Stevens Sound'
"I don't want to go on playing predictable me,' Cat said impatiently in his white London house. "I've got to introduce an element of shock."
The cat is not just back, the Cat us black. Mr. Moonshadow Stevens was sitting at the end of a long brown sofa in the London office of Island Music lightly stroking the ends of his shaggy beard as he spoke. Slim, intense, and magnetically attractive, his conversation had drifted to his last United States tour. "The tour turned me around several times," Stevens said, his dark brown eyes staring at an upright piano on the wall opposite him. "After leaving the States I sat down to ponder what I had been doing and I realized I'd been gradually getting into a very predictable state." The results? "I said I've got to stop this and introduce an element of shock."
Only a man of Cat Stevens aspirations would feel that his present position cried out for a revitalizing jolt. With four gold albums tucked under his arm, no one else imagined his career as boring. Yet shortly after returning to his London home last fall, Cat Stevens decided to throw away the musical formula that had made him into a superstar in three short years. Along with his lavish orchestrations and violins, Stevens dropped guitarist Alun Davies and bassist Alan Jones to emerge with a fifth album that is as radically different from his previous LP's as it is brilliant.
Bitter brawn sugar: Aptly titled Foreigner (on A&M Records) the album is a total departure from the sweetly melodious past into driving R&B music. Not only did the Cat record Foreigner in Kingston, Jamaica, but he employed an all black group of session musicians and a trio of wailin' black girls who could give a dozen Merry Claytons stiff competition. But why did the Boy who Loves his Dog cross the color line into R&B? The story has its roots back in September of 1970. When a naive and emerging pop star first arrived among the concrete towers of Manhattan isle.
"I had a romantic, delightful image of New York, and suddenly I got there and couldn't believe the aggression that was going on." From behind the tinted windows of a black limousine, he watched the people wander through the dirty streets of the city, unsmiling, hostile, lost. Later that night he sat in the whipped cream luxury of a suite at the St. Regis Hotel and penned the lyrics for a song that sowed the seeds of Foreigner.
How many times must I get up

Look out and see the same old view

How many times must I wear the same old things

And hear the same old things that I do
"I had hoped the States would be different for me than England had been," Stevens explains with a sad and knowing smile. "But things are the same everywhere." "How Many Times" was put on a shelf to collect dust as Stevens turned his attentions to his first appearance at New York's.

Fillmore East. This trip was only a scant eighteen months after his recuperation from a collapsed tubercular lung. During the months he had spent in bed, Stevens had gotten into Yoga, studied metaphysics, and had written a lot of new songs that reflected his new, introspective thinking. Incorporating the tunes into an album called Mona Bone Jakon (a title rumored to be about Cat's affection for his erect genital), Cat Stevens had started on his way to international stardom.

Genital joy: Along with success came a total lack of privacy and never-ending stream of business obligations. He was stopped on the streets for autographs and was cornered in restaurants by loving fans who wanted to snap his picture. The Cat arched his back at the public's intrusion into his private world and reacted by spending more time hidden away in his white London house.

But Mona Bone Jakon was just the beginning. Tea for the Tillerman established Cat as a melodic, moving artist extraordinaire in the United States. And the next LP, Teaser and the Firecat, hurtled Cat Stevens into undeniable supremacy as one of. The leading solo male singers in the world. Not only did Teaser sell into the millions, but it was swiftly made into a children's book with original drawings by the singer. At the end of that year Cat Stevens' words had been translated into eleven different languages, including Japanese. Yet the limelight was pushing the retiring young man further into seclusion. For almost a year he refused all interviews and shied away from any form of publicity.

Cool spat in the heat: It was in that year, 1972, that Cat Stevens purchased a terraced house on a quiet street off London's North End Street Market. It became a secluded oasis on a desert that burned with the hot sun of the public's eye. First the Cat decorated one floor like a discotheque: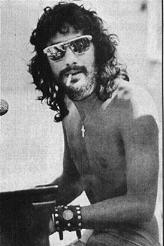 "I play records and entertain there. It's a great room for people who want to feel nice and watch a fish tank or something." On a higher floor Stevens designed what he calls "My Little White Room." It has the barren quality of a farmhouse. As he describes it, "There's no furniture, one bed, and a bathroom." In the corner stands an omnipresent symbol—a stark white upright piano. It was in this room that Foreigner would be written, but not until Stevens' next trip to the United States had convinced him it was time to shake up his sound.

Catch Bull at Four was released in the fall of 1972, and Stevens was off to America for a third grand tour. "I'd do an album," Stevens explained, "and then I'd do a tour in September in the States. The whole thing was becoming so obvious I felt like I was becoming a puppet to myself and other people."

The radio messiah: Halfway through the thirty-city trans-American trek, Stevens knew he was suffering from on-the-road blues. "I wasn't really enjoying going onstage every night. I got very paranoid and started to think I was drying up. I said, 'What's wrong with me? This wasn't the reason I started."' As the Cat Stevens caravan criss-crossed the United States, the Greek-Englishman started to think about why he was writing and what he was writing about. "I came to the conclusion I wrote because I was in love—whether it was with a girl or just with life. I realized that I'd been writing about things that I'd never experienced, things I'd only imagined."

It was then that Stevens began to make his drastic decision. On the road without a record player, he found himself constantly listening to the radio. "The best stuff I was listening to at the time was black. It was during the end of the September U.S. tour going from Los Angeles to New York. Certain things caught my ear. One thing I really got into was Stevie Wonder."

Black bonfire: Just before reaching New York the Cat took a side trip to Miami to see an old friend who was always turning him on to new music. One night, with the tropical sun setting and the palm trees waving in the wind, Stevens heard an album by a Philadelphia soul group called "The Blue Notes." "As I listened to it, it all started to seep in. Suddenly I realized that the whole of my musical upbringing had been dealing with black music. It was the stuff I had grown up on in England. In the very beginning I went through the whole blues thing—kind of like getting into black music through the back door. Leadbelly has always been one of my favorites. I realized that most of the time I had been naturally affected by black music."

His career, however, had evolved from a strong acoustic influence. "I had been pushed into acoustic things like James Taylor, Carole King, and Elton John. I took a look at the white music and said, 'I'm part of all that.' I felt kind of strange. I turned around and I was a foreigner to myself. I felt like that wasn't me anymore. I snapped out of it. I don't want to go on playing predictable me. I don't want to act me, I want to be me, and I'm changing at the moment. If black music was happening, I decided to just get down to it. And because I was a stranger in the world of black sounds, I called the album Foreigner."

Inside the Cat's pajamas: A New York concert at Philharmonic Hall was Stevens last stop before returning to London and his white composing quarters. He wanted Foreigner to sound black musically, but lyrically his songs were to be in much the same style that he was already associated with.

Although all of Foreigner can be considered a masterpiece, the seven songs that comprise the "Foreigner Suite" (which occupies the entire first side of the album) are breathtakingly brilliant. Oddly enough, the "Foreigner Suite" begins with an announcement to its listeners. Stevens was sitting in his Little White Room trying to write an opening song when he thought, "Here I am writing words that will be heard by millions of peopie and I realized how many various explanations there were going to be of this song. So I put a lecture in at the beginning."
There are no words I can use

Because the meaning still leaves for you to choose

And I couldn't stand to let them be abused

By you, you, you
After a delightful electric piano rag, the suite swirls into an optimistic tune called "Sunny Side of the Road."
Dreams I had last last night

Make me scared

White with fright

Over to that sunny side of the road

Over to that sunny side of the road.
"It's just my manner of being positive," Stevens explained recently as he strode to the far end of Island Records' London office. "Wherever you are, at any time, there is something good about it. Most of the time a lot of people go around being negative. If everybody thought about good things instead of bad, we'd be better off."
Graveyard express: Though Stevens tries to look at the happier side of things, his bout with TB has left some strong feelings about his own mortality. "The Hurt" is a cut that sums up his feelings about death and a constant search for happiness. "I don't think there's anything that's going to make me happy. I've got money and fame and a great career, but I'm still not really happy." Is there a positive side to not being happy? As far as Stevens is concerned being positive doesn't necessarily mean you exist in a cloud of blissful euphoria. "There's no way you can go through life without getting hurt," Cat says, but pain can offer you an understanding of why you are living in the first place:
Until I got hurt

Until I got hurt

I didn't know what love as...
"I realize I'm heading straight for death with no detour, and I want the moment of my death to be as free as possible."

One of the most sensational cuts on the album is called "Later." Stevens explained that he wrote it when he was feeling a little horny, but the lyrics explain themselves.
Later

I want to talk it out with you

Try to get my message through

That's not all I want to do

Later!

I want to feel your body close

from your head down to your toes

Maybe help you fold your clothes

Later!
Key to the gilded cage: This past winter, when The Foreigner's lyrics and basic melodies were composed and ready for production, Cat Stevens made the announcement that he was flying into the Caribbean sunshine to record. Not only had Stevens shocked the music world by dismissing his long-time sidemen Alun Davies and Alan James, but for the first time in three years he was producing his own album. And that's when the soul sounds really set in.

If Cat Stevens felt like a foreigner to black music when he began this album, he certainly must be considered a friendly neighbor now. Soul music, however, may still be just another passing phase in this remarkable performer's life. "I'm opening up more because I want to listen to any kind of music. I don't want to say, 'That's not my bag.' I'll listen to anything. Free thought in music has got to be the food for my freedom."