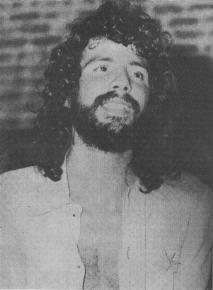 "Hold on for Cat Stevens," said the voice at the other end of the telephone line. "Sure, sure," I thought to myself. But the voice that came on next was unmistakable.

"I'm in a hurry and can't talk now," said Cat, "but please come over to the Sheraton tonight at 7. We're having a press conference because tonight's concert is being canceled. Thank you and goodbye."

"Thank you," I said, but I didn't even know if he was still on the line. Then I spent the rest of the day deciding whether to go to the press conference. It would probably be packed with people yelling out silly questions and a total drag. But I finally yielded to curiosity and went over. And I was glad, because that night I discovered Cat Stevens' hidden beauty secrets.

It all happened because not many people found out about the press conference. Most of them were probably at the concert hall sadly reading the notices of the cancellation, which was due to Cat's having cut his finger on a pane of glass at the hotel swimming pool.

Cat waved around his left hand, showing off the huge white bandage, and everyone in the small hotel room nodded.

There were only two other reporters besides myself, along with one reporter's wife; Cat's guitarist, Alun Davies, Cat's road manager, and a young doctor and some of the road crew.

After the champagne was passed around, Cat explained the medical details briefly, but then instead of dismissing the party, he opened the floor to any questions. This was most unusual, because offstage, the cat has usually got Cat's tongue. He rarely talks to the press, and some nasties claim that he is so tight lipped that he doesn't say more than two words a day to his closest friends.

Well, that's not true for sure, because that night, he told the small group at the hotel some very unusual and revealing things.

For instance, I asked him about a smelly rumor concerning him. "I've heard that you once told someone that you never washed because --, " I started.

"---it takes away your body oils," he finished for me. "Yeah, that's what my dad told me. He said that when you have a cold, the obvious thing is not to wash your body. And when I do wash, I don't use soap.

"I never use soap. And that's a Swedish idea (Cat is part Swedish and part Greek), believe it or not. They hardly ever use soap on their faces. That's why they've got that kind of complexion.

"I wash, but just in cold water. Apart from the hair, which actually does get so greasy I have to do it. By the way, I hardly catch any colds at all."

Not only does Cat thrive on cold showers, but he just loves being on the road on his own, with no direction known. "I've even given up my residency in England," he said. "I have nowhere that I'm intending to stay. And I personally like that feeling. I know it makes me terribly aware of things. Let's say, if you live an existence only in America and you never really get to Europe or to Japan - even South America, which is a wild place - then you've got to have a slightly restricted viewpoint. Because you're being fed your ideas of those places by the media. So I really like moving around. And you know, it helps musically to move, I think."

Cat could have been talking about his stage performance, too, because he does a lot of moving while playing and singing his songs, especially considering that he's usually sitting down. And he's moved quite a lot musically in his life, too, starting as a teen-age pop star, dropping out due to a long illness and then coming back with a whole new style and becoming even bigger than ever. Now he's ready to move on from there.

"I see a lot of things as the number seven," Cat explained. "Six is like total darkness, like the moment before the dawn. Six is a very unsteady number, negative if you like. And seven, well, in fact, I looked back and I tried to associate the same thing with how many records I did. I first did like six singles, basically. And the seventh was "Where Are You?," which was the transition.

And the albums - "Buddha and the Chocolate Box" was my sixth. See, then I was dealing with singles; now I'm dealing with albums." Cat definitely feel his life has been predestined.

"I can only assist my life," he said. "I take no possession over songs and things that I've done, you understand. That's why sometimes I find it difficult to accept 'really' compliments. You know, when someone comes back and says, I really, really, liked that song, I say (and here he whispered), 'Thank you.' You know.

"I can't say thank-you really, though. I don't feel that I made it. Because it's all given to us. And the moment you start believing you're the creator rather than the created, then you lose touch with what is, in fact, the truth."

Despite this feeling of being a humble tool, Cat doesn't participate in any religion normally. "In a way, I meditate. I meditate quite a lot. But I don't sit down and meditate like that. Because that defeats itself to me, if you have to sit down to do it. It's nice to be able to do it anywhere, so I try that. And I don't eat meat. I do eat fish sometimes. And that's it. Apart from that, I take cold showers -- which is hard, not easy."

This is what Cat has figured out during his meditations: "To me everything is changing, so there's nothing really to worry about, since we're all gonna be dead - or what one calls dead anyway. I'm not saying that the sun won't rise no more - of course it will - but I'm saying, wow, I'm here , I'm going to certainly find out as much as I can about why or for what reason."

"I'm not just gonna live, eat, breathe, sleep, you know, because that's another kind of existence. And that's good for some people, necessary - for people to farm and for people to have children and, you know, the whole thing. This is the human idea, but then humans are changing, too - rapidly."

So it all comes back to moving and changing for Cat. And while he shies away from political involvement in his music, he does plan to use it for change in another way. It involves the large sums of money he earns performing. All of his profits of his last American tour are earmarked for charity. "Which one?" I asked him.

"We don't know yet," he replied. "We're not going to be caught in that. We're gonna have something that we can actually make sure the money goes to the right place. Because we know what happened in the case of Nicaragua, where only about $50,000 or so of the money has yet gone to the place, and it was about $300,000 or something."

When his new album comes out, the all-important seventh album of the current Cat Stevens era, it may herald a new beginning, but it's bound to be full of emotion and melody, the two most important things in music, as far as Cat's concerned.

"Emotionally, I might be angry," said Cat. "I might be seeing something terrible on television, like some group or such singing this terrible thing, or else I might be sad, lonely, whatever - anything emotional. And that's how it starts. Then I most probably start playing piano or guitar and humming along. And it induces a kind of hypnotic thing, to keep on singing a melody. Something inevitably comes out."Whatever comes out, it's sure to be worth waiting for.