Moon & Star Concert Reviews

As Majicat is trying with the 'Moon & Star Petition' to spur the release of the ABC In Concerts 'Moon & Star, I thought it would be interesting for you to relive the excitement of this spectacular televised concert. Reading the reviews of the concert and checking out the TV guides' placement of this rare event of so many years ago, may help you to share the feeling of excitment of reading about the concert prior to the big event. The top two articles are courtesy of Bruce Lawrie and the pictures are courtesy of Ernestine Eisenhouer and Keith Balaam. The last article is from a '1974 In Concert Volume II ' book I purchased years ago. I urge everyone to please sign the petition Majicat has placed up on the site. We hope one day this very rare and wonderful performance will be available for all to view. ABC In Concert - 'Moon & Star ' Petition Drive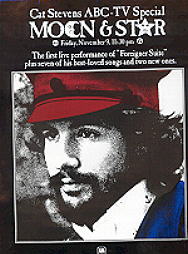 Rare advertisement for the ABC In Concert " Moon & Star "

Courtesy of Bruce Lawrie

Stevens TV Bow On 'IN CONCERT' NEW YORK__ Cat Stevens, A&M Records artist, will make his national television debut for the US on ABC-TV's "In Concert" series. The entire 90 minute segment for Nov, 9 will be devoted to Stevens' music with a number of surprise guests slated to perform his material. During Stevens' performance taped before a live audience at the Aquarius Theatre in Hollywood, Stevens will perform his 18 – minute " Foreigner Suite" without commercial interruption. Show is being directed by Joshua White and produced by Sunny Schnier with Barry Krost the television producer.
TV Guide Advertisement and placement for Friday November 9, 1973

Courtesy of Ernestine Eisenhouer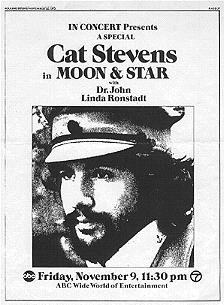 This advertisement appeared in the Rolling Stone Magazine for the November 22 1973 issue page 37. Courtesy of Keith Balaam

TV REVIEW Stevens Portrait Shows Artist in Right Light As the first anniversary of the late night TV rockers approaches, and the news of prime time music shows also breaks, it's equally exciting to see the first attempts at screening entire shows built around strongest pop stars. ABC-TV's " In Concert" has been first through the gate with "Moon and Stars," screened November 6 in the series' usual late night slot. The Stevens special pointed up both the inherent strengths of such an approach, and a few of the pitfalls. Viewers were treated to a portrait of Stevens' music of unusual depth, as Stevens moved through material from various phases of his recording career since joining A&M's roster. The quality of the stereo-FM track for simulcast was excellent. Showcasing the possible technical heights this medium could reach, and both Stevens and a superb back-up including stalwarts Alun Davies, Jean Roussel and Gerry Conway, long time Stevens collaborators, made that aspect of the show more than just a technical triumph. Visually, the show was also a tasteful effort, free from the surplus of quick cutting and "action" slots that have often plagued rock on television and proved distracting rather than compelling. The current addiction to star filters – that turn points of light on the image into prismatic flares – was probably the only flaw here, being rather overused. Yet, the show itself hit many lulls, despite some strong changes of pace provided by Linda Rondstadt and Dr. John. Each performing a Stevens' composition, and by one of the show's highlights, an excellent animated version of Stevens' drawings of Teaser and the Firecat riding an moonshadow (and naturally framed by that song). The shows flow was broken by the necessary flurry of commercial breaks. Late night shows have long been plagued by those breaks, but here it was the sheer frequency that proved the problem. Stevens is a dark and quiet personality and the show was virtually without any spoken comment. While small screen addicts might have been disappointed by the lack of chatter, it was a refreshing departure from the usual inanity of forced conversations that are often included to provide humor or personality. There may well be artists who in such a special could talk to us as well; Stevens seemed more comfortable just singing and it helped give the show a more natural feel. SAM SUTHERLAND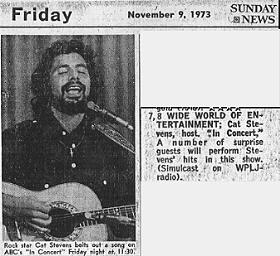 This advertisement picture and placement appeared in the New York Daily News - television section of the newspaper. Courtesy of Ernestine Eisenhouer
---
CAT STEVENS Cat Stevens broke a guitar string in the middle of a song and the jam-packed audience at the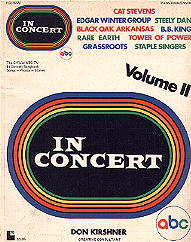 Aquarius Theater in Hollywood applauded the full 55 seconds it took him to replace it. And when the British superstar politely asked director Joshua White if he could do one song over again for the cameras, the audience went wild. That's how eager the hundreds of Cat Stevens fans were to groove on his music. The memorable occasion was the taping of the "In Concert" segment starring Cat Stevens, on the ABC Television Network's "ABC Wide World of Entertainment." The show marks Stevens' American television debut and is his first American appearance in a year. His powerful performance put to rest rumors that the 25-year old star's absence from the stage was due to a recurrence of the respiratory ailment that hospitalized him several years ago. It was the inevitable conflict between art and commercialism that eventually took its toll on the young singer-composer, who was born Steve Georgiou. Following instant stardom at the age of 17, came the unending TV interviews, recording sessions, performance dates, tension, hassling and bad feelings. Recalling those turbulent days, Stevens says, "I used to dread recording. For days I'd worry and think about that studio, full of blank, uncaring, bored session men who were going to play my music. "And every time, in would go my music and out would come their music — technically perfect and perfectly antiseptic. It was my music and they would kill me with it." During his convalescence Stevens came to grips with the problem that so often plagues creative artists. "Once you're a success it becomes very difficult to judge things; people love anything you do," he says. "But it's important for me to try new things, different things, even if they fail." When Stevens left the hospital and returned to a recording studio he was assured complete artistic integrity. He came out with "Mona Bone Jakon" (1969), an album that swept across Europe and rose into the Top Ten in France. He played to sellout crowds in Holland and Germany, and did a national television concert in Paris. This year, Stevens recorded "Foreigner," the first album on which he is also producer, and the LP is currently rising to the top of the charts. It features "Foreigner Suite," an 18-minute tour de force he performs on "In Concert."