Cat Stevens was performing benefit concerts, long before concerts had become an effective device to help battle global concerns through such huge events as Live Aid and Farm Aid of the mid 1980's. In 1971 Cat Stevens contributed the proceeds generated by the C.U.R.E concert to help confront Drug Addiction, one of the leading epidemic problems facing the UK and America in the 1960's and early 1970's. All the proceeds from this C.U.R.E. concert were donated to the National Addiction and Research Institute, to help combat society's growing concern about drug addiction.
The C.U.R.E. Programme
Theatre Royal - Drury Lane - London

Sunday, December 12, 1971 8:00 P.M.

Courtesy of George Brown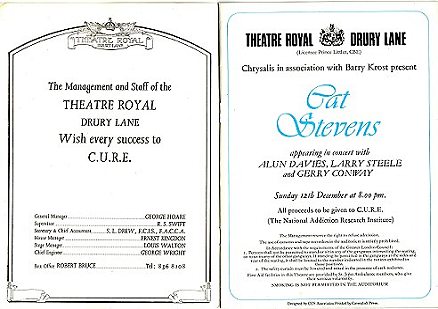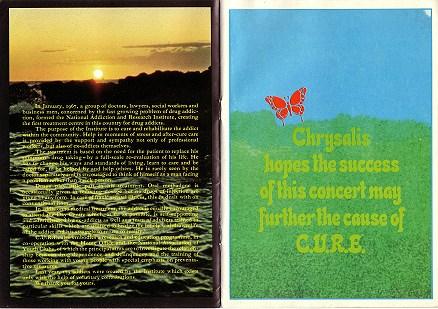 C.U.R.E.
In January, 1967 a group of doctors, lawyers, social workers and business men, concerned by the fast growing problem of drug addiction formed the National Addiction and Research Institute, creating the first treatment centre in this country for drug addicts.
The purpose of the Institute is to cure and rehabilitate the addict within the community. Help in moments of stress and after-cure care is provided by the support and sympathy not only of professional workers, but also of ex-addicts themselves.
The treatment is based on the need for the patient to replace his symptom-drug taking- by a full-scale re-evaluation of his life. He has to change his ways and standards of living, learn to care and be cared for, to be helped by and help others. He is rarely seen by the doctor separately and is encouraged to think of himself as a man facing a problem rather than a sick person.
Drugs play little part in his treatment. Oral methadone is occasionally given in reducing dosage but no drug or injections are given in any form. In case of frank mental illness, this is dealt with on conventional lines.
In addition to medical treatment. The addict is equally encouraged to attend the Day Centre which, as far as possible, is self-supporting and administered by ex-addicts as well as a team of advisers trained in particular skills which are utilized to bridge the lonely withdrawn life of an addict and his struggle to return to reality.
C.U.R.E. also embodies a research and education programme, in so-operation with the Home Office and the National Association of Youth Clubs, of which the principal aims are to investigate the relationship between drug dependence and delinquency and the training of those working with young people with special emphasis on preventative measures.
Last year, 173 addicts were treated by the institute, which exists only with the help of voluntary contributions.
We thank you for yours.
* * * * * * * * * * * * * *