KCET - PBS 'Full Circle' TV Concert
News Release and Promo Photographs from A & M Records

This is the press release that was issued by A&M Records and sent to radio stations across the country.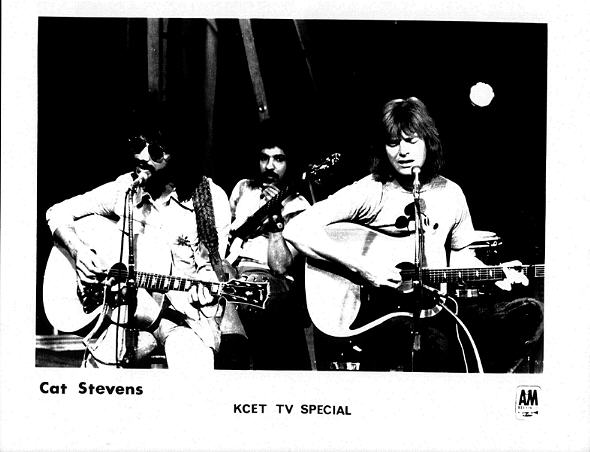 NEWS FROM A&M RECORDS

1416 NORTH LA BREA AVENUE, HOLLYWOOD, CALIFORNIA 90028 TELEPHONE 461-xxxx
CAT STEVENS

(A Biography)
A&M's Cat Stevens is one of the biggest and most genuine writing performing talents of our time. Not a press agent's statement of dream, but a pure statement of fact which has been oft repeated by sources a lot more independent and objective than we could ever claim to be.

"Best" Magazine, Paris, described him as "one of the most important artists of the 20th Century". The Evening News, London, described his on-stage performance at Fairfield Hall, Croydon in December; 1970 as "pure magic". The "LA Free Press" review of his first album, 'Mona Bone Jakon' said that Cat Stevens was one of the few people in the world capable of creating a total new world in which you can believe.

At the Fillmore East, New York, his first American audience stood and cheered him into three encores when he finished an hour-long set of his own songs. A few weeks later he caused five nights of euphoria when he played The Troubadour in Los Angeles to capacity crowds.

He's had rave reviews for albums and concerts in every major publication from San Francisco to Stockholm via Scunthorpe, England and Sydney, Australia.

He's already finished the music score for one major movie production (Jane Asher's "Deep End"), and has almost completed a musical fantasia "Revolussia", from which his English hit single "Father and Son" was taken.

His two A&M albums released so far, "Mona Bone Jakon" and 'Tea for the Tillerman" have not had anything remotely resembling a so-so review from anyone.

Cat Stevens was born July 1948, in the Hammersmith area of London. The second son of a Greek-born father and a Swedish-born mother, he grew up in the hectic atmosphere of central London, where his parents still own and run a bustling restaurant. "The Moulin Rouge".

A complete 20th Century child, he went to school in London's West End, and grew to accept the sight of strippers running from club engagement to club engagement, to non-stop traffic, to air pollution (until the anti-smog legislation of the 1950's), to miles of neon, to the complete absence of wide open spaces, and to being one tiny part of a huge whole.

After finishing his basic schooling (he hated it, and did only moderately well at everything except Art - his first love) he was accepted as a student at Hammersmith College of Art.

During his one-year stay there, he started writing his own songs after realizing that his solo versions of the current hits were verging on the ludicrous. He played his songs to friends who liked them, and then, as fate would have it, he was "discovered".

His patron was a businessman, complete with a fat cigar, who hooked his index finger at the young boy and said, as true as I'm here telling you all this, "I'm gonna make you a star."

The initial intention was that the 17 year-old artist would work in movies, but a number of things happened which changed all that.

The first was that Mike Hurst, formerly one third of the highly-successful Springfields (with Dusty and her brother Tom), and then the new bright producing light at Decca Records, heard a tape Cat Stevens had done of a couple of his own songs.

He liked them and fixed up an elaborate demonstration session, the results of which were taken to Dick Rows, head of Decca' s a-and-r department.

Dick Rowe loved what he heard, and before you could say: "Sign on this line, son!" Cat Stevens had signed on this line, and was launched on Decca's new Deram label.

Pretty soon Cat Stevens was a Star, with the very big and heavy Agency working for him (the businessman had meanwhile departed to make further discoveries and has not been heard of since in the music world), a whole wardrobe of the neatest, trendiest, mage-making and sharpest clothes you could imagine, and the Machine took over.

All this could have been for the good had Cat Stevens himself had any control over the situation. But the small print in his contracts made it very clear that he was a product.

Consequently, although he had a number of very big hits and was an Idol, Cat Stevens started to fret. Desperately unhappy and brought down because all his own wishes were studiously ignored or thrown out (like his plan to do a very simple, solo LP without the usual 90-piece orchestra crashing out the obligatory leaden arrangements which he was told was both fanciful and artistically suicidal).

"I used to dread recording sessions he recalls. "For days before, I'd spend sleepless nights fearing having to walk into that studio and face a mass of blank, uncomprehending and unsympathetic session men who would go mechanically through their chore, put down a technically perfect but totally antiseptic recording of my music, and then drift off into the next session for the guy."

And because he was unhappy, and because his agency told him he had to do this concert tour, or appear on that TV show, he drove himself into the ground and got very, very sick.

So sick that when he went to his doctor for a check-up he was told that one lung had collapsed, and that the other was in real danger of following suit.

The case was simply stated. Go into the hospital now, for a long curative rest, or face the real possibility of dying within a couple of years. He had contracted TB.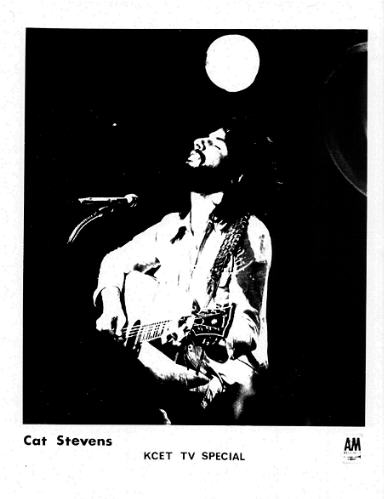 So, with his record player and few albums, a lot of books and a heavy heart, Cat Stevens packed himself off to a sanitarium in the country.

With six months to relax and think about himself Cat Stevens set about getting himself straight. He got into Yoga, into metaphysics generally, did a lot of introspective thinking and wrote a whole lot of new songs, which reflected his true feelings at the time. A lot of them ultimately became the tracks on "Mona Bone Jakon".

His contract with Decca, meanwhile, had expired, and although he was asked to resign with them at an increased royalty rate, he declined, figuring he could make out somehow, somewhere else.

On his release from the hospital, Steve went away for a time to recuperate his strength, and did some rough versions of his new songs on his home tape machine.

One of the people he played them to was Chris Blackwell, head of Island Records, who offered him the chance to record them whenever and with whomever he liked. Also, and this was most important as far as Cat Stevens was concerned, however he liked.

So, when he had completed writing the material for "Mona Bone Jakon" he sat down with Chris Blackwell and signed with his label.

Gradually, with a few hand-picked musicians and producer Paul Samwell-Smith, Cat Stevens recorded the album, and it was released in the early months of 1970, almost 18 months since his last record offering.

(It was released on A&M in the States and on Island in England.)

It was an unqualified success, both artistically and financially. A single from the album, "Lady D'Arbanville' made the British, French, Dutch, Swedish, Italian and German top ten singles charts, the album itself made No. 1 in France, got very high in Holland and Germany, and concerts he gave in those countries were sold out weeks before the day.

As a result of the response to "Mona Bone Jakon", Cat Stevens flew to Paris where he was presented in solo concert in a 35-minute TV special, networked nationwide.

Playing a few selected club and concert dates, he soon established himself as a much-demanded "live" performer in Britain. The climax of his summer work came when he blew all the other name acts off-stage at the Saturday afternoon concerts of the 1970 Plumpton Jazz Festival.

The Cat was well and truly back.

With "Mona Bone Jakon" under his belt and a great deal of confidence in himself restored, Cat Stevens got down to work again with Paul Samwell-Smith.

The result was his second album "Tea for the Tillerman', which was released in Britain and Europe in October '70, and in America on A&M a few weeks later.

Two weeks after release, it zoomed to No. 23 in the British album charts, sold twice as well as "Jakon", and followed its predecessor up the European album listings.

Reviews for "Tillerman", which featured a beautful cover painting by Steve based on the title song, were every bit as good as those for "Jakon".

If anything they were better, because a lot of people who had given it cursory attention because of the past musical history of the artist as a young man, suddenly realized just how amazing this talent was.

After completing a series of concerts in Britain Cat Stevens embarked on his first trip to the States.

On Wednesday, November 18, 1970, Cat Stevens stepped, for the first time, onto an American concert platform. He faced one of the toughest audiences in the world - that of a Fillmore East packed house who had come to see, not him, but headliners Traffic.

At the end of his set, Cat Stevens received a standing ovation and was brought back for three encores.

He repeated his success at every show he did on the East Coast, including a residency at The Gaslight, New York. Then he went West, and played a brilliant week at The Troubadour, Los Angeles.

Back to England for Christmas, he rested for a while after doing his first solo concert in London area at Fairfield Hall, Croydon. He had the capacity audience eating out of his hand within four bars of his opening number, and Christmas, 1970 was subsequently a very happy one for the family at "The Moulin Rouge."

# # ## # # # # # # # #