Cat Stevens Posters
Have you ever wondered what the old posters of the 60's and 70's looked like? Or have you ever wished you still had one of these rare memorabilia? Well, you are in luck! We have been able to locate quite a few of these little gems. Let us take you down memory lane to when your walls were covered with posters, juicy fruit 'love' chains and beads were hanging from your doorways and the smell of candles lingered in your room. We have even located an old black light poster… Now, if you can remember that little treasure, you really are showing your age........ as I am, just talking about these beauties!
This is the poster that gets the Majicat Golden Poster award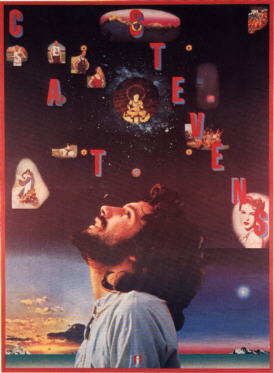 Isn't this a beauty !!!This is my all time favorite poster. This came with the Catch Bull At Four Music book. It was quadrupled folded and is about 16" x 22" of heavy stock, super glossy coated paper. It is probably the best quality poster of any Cat Stevens posters that I have encountered. It's an absolutely beautiful poster full of mystery and fantasy and seems to have capture Cat's fascination with the sky. Another very interesting factor concerning this poster is that it is ingenious work of the world-famous Japanese pop photographer Tadanori Yokoo .
---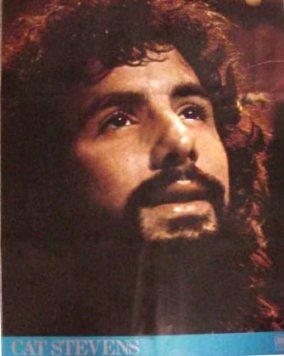 *NEW POSTER* This poster is huge, it had to be digitally photographed and then scanned. From the appearance of the picture it is from the early 1970's and comes courtesy of Linda Crafar.
---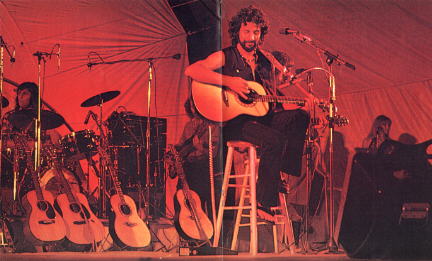 This pullout centerfold pin up appeared in the 1976 Majikat Earth Tour Programme. It's has always been one of my favorite photographs of Cat in concert.
---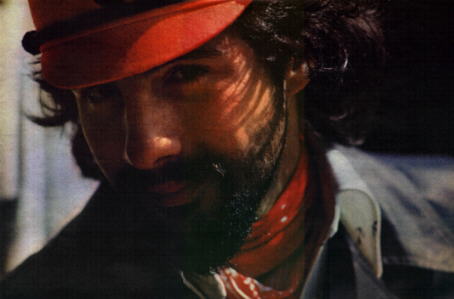 These 3 posters appeared in the British Disc and Echo Magazine in the early 70's. Disc is a newspaper type magazine, a bit larger than the early Rolling Stone magazines. These posters were the pullout centerfold posters, so they are quite large. In fact even with my legal size scanner it still took 3 scans and two stitchings to put these posters together for you to see them. The dimensions for these 3 posters are 15" x 22"
Aren't these beauties? Don't you just love this red Greek fisherman cap and red bandana?? Can you imagine those eyes staring at you from across the wall?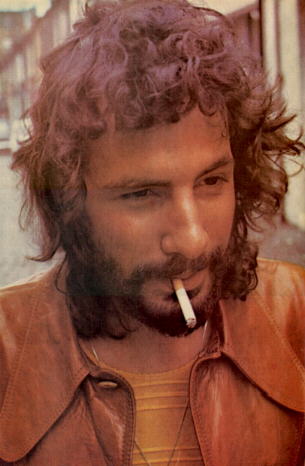 From the brown leather jacket I wonder if this may have been from the same shoot as the picture on the cover of 'The Very Best CD". Aren't we happy that he quit this nasty little habit!!!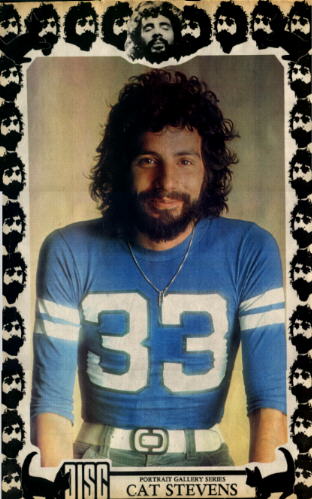 Now how could anyone resist this poster? Isn't it just adorable the way they placed the Cat frame around it. Unfortunately, I couldn't capture the whole frame with the scanner. Don't you just love this smile? Makes you wonder what David Bailey and Cat were discussing during this 1974 shoot.
---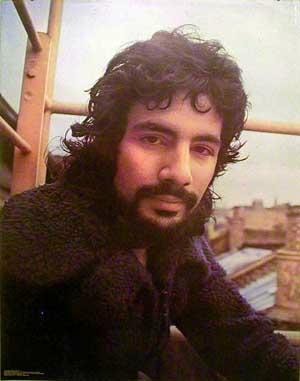 Isn't this a beauty? It is a huge poster, it stands 30" x 40". Notice it is from the same photo shoot as the German View from the Top LP.
---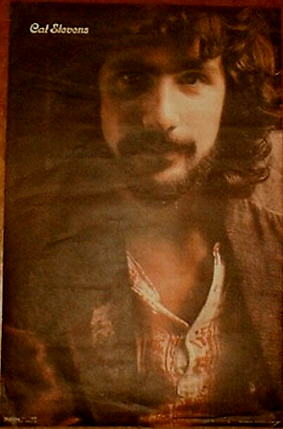 Here is another gorgeous poster. This one was circulating around the 1971 era. It is not of true color, but more of sepia coloring, which gives this poster a warm-homey feel to it. This is another one of my favorite posters. I had to place it up on my wall just to take a photograph of it with the digital camera, to be able to scan the whole thing. It is another huge poster.. 30" x 40" but it is of dull texture rather than glossy.
---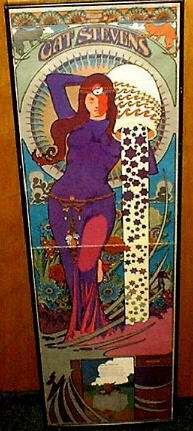 Take a look at this cool psychedelic poster. This is an original Tower Records Promotional Poster for Tea For The Tillerman. Notice the tillerman on the bottom of the poster. I am assuming here, but I think the girl represents " the woman who made the rain come" . This is a very good example of the psychedelic period of the late 60's early 70's. This is what is classified as a black light poster. And if you are too young to remember a black light poster, it was made of special material, so when you placed a special black light bulb into your light fixture, the poster became neon in color. Also this is a rather tall poster, 15" x 39 in dimension. I had to photograph this poster at an angle since it is framed with glass. I found that if I took the photograph front and center, the flash created a glare on the poster.
---
These three posters come courtesy of Cat Stevens Fan and Majicat contributor Gloria Mills and have been in her possession since her teenage years. The two bottom ones come from a girls' teen magazine from Scotland called PINK. Gloria took immaculate care of these, much better care in fact than I took of mine as you will see. Isn't this top poster a beauty?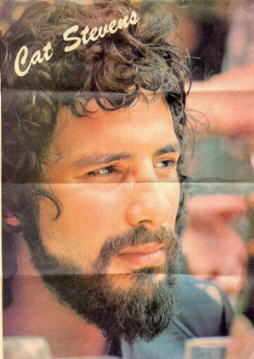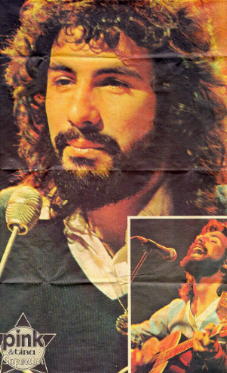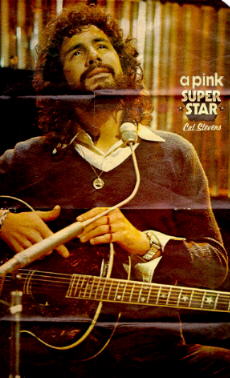 Pink & Tina Superstar Pink Super Star
---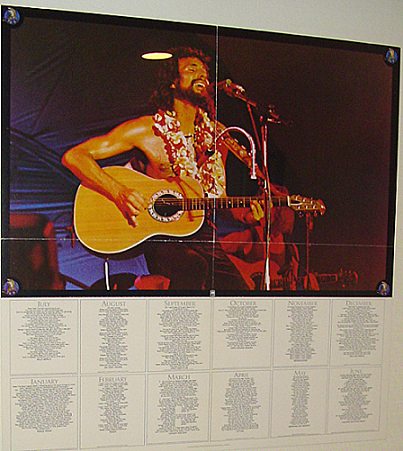 *NEW POSTER* The 1975 Greatest Hits Album Poster and Calander...... Courtesy of Robert Akouri
---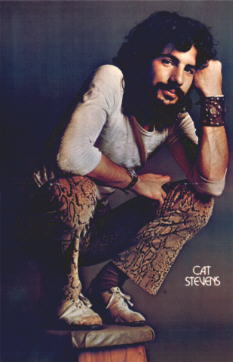 Here is another centerfold pull out poster, this time from the July 1972 Hit Parade Magazine
---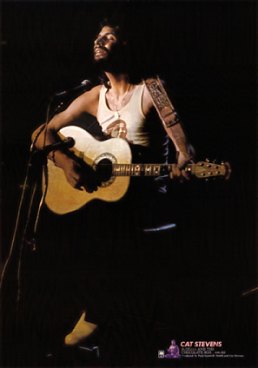 Pull out poster from the Japanese Buddha and the Chocolate Box LP. Poster courtesy of hardheadedsfthrtd.
---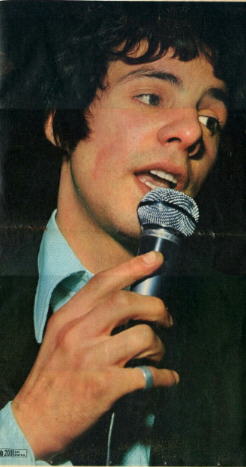 This poster of a young "Pop" Cat Stevens comes courtesy of Murphy Anderson and appeared in the Fabulous 208 8th July '67 'The Kitten to Cat' Article.
---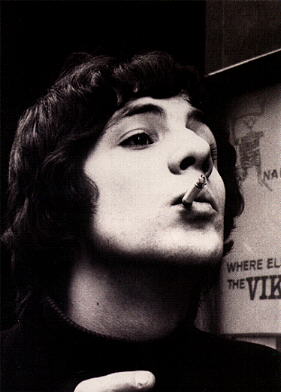 This poster is from B&W German Photographer Jan Olofsson and is 12" x 18" and is of heavy duty stock paper. It came in a folder with 5 other early pop posters, Jimi Hendrx and The Beatles featured amongst them.
---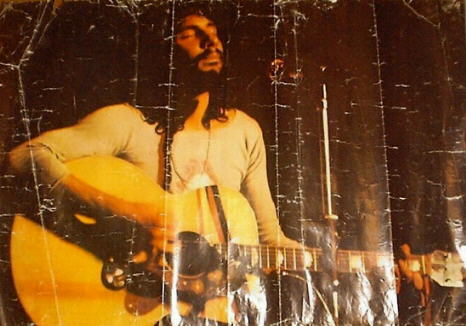 And last, my old, worn poster from my youth. As you can see it has been rolled and stored away in the closet for years, and not well taken care of! But it was a beauty in its day. Notice Cat's famous lips t-shirt. I can still remember purchasing this from my high school and being excited about finally having a Cat Stevens poster.
I hope you enjoyed going down the Poster memory lane.