Those were the days my friends.
Memoirs of Cat Stevens by Hans Sidén
Swedish Photographer/Journalist Hans Sidén talks about meeting Cat Stevens in Gothenburg towards the beginning of Cats career in 1967, while he was touring with the Jimi Hendrix.
When Cat Stevens arrived in Gothenburg on Friday May 19th l967, I did a short interview and took some photos of him at the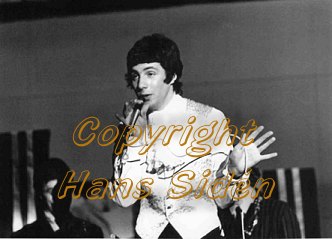 airport. He seemed rather quiet and low-keyed and very nice. He was to give two shows in the concert hall at Lisebergs amusement park later that evening with Jimi Hendrix. Cat was quite well known in Sweden after having had a couple of minor record hits in the charts, whereas Jimi Hendrix mainly was known only for his 'Hey Joe'. When the first show was about to start at 19.00 (and another scheduled for 21.00) a big discussion started behind the scene when Cat insisted that he was going to go on last and Jimi Hendrix should open the show. Jimi said, - Absolutely no, and Cat desperately tried to build up his case by saying "but my mother is Swedish, so I really should go on last". But then Jimi started to put his guitar back in its case and proclaimed that he was going to close the show or he would not play at all, that was the end of the discussion. So Jimi did close the show. (I have told about this incident in my book "Pop in The 60´s in Gothenburg in the chapter called "Meeting of the gigants")
After the show I had the pleasure of having Cat and his older brother David as a guest in my apartment together with various members of "the in crowd in Gothenburg". My wife offered Cat a pizza which he ate morosely since he was convinced his part of the show had been a disaster. This was based mainly on the tremendous response to Jimi Hendrix set. But Cat got quite good reviews in the papers the next day, including the review I wrote for my paper The Gothenburg Post. But as I wrote in my book, if Cat had his wish and come on AFTER Jimi Hendrix explosive and very loud, not to say ear-shattering performance, I think it would have been quite another story.
I have found memories of this evening, and among the souvenirs a photo I took of Cat that he kindly signed "To Hasse" from Cat Stevens. "Hasse" is my nickname.
Cats brother David was in the garment business and a very nice young man. And to close this little trip down memory lane, I must tell about something that happened about a year later, when somebody rang at my door rather late one evening. I opened up and to my surprise there stood David. He had come to Gothenburg on business, and said: I have only been in this town once, but I remembered vaguely this address where Cat and I had such a good time and I took a chance that you were still living here.
We had a very nice dinner and got the latest news on Cats progress as a popstar. You must remember that in 1967 Cat still had not become the big MEGA-star he was to evolve into later.
On the wall in the hall to my apartment I had a big white roll of glossy tapestry and everybody who came to visit us was asked to sign their names there. So, I have not only Cats autograph on a photo but also on that wallpaper, together with lots of other popstars, mostly local Swedish names, but also for instance Jack Hammer (the guy who wrote the lyrics to 'Great Balls of Fire' and could live happily ever after on the royalties from this, at least that was what he told me when he also came for a visit)
The reason I was able to meet so many big popstars was because I wrote for Sweden's second biggest morning paper, the 'Gothenburg Post' as well as for various pop-magazines and did a lot of radio shows.
To meet popstars this way today would of course be impossible. In the 60´s many of these stars arrived with just a friend or a publicity agent, it was easy to get to talk to them. Today popstars arrive with lots of managers, bodyguards etc. and then maybe 10 to 15 journalists can meet them in a room and ask questions for 15 or 20 minutes. In my days it was possible to spend an hour all alone with a big star without interruptions. I met Cliff Richard, P J Proby, Kim Fowley, Hollies, Kinks, Troggs, Eric Burdon and many other artists this way.
Those were the days my friends.
All the best from Hans Sidén
____________________________
Are you interested in purchasing a high quality 12"x16" copy of the photograph above, which is numbered and signed by Hans Sidén, then click here >>>>> more information