Sounds Magazine
July 14,1973
written by Penny Valentine
Cat's Subtle Love Affair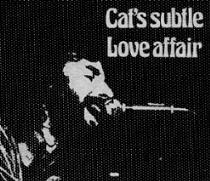 CAT STEVENS walks out of the burning sun, through the huge glass windows. It's a surprise to see him. He seems as surprised to be here. I thought about It. I was in two minds about coming along. "I mean I didn't feel like being interviewed or anything like that, but then it's my new album and it's a really-great day and" ... Well anyway he did make it up through a 90 degree Holland Park to The Orangery — white walled and cooler than any place in London on Tuesday — where his record company are throwing a lunchtime "benefit" for journalists to hear his new album.
"Foreigner" was cut in two weeks in Jamaica earlier this year, and Stevens was "really relaxed right through. I never thought about my voice or exactly what I was doing. I just went with it". It sounds it too: "'Catch bull' was very paranoid. I mean 'Ruins', that last track? It said it all."
He's not long returned from Greece where he's been holiday. He looks dark, and the beard and hair mingle in that black curly mass that has always made Stevens stand out and his origins hit you soundly in the face. It's no surprise then, that while he was away he bought a plot of land outside Athens and is going to build his own white house there this year. White houses run through his life somehow.
We're chatting about the album. No notebook, no pen, just informal "how are you?" stuff. It's no day for hard labour, and anyway - sixth senses tell you not to come on strong. One of the reasons he's so happy with the album is it's pacing musically. It used to worry him, he says that when he went into clubs and his records were playing nobody felt too inspired to get up and leap happily around to them. "I'd walk in and there'd be a kind of silence. Everyone would just sit and listen -— a bit gloomily too!"
The lunchtime jollity doesn't end as well as it started. He's whisked off to "chat" to a few people. He obliges politely. But the queues and notebooks get endless and by the time someone wants to pose for a picture with him; someone wants to read him a poem on the spot and someone has asked him the burning question does he wear false eyelashes? He's beginning to wilt. It's vicariously interesting to sit and watch and yet oddly unpleasant to think you're part of it all. So much for the price of fame. It's higher than you're ever led to believe.
So much for the surroundings. Now, what about the reason for it all? What about "Foreigner"? Does it leave a real mark in the passage of 'Cat Stevens' path upwards and onwards.
In retrospect, I found "Catch bull" an unnerving experience. At the time of writing about it I found it hard to decide whether I really liked it or not, and so cowardly as I am I tended to sit firmly on the fence. As easy as it ever is to write about Stevens' work — and it isn't, in my experience — "Foreigner" is a softer trip right across the board. Hearing it makes you realize that what "Catch bull" did for Stevens as an artist was to break formation. It wasn't setting him off in a new direction as much as ridding him of certain emotions, musically and personally, and bore no real reflection of anything past or to come from Stevens as an artist.
Patterns
And so "Foreigner" comes as a refresher — capturing much of the light brilliance that sparkled through on "Mona" and "Tillerman" and yet giving him new dimension and new musical canvasses to work on as a writer and singer.
It is not to say that "Foreigner" is simple to grips with. Although Stevens himself has never understood that his music is anything but simple and direct. I've found it something that takes time to digest but offering it's own rewards to a listener able to give it the time it need. As usual his lyrics sound, his lyrics sound like they started life as poems – drawn out or chopped dead unexpectedly to fit in with the musical patterns that surround them – his music ear still tuned in to those jerky sliced rhythm patterns that have always been his stamp of identity and which owe no allegiance to anything else in contemporary music.
That a side, of all his albums "Foreigner contains the most surprises and is really his best since "Mona" The title track turns out to be a Suite of eight songs reflecting, as does the rest of the album, love. In fact, the whole set is like moving through one love affair. A continual theme set by the suite which shifts so subtlety from one song to the next it's hard to tell where one phase starts and another ends, and despite its often phonetic passages like "How Many Times" and "Later" on the second side, it is an album that is ultimately optimistic. It's not a breast beating parade, this collection.. More reflective. Yet equally it's not laid back. Stevens makes his points with needle fine precision, and when on the rare occasions he lulls you it isn't long before you've been torn back into consciousness.
Expand
The surprises on "Foreigner" are not so much a question of writing or delivery on Stevens' part but of the very construction of the album musically. For the first time it's a very internal affair with Stevens producing alone, and with his pianist Jean Roussel's delivering the goodies as arranger. It's hard to decide where Roussel's influence starts and Stevens' own objective outlook on his work ends. I ended up with the impressions that they worked so closely together the outcome had to be as tightly knit as it is. Roussel brings in woodwind and strings to colour and leap and expand everything Stevens does. Equally Stevens has left plenty of space for Roussel's work to fill and pulsate and snear, to build and fall back on every track.
The result with the extra bonus of some excellent back up girls Patti Austin, Barbara Massey and Tasha Thomas and with Phil Upchurch, Gerry Conway, Bernard Purdie, Herbie Flowers and Paul Martinez — is often superb, always exciting, and surprisingly pacy.
It's 3.15 p.m. and Stevens has gone as suddenly as he appeared and people are drifting off down lawns and through flowerbeds and — careful — there's another naked body worshipping the sun. On the stereo inside the Orangery "How Many Times" is carried out on the air:
"How many times
must I wear the same old things.
And hear the same old things,
that I do, I do"
"Foreigner" is by no mean the same old thing.