Veronica Magazine

by Dick Tatham

Courtesy of Chris & Annie Abrams
Singing 'n' Writing
MORE ABOUT CAT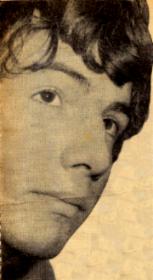 REAL NAME: Stephen Adam Georgiou

BORN: 21st July. 1948 in Middlesex Hospital, London

HEIGHT: 5ft 10 in

WEIGHT 10st 9lb

BROWN EYES

FAVE ARTISTS: Julie Christie, Marlon Brando, Nina Simone

LIKES: Sun-soaking, eating water melons

DISLIKES: rainy days, people who are narrow-minded about music
Cat Stevens is the talented 18-year-old performer who has zoomed to fame in recent months in two ways. One is his singing. The other is his songwriting - both for himself and for other stars. Here he is answering questions about both sides of his career.
Most fans know, Cat, that you wrote your own first 'hit - I Love My Dog . Was this the first song you had written?
Far from it! I had been slogging away at songs for ages. I suppose I had written about 40 by the time I Love My Dog was released - which was in September 1966.
Can you recall how the idea for that song came to you?
I was walking one day through St James's Park, London. People were exercising their dogs. They all seemed to be enjoying themselves - both the dogs and the people. That was when the idea hit me.
Did you realise then the song might turn into something special?
I did have a hunch. In fact, I was so excited by the idea, I started jumping up and down. People must have thought I was crazy!
How about your second hit - Matthew And Son?
That was triggered off in my mind by a wonderfully old-fashioned sort of shop I saw in a London side street.
But where in general do ideas for songs come to you?
Usually in the countryside. I often take a bus or train out from London to somewhere where there are green open spaces with lots of peace and quiet. I then just start strolling across the grass and the ideas usually flow. I jot the ideas down in a notebook. When I get home, I develop each idea on a tape recorder.
Cat - you have written songs for other stars. For example the hit by the Tremeloes – There Goes My Baby – and Paul and Barry Ryan's Keep It Out Of Sight. But do you ever write with a particular person or group in mind?
Only person write for is myself. I'm not trying to be conceited. I just mean that is the only way I am able to write.
If I get an idea for a song and I think it sounds OK and I get pleasure out of singing it - then I push ahead and complete the job. If other people hear my songs and want to perform them, I feel flattered. Who wouldn't?
What was the turning point in getting yourself recognised?
My brother David got me an introduction to Mike Hurst who used to he a member of the Springfields.
Mike, at the time, was seriously thinking of emigrating to America But he decided to delay things to see if he could get me on to the scene in Britain. To handle my affairs, Mike teamed with Chris Brough, son of Peter Brough, the famous ventriloquist.
They became my managers and disc producers. They reached an agreement with Decca for the release of my discs - and out came I LoveMy Dog!
How about yourself just as a singer?
I'm out to learn all the time- and I don't care how hard I have to work to make progress. I was very happy to be included in the West End show starring Georgie Fame and Julie Felix, which ran from late last year till early this. It was great experience.
I shall always go all out to develop my own style. I don't believe in trying to be a carbon copy of someone else.
When was your very first public performance?
That was back in July 1964 – as an amateur. I appeared at a London pub, the Black Horse.
And your first TV date?
Top of the Pops - in October 1966.
Cat, you've had a lot of success in a fairly short time. You have probably made – and deserved – quite a lot of money. What difference has it made to your life?
Not as much as you might think. I am not one for fancy living About the only big purchase I have made since becoming a chart performer is to buy a tape recorder for £80 - and I guess you wouldn't call that wild extravagance.
The main difference, in fact, has been in my personal approach to life. The bit of success that has come my way has given me a lot of confidence - both as a performer and in my private life. I'm nothing like as tongue-tied as I used to be.
Any special ambitions in life?
I'd like to travel a lot. I'd also like a really great car. Say a Rolls - or a super American job.
Anything else to tell Valentine readers?
Yes, please. About my new disc - Gonna Get Me A Gun. I don't want the title misunderstood. It's only a sort of way of speaking.
Fact is, I have been thinking for some time of writing a show with a Wild West background and the title of my record more or less springs from that.
Maybe I'll have the whole show - words and music - written this year.
I'm a peace-loving bloke, so please tell the readers!