Music Scene

March 1973

Courtesy of Linda Crafar
Into The Mind of Cat Stevens
By Rosemary Horidee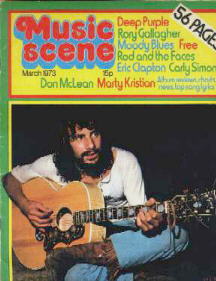 For someone whose views and observations are transmitted so forcibly through his songs, Cat Stevens is not surprisingly reticent about actually talking to people -- and press interviews are few and far between. But after the phenomenal success of "Catch Bull At Four" and Cat's British tour, he obviously felt that the time was ripe to talk about himself both musically and as a person.
When talking to an artist, who now ranks with James Taylor, Neil Diamond and Neil Young as one of the world's greatest singer-songwriters, an obvious topic is the way these songs are created:
"It changes for every one, it has to. I get bored if I repeat the way I write a song twice -- and if you do repeat a formula, you're gonna get the same song. In other words, the song has to be itself - and then every one is different."
But does he ever write a poem, and then add music to it?
"No, I just can't think more visually than I do with words - they are just means of vision to me. Music to me is vision as well."
The one thing many of his songs do seem to have is a feeling of melancholy, almost sadness. Cat seems to be totally involved with his compositions, and so I asked whether he considers himself to be prone to such feelings himself?
"Definitely! No - I really am, unfortunately. It's something I subject myself to a lot. Part of my 'thing' is that I'm meant to be like this, in a way"
But surely there must be someone he can turn to in moments such as these?
"Oh yes, but alone it works out better. I might go to someone for comfort and in that moment get it, but it wouldn't last."
And so really he's a solitary type of person?
"Not in the normal way - but I am in the sense that I can look at myself objectively at times, and it creates a double paranoia for someone else to be around at the same time.
"It's difficult to be constantly objective about yourself with other people around isn't it?" he queried, and leant back as though he's finally managed to relax. One danger of being a rather solitary person when one is an artist is that it's possible to become self-indulgent musically. I asked whether Cat had no need of constructive criticism from other people of his work.
"Oh, I get that anyway! From myself as well as from other people, by reading whatever criticism is written about me. There was one bad article today, and I've been upset all day - I feel terrible. Apart from outside critics, I always play my songs to friends - that's one of the greatest joys of writing. It can also be a help when I'm unsure about a certain passage, or something's unfinished, to play it to someone whose opinion I respect. And even if I think something's finished, and I notice that halfway through playing it someone stops moving their hand in time or some thing, then I'm aware of it and have to think again. Everything now is down to feeling - the feel of a song. That's what's important to me . . .you get to the point on tour where you're making a lot of music, and you're making a lot of times a week. You're thinking about it so heavily that it gets kind of clinical after a while, so you have to realise what's the centre of the meaning of singing. That means going right back to the beginning, and why you're doing it anyway."
Strangely enough, for some thing into which so much effort and thought has gone, Cat says he wants nothing to do with his albums once he's finished recording them.
"That's it - that's gotta be it. In fact, that's what I don't like about records, they keep being repeated, and I want to get rid of a thing once it's done."
He now has a new philosophy about future recordings and his music.
"The direction it's going in is entirely up to itself. The only point of satisfaction in this life is when you're actually writing the thing. Because the next step is you record it, and that takes a long time, then you sing it live . . .by that time you have to think of other things. You squeeze every inch of anything out of it until in the end it's dry. I can shift the emphasis now, but I have to feel that I'm not doing it -- lose myself in it."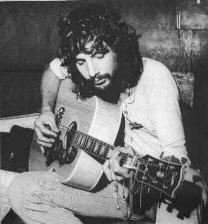 That's entirely typical of Cat's whole approach to life and his music -- everything must be natural and not forced or false. Because they sense his honesty, he often manages to establish an amazing rapport with his audience -- as anyone who has attended one of his concerts will tell you.
It's a feeling of almost total involvement, coupled with happiness. He described his reactions to an audience as being:
"Just the same as meeting people. In the beginning it's rather reserved - you hold back just a little bit. Then in the middle things start coming together and it all goes from there. That's when things really start happening but it does take a while to relax."
An enthusiastic audience proves that he obviously has the right approach. But until the last tour of England, Cat had not appeared on stage for some time. He obviously was very busy recording, but I asked him whether there wasn't a danger that now he is financially secure, he won't bother to do things like perform in future?
He leant forward across the table with a serious look on his face, as if this was a problem to which he had given much thought.
"It's an unfortunate thing about communications in this present time that, in order to be widely accepted or to get your music spread, you have to earn a lot of money. That's the way it goes . . .But it would never stop me doing what I want to do - and that's write. And as I said before, the greatest joy after writing a song is to sing it to someone."
This fear of becoming too materially minded may account for the sparsity of furniture and other possessions in his house in Fulham - the room he works in contains a piano and a bed, and very little else. But although he now has a whole house to himself, until a couple of years ago he lived in the centre of London with his parents . . . in Soho. He explained that he got along so well with his parents that this was possible. But finally he decided it was necessary to move:
"For the space really, and for peace and quiet. Our house was in the middle of London, and I desperately needed some more quiet."
Living in the heart of a city certainly had its influence on Cat, and shows up in many of his songs. So too does his Greek heritage (Cat's father is Greek). If you listen to "O Caritas" on "Catch Bull At Four" it has a definite aura of the Mediterranean, and Cat's instrumentation includes the use of bouzoukis, a traditional Greek instrument. He will admit to having been influenced by traditional Greek music:
"But I haven't been back to Greece for a couple of years, and wouldn't go back now. Anyway, London does more for me creatively. There, quite honestly, I would just sit in the sun and relax. Here I can work."
One recent departure into another field came when a book was recently published called "Teaser and the Firecat." The story, "has to do with the moon falling down from the sky, and Teaser getting involved with rescuing it, so that he and the firecat have some strange adventures."
It's a charming little book, that also contains Cat's own colour illustrations and every line of the story is translated into English, Chinese, French, German, Greek, Hebrew, Italian, Japanese, Russian, Spanish and Welsh. But this kind of thing is not where cat sees his future development:
"No it was just a detour. I sat down one day and wanted to do something like it, so I thought about it and just did it. It only took one afternoon."
His real plans for the future are simple: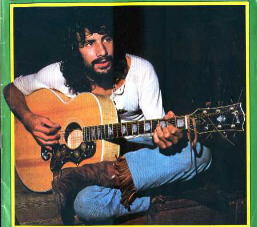 "Just to let it happen, honestly, as instantly as that. I don't want to plan tours any more, I don't want to plan records - I want it to happen so organically that I don't feel anything changing. I have done enough work and things I didn't enjoy to allow myself to do what I like. It's been hard, but you have to push yourself to do it, and that enables you to do other things you really want."
One of those things is obviously to have the time and opportunity to write songs in peace. And they'll continue to convey a strong message:
It's the only way I know of getting it across - and much better than shouting. But it works, it really does."