The Record Mirror
June 5, 1971
---
Cat Stevens tells Keith Altham about. . . . . . .
The Honest Way For It To Happen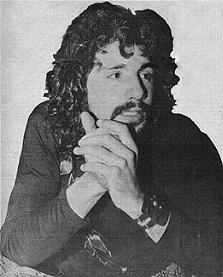 MR STEVENS is, one might suppose of a young man who has survived the horrors of being initially conceived as a teen idol at 18 and collapsing two years later with one lung in urgent need of repair — not to mention the 'brain damage' — to re-emerge after a medically enforced rest two years subsequent as one of our most significant young composer-artists, a very interesting 'Cat!'.
TURMOIL
He has the kind of bad angel looks, which Fellini likes to work into his films, and although he appears to have himself in control outwardly you sense a degree of mental turmoil behind the dark liquid eyes. He has an almost shattering grasp of the abstract, which includes a basic appreciation of Einstein's theory of relativity and perches nervously on the brink of his own nervous energy.
He joined me at his publicist London apartment on a sunny afternoon some few minutes late due to a short appearance in court over a minor motoring offence for which he was acquitted and proceeded to enthuse about the weather.
"I love this kind of weather," he said indicating the sunshine through the windows. "It's not too hot but just warm enough to make you feel comfortable without making you feel ... what's the word?" He collects words.
UNABASHED
"Lethargic'' I suggested.
"What does that mean?" he asked unabashed.
"Too tired to work - apathetic'' I suggested.
"That's it" he agreed and prior to the ordeal of yet one more interview requested some smoked salmon sandwiches from the pub nearby. We had one more false start when the phone rang ~ and he took time out to chew off a roadie who was not together when he should have been.
……I told you about Top of the Pops two weeks ago it's your job to see that everyone else knows, let's get moving."
We discussed the transformation from his teen idol days of 'Mathew And Son', 'Gotta Get Me A Gun' etc. to the present more subtly and personal expression of 'Mona Bone Jakon' and 'Tea For The Tillermen'.
"I suppose it must seem like that to people," said Steve —somehow I can never bring myself to address him as 'Cat' which is my hang-up not his. "Really it was a very gradual process for me and took place quite naturally over a long period of time. By the time people were talking about the new 'changed Cat Stevens' I was into something else.
"It's no good simply rejecting your past work and saying that was nothing to do with the real me — 'Mathew And Son' was me at that time and I'm still quite proud of it. What I came to detest was falseness being projected around me.
I couldn't bear going into recording sessions with all those strange faces, blank, uncomprehending and unsympathetic session men who really had no feeling for my music.
"I wouldn't go back to that kind of prefabricated existence for anything like most people who want to create, I wanted to project something that was really me. Somehow I got caught up in a situation where I never had time to sit down and think it out."
The crunch for Steve came with his physical breakdown, which enforced a long period of rest upon him where he was able to think things out. He drew an analogy with his own collapse and that of Peter Sellers some years back.
"Do you remember that period where Sellers appeared to be going through the doldrums and not making many good films which finally culminated in that dreadful heart attack and it was feared he might not live. He came out of that after a period of rest with such obviously renewed zest for life and his work that he turned in some of the best acting performances of his career. In a sense that was rather like my experience."
During that unhappy period one of Steve's closest friends was Barry Krost who had worked earlier with Steve on a film project and as their sphere of interests became more mutual he became his manager.
"It was just the most natural thing to happen," said Steve. "We followed that course — letting things happen naturally with everything else. We signed with Island because they were a record company who recognized the fact that the artist must be given musical freedom to present his best work. The day of the 'Les Reeds' was over and they recognized it.
"My only consideration was to write what I liked and what I hoped my friends would like — before I had an audience I wrote for them. This is the age of sharing your thoughts and that's what I am doing —that's the only way you become established. People who like good music share it with their friends and your reputation spreads by word of mouth. It's a good honest way for it to happen.
"I'm not really interested in being a part of something. My aim is to communicate something very personal and to have working with me those people who are sympathetic enough to help me present those ideas in the best way. That's why I work with people like Paul Samwell Smith who produces my discs.
EXPERIENCE
"That s the way I see things going — so it gets to the stage where people might go to watch someone doing something as simple and personal as pouring out a cup of tea but sharing in the experience. Physical participation is on the slide because most people have realized that you can go further in your mind. People don't dance now at many gigs because they are dancing in their heads. We are evolving towards a time of purely mental involvement."
Disembodied brains has never been one of my favourite Huxleyean concepts but Steve seems to accept what he regards as an inevitable development with stoic calm although at the same time he recognizes our present generation's rejection of that philosophy of mind over matter by it's insistence on a return to the Garden.
We touched briefly upon Greek music and its influence on his music from his Father's side of the family .
"Not many people realize that it is there quite strongly," said Steve. They realize that there is often a strange quality about some of the music which they can't place —my half brother George is teaching me to play the bouzouki."
In connection with his recent tour of America?
SCARED
"It gave me extra confidence to play to audiences who had no possible prejudice or preconceived notion of what I was previously. I was judged purely on my music which is exactly how I want it to be. I was scared to death when I opened at the Fillmore East and I think the audience sensed that I was trying very hard. Overall the tour was very successful and that audience got me off to a good start.
"I met some interesting people, did a jam with Feliciano in New Orleans which was fun - met James Taylor of the disturbing voice and eye - talked to Joni Mitchell - lots of nice people''
And so we say farewell to CS as his new single rises slowly in the East, "Tuesday's Dead" (Plug) and he prepares to hit the road with his new trip. Go see – go listen – and go enjoy yourself.