Cat Stevens Recipes
We all knew Cat was a Musician, Singer, Composer and Artist. Now you are also able to sample some of his recipes for the very first time.
---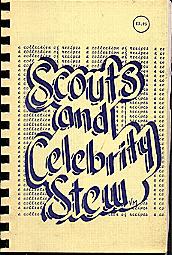 This Scouts and Celebrity Stew Cookbook was put together by the Cub Scouts of Sacred Heart, Pack #41 Messena New York in 1981. What began as a fundraising activity for the pack evolved into an exciting and fun filled project for the boys. They actually had many different celebrities who contributed, George Burn, (then) President Reagan, Ed McMahan, Bugs Bunny (yes he contributed ), Liberace and Burt Reynolds. But the most note worthy to us is Cat Stevens on page 6.
Note: notice the typo for Morning Has Broken!
SCRAMBLED EGGS
Cat Stevens, British singer, composer and musician, is best known in this country for his hit tune, MORNING IS BREAKING. Mr. Stevens airmailed this recipe to us all the way from England.
3 Eggs
knob of butter*
pinch of salt
2Tbsp. cream of milk* or cream
Melt butter in saucepan. Break 2 eggs into saucepan. Take the third egg and
separate the yolk from the white. Put only the white into the saucepan with the other two eggs. Add salt and cream of milk. Increase stirring as eggs harden.
Finally, when eggs are scrambled, add egg yolk just before serving. (Do not cook any more). Add a touch of parsley for a garnish.Serves 1
*Sometimes the British use different expressions from ours. A knob is a Tablespoon; the cream is self-explanatory.
---

Black Leather Cover White Insert page

First published in 1973

Take a White Elephant

A Galaxy of Stars,

A pastiche of Artists,

And a Click of Photographers...

All the ingredients for a perfect mix.

The White Elephant Cookbook is the collaboration of The White Elephant Club in Mayfield, England and celebrities, mostly British. There were many i.e. Vincent Price, Oliver Reed, Sean Connery, Roger Moore, Shelley Winters and our very own Cat Stevens on page 99. Each celebrity contributed a recipe or two of his or her choice, plus they included their autograph to the recipe for good measure. Artist from around the world, then drew the pictures to go along with the recipes. Others such as Photographer David Bailey contributed by adding photographs of certain celebrities. This book was definitely a community effort. And the nice thing about this book all the proceeds went to N.S.P.C.C. ( The National Society for the Prevention of Cruelty to Children)

Artist: Harriet Freedman

Cat Stevens Signed Recipe
Dolmades (Stuffed Vine Leaves)
vine leaves (obtainable from Greek food shops in Soho)

1/2-lb mince, cooked

1/4-cup rice, cooked

1 onion5 chopped

1 teaspoon each freshly chopped parsley and mint

1 beaten egg

seasoning to taste
SAUCE
2 lemons

1 small tin tomatoes

1 tablespoon tomato purée

1/4 pint good stock

seasoning to taste
Blanch the vine leaves in boiling salted water, and set aside to drain. Bind the remaining ingredients together, and place a small portion on each of the vine leaves.
Roll each leaf around the mixture, and secure the parcels with a cocktail stick. Place the bundles in a buttered oven-proof dish.
Squeeze juice of 1 lemon over the dolmades. Chop the tomatoes, and mix these with purée, stock and seasoning.
Pour the sauce over the dolmades, and cover with a small plate or saucer to prevent them moving during cooking.
Place in a moderate oven (350 F, gas 4) for about 30 minutes. Serve with generous wedges of lemon.
They can be served either hot or cold as desired.
N.B. If all this sounds a bit of a drag, dolmades are canned to perfection, and can be obtained from that well-known food hall in Knightsbridge!
---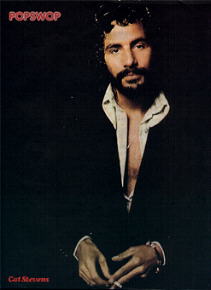 Good _ Grub _ Guide
This Liver Casserole recipe appeared in the February 3, 1973 issue of British Magazine POPSWOP.
CAT LOVES A BIT 'ER LIVER
One of the best ways to warm up on these cold winter days is to tuck into a steamin' hot casserole! Cat Stevens agrees and one of his favourite winter warmers is liver casserole. Full of goodness, very tasty and guaranteed to chase away those chills!
INGREDIENTS (3-4 generous helping).
1 lb. lamb's liver,

salt and pepper.

2 onions — sliced.

2 level tablespoons cornflour.

2 tablespoons cornoil.

2oz. mushrooms — sliced.

1 packet Knorr mushroom soup

2ozs. peas — cooked.

1 pint of water.
Trim the liver and coat with cornflour to which salt and pepper have been added. Heat the cornoil in a frying pan, add the liver and brown well on both sides. Remove to a casserole. Gently fry the onions and mushrooms in the remaining cornoil. Place over the liver. Add the contents of the packet of mushroom soup and the water to the pan. Bring to the boil, stirring. Pour over liver. Bake in a moderately hot over, 375 F Mark 5, for 45 minutes. 15 minutes before the end of the cooking time, add the peas. Serve it with some luv'ly mashed potatoes — it's just too much!