Another exclusive Rave interview. This particular interview appeared in the March 2, 1967 issue. The Rave magazine appears to be a British mod/hip teenage girls magazine that focused on clothes, fads and teen idols.
---
TIN PAN

ALLEY CAT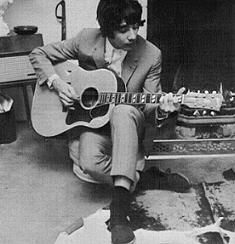 Songwriter, singer, sometimes loner, sometimes family man—Tin Pan Alley's latest discovery is all these things. RAVE's Dawn James finds out more for you about the lives of Cat Stevens.
He walked along Carnaby Street, dark against the scarlet of Lord John, and the purple of Gear. His navy blue shirt and jeans hung limply on his slim body, his black hair curled towards matching eyes. He is called Cat Stevens, songwriter and singer, and really quite an ordinary eighteen year old. He likes cool, longhaired, short-skirted birds, he yearns for cups of coffee and plates of toast at ten in the morning. And he answers 'Yer' and No' to most questions because they seem, to him, adequate answers.
"Are you thrilled at your success?"
"Yer.''
"Do you have a very busy life now?"
'Yer."
"Are you scared of failing?"
"No"
We stopped at a nearby café just around the corner from Carnaby Street. Cat bit on a piece of toast, sipped at a third cup of coffee, and grinned. "I don't say enough, do I? I find life rather good and uncomplex just now, and so I haven't a lot to say. If I was unhappy and frustrated, I'd be shouting my mouth off, but things have been so good—it's made me a bit..."
'Complacent?"
''Very.''
Cat got his break into pop when his brother, twenty-four year old David, took him into recording manager Mike Hurst, and asked. "Can he sing, Mike?"
Break-through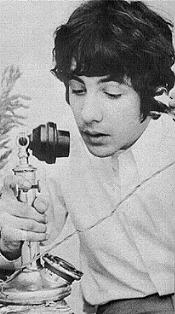 Mike Hurst said he could sing, but wasn't that unusual, just a nice, tuneful singer.
"Just as an afterthought," Mike explained, "I asked if he wrote songs. He said he did, a bit, and played me 'Dog'. Cat was made. You can have a dozen good singers, but all you need to make it in pop is one good song.
Cat chewed on the toast, and said smugly, "David and I had it all worked out, see. We didn't want to go to Mike saying how great I was, because everyone says that when they are trying to get in. No, we wanted to butter him up a bit, so we decided that by asking his advice first we were flattering him, and getting a hearing. It worked."
Mike and Cat have since become great friends. When together, they knock each other, verbally and physically—punches in the stomach and buffs about the head, and lots of taunting jokes like, "Was I good on stage last night Mike?" "You were lousy Cat !"
Cat lives at home in Shaftesbury Avenue, London, with his mother who owns a café downstairs.
We have the whole building, and live upstairs," Cat explained. "My mother is Swedish and my dad is Greek. I get my colouring from dad. I like living at home. I invite my friends round and mum joins in the fun.
Cat has lots of pop friends, but his two closest friends are boys he has known all his life.
"They are in Greece, and have been for several months now. But as soon as they get back we shall go round together again."
Despite many friends, Cat is basically a loner. He goes to pop places such as the Cromwellian Club and the Bag o' Nails, but he feels alone most of the time.
"I can be as remote in company as on a Desert Island," he explained. "Often, when I am in a crowd, I feel so alone I could cry from it."
Isn't he chased by fans all the time? "No. It's a drag, but no-one ever recognizes me. I go on tubes and buses, and walk around the streets, without anyone noticing. I don't feel famous at all, I wish they would recognize me." He looked a bit sad, and I wished they would too. However there are advantages to his being able to travel about unrecognised, because it was coming out of South Kensington tube station that he got the idea for 'Matthew And Son'.
"There is a furniture store opposite the station called 'Matthew'. I looked at it, and saw 'and Son', and wrote the song from that."
"How long does it take to write a song, Cat?"
He shrugged, the way he often does, head to one side, arms splayed out either side of him.
"A few minutes, an hour, a month. I can't generalize. 'Matthew' took a month.
Greek Temple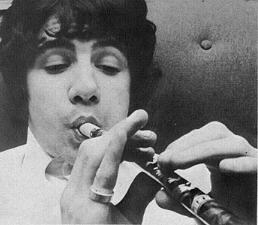 "I write my best songs when I am sad. If I am happy I cannot write well. Even if I write a happy song, I have to be sad."
"What makes you sad?"
Again the shrug. 'Anything. It's not miserable sad, sort of quiet, dreamy sad. I can get it looking at people, maybe shabby, or ugly people or if it is a nice evening and I smell something in the air, spring, or winter, something that moves me. It is hard to explain." He grinned.
As both writer and performer of his hits, Cat is likely to make quite a bit of money from record sales, as well as public performances. What does he intend doing with the money?
"Not a lot," he said. "All I really want is to build a temple on a hillside i?~ Greece, and live in it."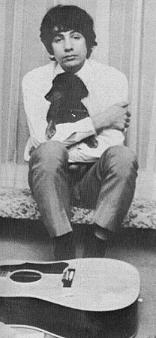 What? Leave swinging London? Not buy fastcars, yachts, penthouses?
"Just a cool, marble temple in Greece, where I can make music in peace. See, all I want to do is make music. I'd like to make real music that didn't need the human voice, something purely orchestral. And yet I like pop. It is an outlet for a certain music art. I don't sneer at it and want to leave it behind and do better things. But I do want real musicians and music critics to see something in my pop music.
The dark head moved. "Shall we go?" he asked.
Magical Names
The streets of London shone in the cold sunlight of late winter. There were lots of people darting across his path, but they didn't recognise him, and despite them all he was alone. Lord John, Gear, Bag o' Nails, Carnaby Street—magical names in the magical world of pop, fashion, entertainment, music; and amongst it all, a dark boy, getting ideas for more songs, so that he can build a temple on a Greek hillside, and make music, peacefully.
But I wonder ..
Dawn James