This article comes courtesy again by Olive George, my one time teenage Pen-pal from England. She sent this to me many years ago. Unfortuately, I do not know from which newspaper or magazine this clipping comes from. The only thing I can say for certain, is that Linda Lewis is talking about the 1974 Bamboozle Tour, so this article is probably from early 1975 or late 1974.
Special note to Olive: If you are reading this, please send me an e-mail I would love to hear from you again, and catch up on old times and reconnect with you after all these years.....Christine.
---
THE PURR~FECT TOUR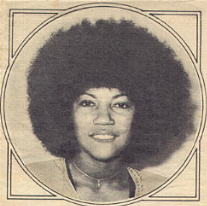 Pete Meets Linda Lewis
When Linda Lewis came to meet me in her record company's office, a few weeks ago, she arrived at lightning speed, towed by Mick, her very large red setter.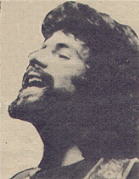 Mick's very special to Linda because he was a Christmas present from her boyfriend, Jim Cregan. "I told Jim I wanted either a fur coat or a dog for Christmas," said Linda,' and as it turned I got both! Aren't I lucky?
Linda is so fond of Mick that she takes him everywhere with her, in fact the only times she allows herself to be parted from him is when she's away on tour.
"But even then, he doesn't have to go into the kennels,' she said, "because either Jim's mum or my mum will always look after him.
Linda was away from Mick for most of last year, because she spent several months on a world tour with Cat Stevens. But at least she didn't have to be parted from Jim, who's a musician, himself. He went along as the guitarist in her backing group!
At first, says Linda, working with Jim as well as spending her spare time with him caused problems
"During the first tour we worked on together, we had terrible rows," She told me. One time we had such a bad row that we ended up throwing things at each other! I suppose it was a bit odd for Jim to back me now, because before that he'd been in Family, who we a very big group.
But we soon worked things out, and now we have a great understanding. Jim plays so much better than anyone else — maybe because we love each other, and so he wants to please me with his music."
Linda and Jim came back from the world tour laden down with souvenirs from all the countries they'd visited. Linda says her favourites were some Indian turquoise jewelry from America (even though the Customs people charged them £70 for it!) and several beautiful kimonos from Japan.
And Japan was Linda's favourite out of all the places they saw.
'Japan was amazing," said Linda. "It took us a long time to get used to it at first because women there are second class citizens. They open doors for men, walk behind them and light their cigarettes! To begin with I thought, how awful, but by the end I started to do it too! We looked at the lovely temples and traveled out into the countryside, which was beautiful.
I wondered how Linda had first come to know Cat Stevens.
"I've known him for ages,' she told me. "I first got to know him when I lived in a big house in Hampstead. One of his roadies lived there too, so he often came round. And then I did some back-up vocals for him in 'Teaser and The Firecat.'
"When we were on the tour he told me he never really thought of asking me to tour with him before, because you never really think of your mates when it- comes to that sort of thing, they're too close. So when someone suggested me to him, he was really pleased. But he felt sort of guilty that he hadn't asked me before!"
And Linda says she thoroughly enjoyed working with Cat.
'He was really great — fabulous company,' she said I'd heard he could be moody, but he wasn't at all. He was smashing.
"Mind you. Watching him "You can see why he might be a bit moody at times. It must be so lonely at the top, and I think he is lonely. He always has lots of people coming up to speak to him, and every time he must wonder why they're doing it, and what their motives are. It must make you very distrustful, being so famous.
On a lighter note, Linda told me that, looking back on the tour, she could hardly believe it had really happened.
"It's like a dream!" she said. "We started in Britain. went through Europe to America and then went on to Japan, Australia and Now Zealand. We were supposed to go on to South America, but that was cancelled, which was a shame.
"Actually, the last I heard from Cat, he was down-there. He shaved his head and his beard off, and want down there to meditate. I didn't see him before I went, and I dread to think what he looks like!"
Linda's biggest fear about the tour was playing to the huge crowds who'd come to see Cat.
"We were playing to enormous audiences, which was great, but very frightening," she said. "I was afraid, to begin with, that the audiences, especially in America, wouldn't he very receptive to me. But in fact they turned out to be really nice and considerate.
"I was really lucky to get on the tour. It was great fun. Being together for so long, we all ended up like one big travelling family."
"In fact I enjoyed it all so much that at the moment I'm planning to do an album about our travels on the tour. I've never done one that had any sort of continuity to it, and I'd really like to.
"I kept a diary all the way through the tour, and I'm trying to see if I can turn it into an album of songs.
I can't think of a nicer souvenir to have than that!