This article appears in the newest issue of the British Music Magazine 'MOJO' from August 2000. It comes courtesy of Murphy Anderson. It seems as if Yusuf has a conscience about settling old debts. Good going Yusuf!! I always felt is was probably just an slight overlook anyway.
---
Payback Time!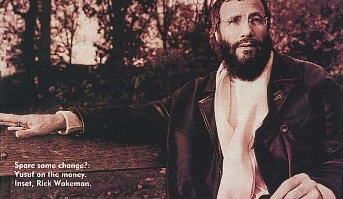 Royalties Yusuf Islam pays Rick Wakeman £9/10s.

Cat Stevens known these days as Yusuf Islam is undergoing something of a revival at the moment after the reissues of the 70's albums and his decision to return to music making (see Mojo 79). He has also decided to take care of his old estate and following a letter in Mojo 80 is actively trying to make amends to Rick Wakeman, who never was paid for playing keyboards on one of Stevens biggest hits "Morning Has Broken". Yusuf contacted Wakeman after reading the Mojo letter – which argued that Wakeman was so irate at not being paid that he refused to perform the song on Top Of The Pops. Wakeman has told Islam to forget the sum, but Islam is insistent in coughing up—he asked his accountant to work out some compensation. The original fee for the session was £9/10s, which was lost in the post.
However not everyone is thrilled by Islams new high profile. Last month he was denied entry into Israel on the grounds he "didn't seem like he was here for summer tourism."
Islam was travelling to Israel to film part of a VH-1 Behind The Music programme. The Israeli government claimed that Islam had contributed money to the Palestinian group Hamas was therefore not welcome.
Islam was not pleased with this decision "All my donations in the past were given to humanitarian causes." He explained, " I've never ever knowingly supported any terrorist groups- past, present or future."