Mirabelle

March 11, 1967

Courtesy of Bruce Lawrie
CATS' STORY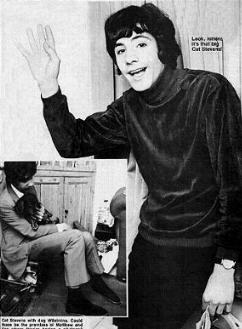 He's only eighteen, has been in show business for under a year, yet in this short time he has achieved what takes many singers a lifetime – success and a top ten hit record. His name is Stephen Georgiou, probably better known to you as "Cat" Stevens, the guy whose first record "I Love My Dog" surprised a lot of people in the business by getting into the charts.
Cat Stevens with dog Wililmina. Could this be the premises of Mathew and Son where they are having a Sit -Down?
NO FLASH IN THE PAN
But Cat proved with his next record Matthew and Son" that "Dog" wasn't just a flash-in-the-pan success. And not only is he a talented singer, but also an excellent songwriter. Both "Dog" and "Matthew" were penned by Cat.
Everything has happened so quickly for him,
That one would think that this would change his character and outlook on life. But I'm glad to report that he didn't seem to have changed all that much when I saw him recently. He still has time to be nice to fans – to sit and talk about things in general.
At the beginning of the year he said that he wanted to get a really good year behind him and then he'd like to take a holiday in Greece. With so much work behind him you'd think he deserves a holiday now, but Cat never lets up, he just keeps working – he's determined to see the year out and then perhaps he'll take a rest!
He's one of those people who never rest on their laurels – always looking into the future, he never looks back.
Cat spoke about his Dad's philosophy. "Dad always said to me, right from when I was so high…" he waved his hand about three feet from the ground and laughed, "that I should never look back. I think that's something I'll always remember. It's played quite a main part in my life.
DARKLY HANDSOME
Cat is darkly handsome, with dark brown eyes that he screws up at odd intervals when he doesn't agree with what is being said. Of average height and slim, he looks good in any gear and always seems to wear different clothes whenever seen, especially for television appearances.
He told me: "I like clothes very much – a large variety of clothes, but I don't think I spend that much money on them. I'm certainly not extravagant over clothes."
He told me about his first appearance on television. "I knew I was to appear on Top of the Pops, and I wanted to wear a white suit. Well I spent ages looking round all the shops and boutiques in London and couldn't find one anywhere. However, eventually I found one – but only the day before the show!" Does he like doing television work?
"Oh yes. But the first time, I was a little nervous. I find that with the success of my records I've gained more confidence now and I feel more ready to face the cameras and live audiences.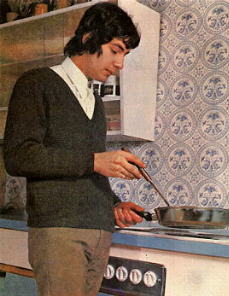 NO BIG-HEAD
He's gained more confidence, he's matured a little more - but he's not big-headed and conceited. In fact he's a very modest fellow - he's had a lot of success songwriting – The
Tremeloes recorded his song "Here Comes my Baby" and Paul and Barry Ryan are recording one of his numbers – yet he never boasts.
"Here Comes my Baby' is one of my old numbers, written about eighteen months ago, and I was surprised when I heard it. It's not how I meant it to be done but I really quite like it. I love other people doing my songs"
Well that's Cat, a nice, modest and talented guy – we're sure that '67 will prove to be not only the year of the Monkees but of Cat Stevens too!
Cat Stevens cooking