Courtesy of Chris & Annie Abrams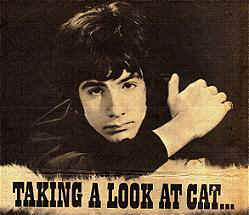 Cat Stevens is a remarkable guy. He's still getting over the shock of being a soaring over night success, and found that show business is a very time consuming job!
Mind you, he's not one of those people who just sit around dreaming when he is not working. Oh, No! Like I said he's a pretty remarkable guy and finds time, not only for songwriting, but for acting and clothes designing too! And now, as if that isn't enough, he's got his own recording company and is presently recording an old friend of his (whose name he won't reveal).
" He's a really fantastic singer, and I'm so glad that I may be able to help him. I used to sing with him some time ago. He sings and writes - I couldn't help him though, unless I had a lot of confidence in him. You know there's so much talent around, just waiting to be discovered."
Does Cat, or Steve as he is called by his friends, find much time now for song writing?
" Well after I recorded 'Gun' I had a really dry patch in songwriting. Then I had so many ideas, and only a little time to write. I'd like to cut personal appearances to a minimum and devote more of my time to writing and producing."
Why, if Cat records other people, doesn't he produce his own records?
" Well I think when you write and sing a song, someone else has got to work with you on it so that they can stand back and really take a good look and listen to what you've done. That way you get the best results."
Cat is still working on a musical and when I spoke to him, he told me that he hoped to go to Mexico in the near future to get some inspiration for the songs.
Earlier I mentioned acting, Cat says he would love to act and I'm sure he'd make a excellent actor. After all, his dark good looks, he's very photogenic and is sure to come up very well on the big screen!
Mmmm! And on that nice thought we finished out interview. We could have talked for hours, but he has lots of recording work to do, and I just ahas to get back to my typewriter to tell you all about Cat!
Mandy Matthews