The British teenage girls magazine Fab 208 held a competition in 1967-1968 with the winner contestant winning a free trip for 2 to meet Cat in Greece. This is the article which followed Cat and the Kittens on there holiday excursion. This article is courtesy of Chris and Annie Abrams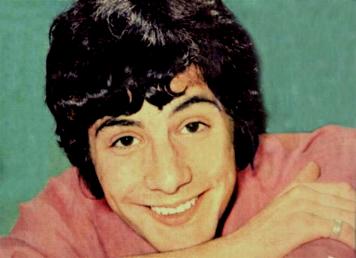 WINNER FLIES OFF TO MEET CAT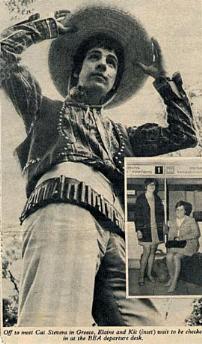 On Saturday evening, September 2nd Mary Knight and Teresa Kill left London Airport to keep an exclusive date. A rendezvous with CAT STEVENS in Greece: part of Mary's prize for winning FAB-208's Holiday in Greece Competition.
The remainder of the prize is a glorious three week holiday of sea and sunshine at the Club Mediterranee at Aighion in the Golf of Corinth with a friend.
And Mary chose her work-mate Theresa (Kit) to go with her.
They arrived at Paddington Station from Glastonbury, Somerset, at 7.40 p.m. and had to make a mad taxi dash through London and out to London Airport to catch the BEA Comet to Athens.
Neither of them had flown before but they were both far too excited to be nervous.
"I couldn't believe it when I heard I'd won," Mary told FAB. (She prefers to be called Elaine-her second name.)
"I used to read my sister's copy of FAB and noticed the competition. So I went in for it on the off chance.
"I never thought of Cat one of my particular favourites before, although I loved his songs. But now I'm going to meet him I can't wait."
She wasn't going to have to wait too long to meet Cat either. He was due to fly out on Monday (4th) with two of the FAB Gang, June and photographer Peter.
So there'll be more news of Elaine and Kit's exciting holiday later.
CAT & KITTENS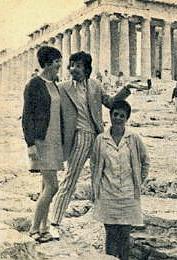 This is the story of a Cat and two Kittens on their hols in Greece, told by JUNE SOUTHWORTH (in words) and PETER PUGH-COOK (in pictures). The Kittens were Kit and Elaine, winners of FAB's competition for a three-week holiday in Greece at The Club Mediterranee, and 'the Cat was Mr. Stevens, who met them there. And a good miaouw was had by all!
On a sunny Monday morning, with our two FAB readers safely seen off to a dream holiday in Greece, Cat Stevens, who was to meet them out there, was waving goodbye to his dog Wilhelmina and looking forward to a big family reunion in Greece with his father-already on holiday there - and masses of relatives he hadn't seen since he was thirteen years old. From that moment on, all Cat could think about was seeing Greece again.
Of course, we nearly missed the plane….. a small matter of Cat diving into every record shop along the way to pick up a copy of his LP, Matthew And Son "to make sure everyone out there knows what's happening to me" ... but a sweet B.E.A. man (where do B.E.A. find them all?) put us on a super Trident jet with his blessing.
At Athens, the sun hit us like a wall of fire as we stepped from the plane. Cat soon disappeared under a cloud of relatives to an evening of dining and wining to the endless jangle of bouzouki players and Zorba music.
---
Mary Elaine Knight, seventeen, and her friend Theresa (Kit) Kill from Somerset, were having the time of their life at The Club Mediterranee, home of guests on B.E.A.'s Silver Wing holidays near Aighion on the Gulf of Corinth.
Meanwhile, FAR photographer Peter and I were well on the way to Aighion to see them, having left Cat re-discovering "my second home" in Athens with promises that he would meet the girls the next day.
We drove through exquisite little villages where donkeys held the right of way and giant sunflowers blossomed; and open countryside, where purple mountains rise from dry red hills and cut into hard blue skies.
Just beyond the picturesque town of Aighion, we turned a bend in the road and came upon The Club Mediterranee with a sense of surprise. It's set on a peaceful headland and conjures up visions of a sort of well-supplied Treasure Island, where people live in superior grass huts and use beads instead of money. It's easy there to forget that the world stretches beyond the bend in the road.
When we arrived, lunch was ready. I have never seen such vast portions so temptingly served. . .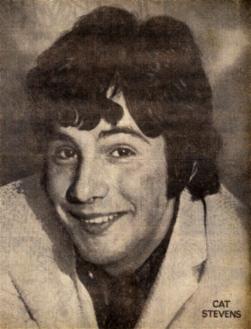 masses of juicy steak, super-fresh green salad, grapes by the branch, and giant cheeseboards. And since the Club is run by French people, the cooking is superb. Each table was heaped for a feast, and if dear old Bacchus-the Greek god who loved such pleasures-was watching, I'm sure his mouth fairly watered!
We discovered Kit and Elaine in a hut called Histoire, donning bikinis for an afternoon on the beach, which is golden and perfect and owned by the Club. They spoke enthusiastically of a perfect holiday where sailing, spear-fishing and skin-diving add a touch of the out-of-this-worlds.
"The most important thing," said Kit, "is the people. They're so friendly here. There are all sorts of nationalities, but somehow everyone makes themselves understood. We all spend hours over dinner. There's so much to talk about."
'And then we all go dancing," said Elaine, "at this fabulous little bar, where you can dance to a jazz band till three in the morning. It's the most wonderful thing that's ever happened to me."
We felt sorry that Cat had missed out on all this and the girls resolved to tell him all about it the next day in Athens.
---
Athens is really two cities. The centre is a smaller New York, where skyscrapers nudge each other and shops overflow on to the pavements. And around the centre is old Athens, dominated by the breathtaking Acropolis, where the ancient Greeks built their mighty temples, and governed the thoughts of half the world.
We joined Cat early in the day for a sightseeing tour while Kit and Elaine made their way from The Club. It was quite an experience touring Athens with Cat, who was supremely at home. We saw the great Olympic Stadium; the Temple of Zeus, the Royal Palace. The guards at the Palace are called evzones, and wear those absurd little skirts that the Greeks call fustanellas. There was much stomping of leather slippers, ceremonial marchings and declarations of arms. Arms being a nasty bayonet with which one otherwise stoic guard slyly prodded photo posers who out-stayed their welcome!
At the Temple of Zeus, Cat invited the wrath of the gods with matey greetings of "Hi, Zeusie Baby," and said he felt a song coming on. I hoped he'd feel better soon.
Elaine and Kit arrived in Athens, and it wasn't long before Cat worked out that he had the basis for a new trio - Kit-E-Cat! After much talk of The Club Mediterranee, we toiled up the Acropolis for a first-hand look at the Parthenon, where it seems all Greece is stretched out at your feet. At last, the wrath of Zeus descended on us with torrential rainfall, thunder and lightning. The Acropolis looked magnificent.
Eventually, the day came to an end. Elaine and Kit went back to their idyllic hideaway, and Cat went off to find his dad. And so we say farewell to the Cradle of Civilization, land of the philosopher, bouzouki, moussaka, and a Cat who philosophises through his songs.