Article courtesy of Chris & Annie Abrams
MY KIND OF GIRL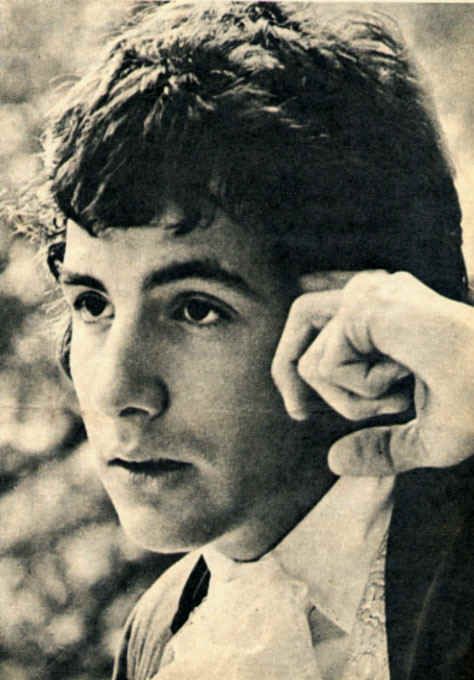 Cat Stevens, bachelor, is lonely. He wants to get married, needs someone to love...and here he details the kind of girl who would make him happy.
At the tender age of fourteen Cat started purring.
He dabbled in love for the first time, and being young and gullible he was easy bait for a tall, blonde sparkling-eyed German girl. Since then he has been in love three times. He wanted to marry the girl each time and is the first to admit that he falls in love easily.
Love first hit him at an Austrian camping site. It was far from a romantic setting, but at that age life doesn't need pretty trimmings.
Cat's just five years older now, but considerably more than five years wiser. He's grown up in a hurry. His thoughts are sophisticated and he philosophises like a man who has seen too much of life. But when it comes to girls and love, all men are the same aren't they?
He is longing to find his type of girl and fall in love.
He told me all about it:
"I'd hate to say just what my type of girl is. What she looks like doesn't really matter. But honestly I am really searching for someone right now.
"You probably think it's funny. Being a pop star and being surrounded by beautiful girls and fans you must think I'm mad to settle down with one. But I want to. I'd marry tomorrow if I found the right girl. The only trouble is I fall in love easily. I'm a very lonely person. I need people, and if a girl shows me a little affection I fall in love. Nobody seems to think I need affection. But I do. I need it badly. And I'd love to have one girl by my side all the time.
"She would have to have a mind of her own, be able to think. It would be essential that she was interested in pop, although she must be intelligent enough to realise that the business is an illusion. She must be interested in me and be behind me in everything I do.
"She must be smart when she needs to be, but know when to be casual. I don't want a girl who is always looking at herself in the mirror.
"I want her to be untidy sometimes. What does it matter if her hair is ruffled?
"I am only just beginning to realise what I am like, and I am just realising that I need somebody, and I am looking for someone to love. You don't know what you are like, until you stop and think.
"I have been working so much, I am only just having time to stop and think.
"The girl that I marry will have to put up with my moods on rainy days. She would have to think for herself, but when it came to decisions I'd be the boss. Mind you, I'd hate someone that did everything I said.
"I wouldn't want her to follow me everywhere I went, but if she wants to come on dates sometimes with me I would love her to.
"She would have to love children and want to be a housewife. I would love to have two boys, I just love children.
Actually I am shy and especially shy of girls. I suppose you could say I'm afraid of being shunned. Now of course it is impossible for me to go up and ask a girl to dance. In fact it is very difficult for me to go out with girls at all.
"But then if I adopted my attitude of being myself I suppose I shouldn't worry about being shunned. Really I believe in doing just what I want to - but it is difficult sometimes.
"But I seem to do everything in life very suddenly. I do most things on inspiration. So perhaps I will fall in love, really in love, the same way. Anyway I am looking forward to the day when I do, because when I do, it will be all the way. I don't do anything in halves."
But for Cat at the moment, life has something missing. He's buried himself in his music, and he wonders whether love will make him compose better music or take his mind off writing altogether.
Perhaps music will go by the way but, until then, it is his first love.
PAMELA TOWNSEND