Many thanks to Bruce Lawrie for bringing this wonderful article to Majicats attention.
Many of us did not know or have forgotten that there was an earlier controversial subject concerning Cat Stevens. This controversy concerns his 1967 hit "I'm Gonna Get Me A Gun ". This Q & A session has Cat commenting on that controversy and also mentioning writing that "Western Musical". If only we could get our hands on that script. If we could, I think Roy Rogers and Gene Autry would have to hang up their guns, spurs and guitar after Cat Stevens had his day in that saddle....
Happy Trails To Cat
Happy trails to Cat,

Until we meet again.
Happy trails to Cat,

Keep smilin' until then.

Happy Trails to Cat

Who cares about the clouds when we're together?
Just sing a song and bring the sunny weather.
Happy trails to Cat, 'till we meet again.

Some trails are happy ones, others are blue
It's the way you ride the trail that counts
Here's a happy one for Cat...

Happy trails to Cat
Until we meet again
Happy trails to Cat
Keep smilin' until then
Happy trails to Cat

Who cares about the clouds when we're together
Just sing a song and bring the sunny weather
Happy trails to Cat, til we meet again
Dale Evans
---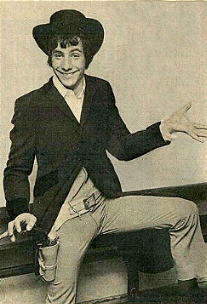 "JUKE BOX" BITCHY COMMENT HURT
Says Cat Stevens

To Jeremy Pascall
New Music Express

April 22, 1967
Happy picture of Cat Stevens with his gun, the subject of much controversy since his new hit " I'm Gonna get Me A Gun." Cat talks about comments and answers questions frankly in this Question Time.
It was the Cat that got the cream of the line from Glasgow! A Cat Stevens, purring with well deserved please at his success on the Walkers Brothers' tour.
Ever pleasant, ever helpful, he cheerfully settles down the Question Time despite the rigours of touring, performing and the general bustle that surrounds a one-nighter.
Q In view of the controversy surrounding " I'm Gonna get Me A Gun," do you wish you issued something else?
A Yes, Well, I liked the controversy in the beginning but it got hectic, and I don't want anybody to feel bad or brought down nor to entice kids to buy guns. In the context of the western musical, the sound wasn't bad—I liked it, but I see now that it was my fault for not explaining the context before it was released.
Now I'm looking forward to the next single. It's a slowish one I've been wanting to do for ages. You'll like it. I'm not really worried that "Gun" stared slowly—it's doing all right now!
Q How did you react to the statement made about "Gun" by reviewers and particular "Juke Box Jury"?
A I felt terribly hurt after "JBJ" in fact, I couldn't sleep all that night. I thought some of the things said were unnecessarily vitriolic and bitchy, but I've spoken to some of the jurors since, and now they've put the song in it's true context they like it.
The trouble is you don't think about those things when you put the record out—you're so wrapped up in it you can't see somebody else's side. I won't make the same mistake again, though- I've learnt from the experience.
Q At what stage of progress is your Western musical?
A Frankly, I'm getting fed up with it now. I wish I'd never said anything about it, because now everybody's hurrying me to finish it.
Left alone, it's okay. I write a song here and there, and no pressure, but the moment somebody tells me do something I shut down like a clam.
I've made it a Western, because I think there's a feeling for things western just now in clothes and country music everywhere. I want it to go on in the West End, and I'd love to take the lead, because it's really about me—but as a cowboy.
I wouldn't back it with my own money, though!
Q You've gone a long way in a short time. How do you feel about suddenness of your success?
A I'm beginning to adjust now, and take things in my stride. I seem to cope with it all. Has it changed me? Well, I'm very organized these days. I write everything down on bits of paper, and plan what I've got to do each day.
Q Do you plan your career similarly?
A Not really, I concentrate on now. I had three numbers and I'm here. What I've got to do is keep on improving, working and learning.
I will be producing a record pretty soon with an old friend of mine from the days in the folk clubs, when we used to sing around. His name is Peter James Hogan, and he writes some great stuff himself, but I'm giving him one of mine to start with.
I did plan for this tour by working on my act with producer Fred Perry, who's great, so give him a plug. I'm much more confident sine he's helped me, and less embarrassed by myself on stage.
Q And how is your first tour going?
A I'm blasted –well enjoying it. On the first day I thought it was terrible in the coach and all. But now I've got my own car and I'm staying in comfortable hotels, every thing is great.
The fans are fantastic! I thought they'd be there for the Walkers only, because they're the gods. But I think I'm appreciated, too.
Q And after the tour? What then?
A I think there'll be a Cat Designs in the future. I designed my stage gear, and I've been doodling around a lot recently.
I'll do some of the designing, and my brother David will run the business side of it, as he was in fashion and knows the contacts. It won't be a boutique- strictly trade and wholesale.
Q You're both writer and performer. Which is the more important?
A Performing is becoming very important now, and I'm working very hard at it. I really want to be a great performer. I admire Sammy Davis that man is unbelievable. And the Walker Brothers aren't so bad! Seriously, they are great. I've learnt a lot from them.
Writing is still important, but it does tend to go in fashions. At the moment my songs are in great demand, but then so were the songs of Mitch Murray and Chris Andrews and they're both suffering a little right now because they stayed stagnant, I mustn't do that. I intend to grow with time, expand and change.
____________________________________
Here is another early article which has Cat mentioning the famed Western Musical