This is an article from Ice Magazine, which is more like a newsletter, is sold in music stores. The magazine tells all about current cd releases. In this issue they talked about the new Best of Cat Stevens CD, as well as the up and coming re-releases and some exciting news about the Box Set due out in the fall of 2000. This article is contributed by and transcribed by Jill Mallow.
---

CAT COMES UP FOR AIR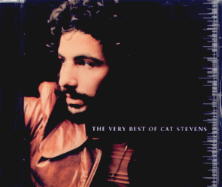 (Ice Magazine, April 2000)
THE CATALOG OF CAT STEVENS, once a man at the forefront of the prominent singer/songwriter movement of the early '70s, is due for a major overhaul this year. Even after the passage of 20 years and Stevens' total withdrawal from the music business, his catalog continues to sell exceptionally well on CD.
To kick things off, March 28 sees the release of a new compilation, The Very Best of Cat Stevens, on UTV/A&M. (The "UTV" designation means that Universal plans a major television ad campaign.) The roll-out continues in May with remastered versions of Mona Bone Jakon, Tea for the Tillerman, and Teaser and the Firecat on A&M proper, with Catch Bull at Four, Foreigner and Buddha and the Chocolate Box following later in the summer. October is currently penciled in for an as-yet-untitled box set, while the final three albums (Numbers, Izitso and Back to Earth) are presently on tap for next year.
After his initial, modest success in Britain in the mid-'60s, Stevens survived a nervous breakdown and reemerged in 1970 with Mona Bone Jakon (with a young Peter Gabriel on flute), an album which saw some of its tracks used for the soundtrack to the cult film Harold and Maude. Stevens flourished after that, throughout the '70s, until a brush with death late in the decade caused him to abandon his career after converting to Islam. Little was heard from Stevens until 1989, when he made news by refusing to criticize the Islamic death threat against writer Salman Rushdie. Now know as Yusuf Islam, the singer eventually conceded that perhaps death was a bit too severe for the Satanic Verses novelist.
ICE spoke with producer Bill Levenson, who is heading up the reissue series for the Universal Music Group's Chronicles division. "Over the last five or so years," Levenson says, "we've been pulling together the best sources from A&M and Island [Stevens' U.S. and U.K. labels, respectively]. All the albums have been remastered from the original two-track masters." He adds that The Very Best of package will be a preview of remastered things to come: "Teaser and Tea have always been audiophile benchmark records. Even the old Mobile Fidelity versions are not even close to the job done by Ted Jensen at Sterling Sound on these. You'll be amazed when you hear them."
Levenson recently spent a day in London with Islam, going over ideas for the reissue campaign. There they mixed a Mona Bone outtake, "I've Got a Thing About Seeing My Grandson Grow Old," for inclusion on the best-of and box sets. "He's a very thoughtful man," Levenson says. "He has terrific ears. You defer to him because whenever he suggested something, he was right."
The reissues will not include any bonus material, but they will faithfully replicate the original LPs. Levenson is still working on the box, and has a wealth of rarities to choose from. "We're looking at live stuff, demos that pre-date his Decca days, and 20-30 key outtakes including a 1970 session with Elton John. We also have all his guitar/vocal and piano/vocal demos, along with his more recent Yusuf Islam material."
Once this phase of the reissue campaign has been completed, there is a chance that more unissued material may surface, including a live retrospective. And that perennial best-seller, 1975's simple, 12-track (and triple-platinum) Greatest Hits, will also be remastered and reissued somewhere down the line.