Sounds Magazine
February 23, 1974
HUGE CAT TOUR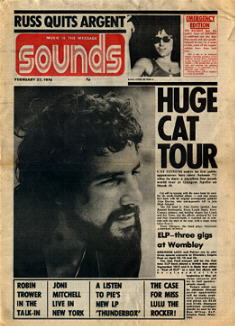 CAT STEVENS makes his first public appearances here since Autumn '72 when he starts a marathon four-month world tour at Glasgow Apollo on March 19.
Cat will be touring with the same band he used for his newly-finished album — and that means he's back with his original accompanist, guitarist Alun Davies, who subsequently left to join Mark-Almond.
The full band is Alun Davies (guitar), Jean Roussel (keyboards), Bruce Lynch (bass), Gerry Conway (drums), and backing singers Sue Lynch and Joy Yeats, and the album, produced by Cat and Paul Samwell-Smith, is expected out to coincide with the start of the tour, with a single being taken from it.
From Glasgow the band plays Newcastle Odeon 21, Liverpool Empire 23, Oxford New Theatre 24, London Drury Lane Theatre 27 and 28 and Coventry Theatre 31.
There is a possibility of a third Drury Lane date. Linda Lewis is expected to be 'special guest star', playing the first half of the concerts. The tour will also include Continental and US dates, with a possible extension to take in Australia and Japan.