Courtesy of Chris & Annie Abrams
The new Faces in the Editor's chair (and very funny they look, too) have asked me to talk to Cat Stevens about his song-writing, "for our own education as well as our readers"' So, if you're sitting comfortably, then we'll begin...
Cat going for a song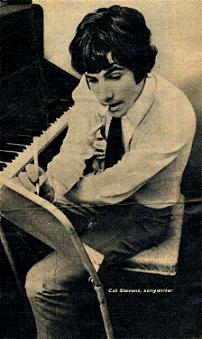 For a boy who caught the Imagination of a nation with a song called I Love My Dog, Cat Stevens wasn't feeling too kindly disposed towards his dachsund, Wilhelmina, when he called me to talk about his songs.
"My dog is pinching a bone right now, and I have a terrible suspicion it's one of mine," he said. Relenting, he added:
"But sometimes she loves me, and then I love my dog. I always take my songs from life, you see. I never write fairy stories or drug lyrics. My songs are basic and down-to-earth, like my best paintings. I mean, I don't just sit in front of a canvas and say, 'What shall I paint today?' I go out and find some life.
"Maybe I'm in a car on the way to a date, and it gets boring, as travelling in a car always does in the end. I combat the boredom by writing a song. I'm so lucky in one respect. Lyrics come to me very easily, and I have lots of little tunes lying about all over my head.
"I was eating a lobster once in France somewhere, and suddenly I got a tune in my head that went with the lobster. When you hear the song - it will be published soon - I hope you'll be able to smell the lobster. That's what a song should do to you. Bring back memory, create a mood.
"The first song I wrote was Darling, No, four or five years ago. I was very proud that I had met the challenge, and thought the words were wonderful and the tune was wonderful. Actually, they were so corny it's ridiculous, and I hope no-one ever uncovers that song."
Cat's songs are being uncovered daily by other artistes and covered on disc. People like his songs because they are rather wistful, very catchy, wholly original.
"I never ever write specifically for other people. Usually, someone asks if I have a song for them, and I happen to have a tune in my head that seems right for them. I would never write with definite artistes in mind, because I would find myself copying their previous records. And I never copy anyone else.
"Something that helped me a lot. . . I don't know if you know this.... I never had a record-player, and I never bought records. Even now, I just have a few classical and jazz discs. So I'm not influenced by anyone else.
"Of course, there are writers I admire. The Beatles, I like. I find both Elmer and Leonard Bernstein's music raw and exciting. Tchaikovsky, I like, too. They all write good music, clever music.
"The best thing I've written hasn't been published yet. It's called Might Peace, and it's about children. About what it means to be a child. The words ring true every time I hear them, and that's how I judge my songs.
"Most songs I write purely for my own pleasure, and like my moods, the writing changes from song to song. They're all pretty sad, my songs. I don't like singing happy songs. Happy songs make me sad; sad songs make me happy."
"I'm told that I can't sing all my own songs on stage, because people won't have heard most of them. But I feel so stupid singing other people's songs. They don't come from inside me. And I think that's terribly important, don't you?"
JUNE SOUTHWORTH