Sounds Magazine

June 5, 1971

Courtesy of Linda Crafar
Cat Stevens Faultless Performance
Reviewed By Jerry Gilbert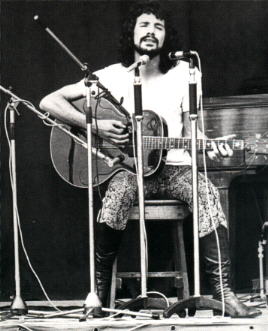 For the second time in a week the Guildford Civic Hall audience remained deceptively cool until just before the end of the concert. On Sunday they had suddenly warmed to Stefan Grossman shortly before the end, much to his surprise, and on Thursday (May 27th) the same fate befell Cat Stevens. Not that his performance really calls for a wildly exuberant response anyway, but I think he was justified in announcing: "I didn't think you wanted me" when the audience finally let him know what they thought.
In fact Cat gave a faultless performance, which was almost too perfect at times, and it is sad that the concert was far from being a sell out. The rhythm section of Harvey Burns (drums) and Larry Steele (bass) were superb in their support, and, acoustic guitarist AIun Davies filled out brilliantly and played some tasty lead parts without ever becoming obtrusive, although I felt that more vocal support on his part was definitely called for. Cat centred his performance around songs from his "Tea For The Tillerman" album, and early on his set he moved from guitar to piano for a few numbers, of which "Sad Lisa" was the most memorable.
"Miles From Nowhere", "Wild World", "Hard Headed Woman", "Longer Boats" and "Where Do The Children Play" were all played beautifully and it is refreshing that a basically solo artist playing acoustic guitar can drum up so much enthusiasm on both sides of the Atlantic, singing what are basically simple, honest songs. — JERRY GILBERT.