This cute article is from a March 16, 1968 'Disc and Music Echo' magazine and comes courtesy of site contributor Linda Crafar.
Cat Stevens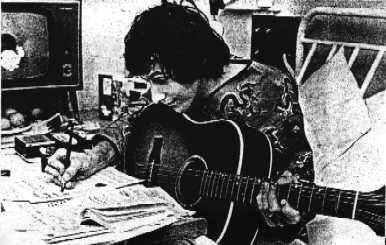 Composing in the hospital
Composer busy at work in his hospital bed is—Cat Stevens.
Cat, rushed to hospital two weeks ago with severe congestion of the lungs, is "feeling a great deal better. I'm writing songs as fast as I can to prove to myself I can do it if I want to," he told Disc.
Cat is due to leave the Harley Street Nursing Home in London, where this picture was taken, this weekend and plans to recuperate at his parents' home. Then he starts work on music for a horror film.
The thing he's most longing to get out of hospital for?
"I must see Bill Haley while he's over here—even if I have to go in a wheel-chair"