Circus Magazine July 1971

By Danny Goldberg & Salli Stevenson

Cat Stevens

Cosmic Superstar

Cat is Back
Cat Stevens' story is becoming increasingly well known. His parents are of Greek origin and run a restaurant in central London. He is christened Steven Demitri Georgiou. He hated school except for art, and he made plans to be a painter. He was accepted as a student at Hammersmith School of Art and it was there that he started writing his own songs because he was " to lazy to learn other people's." London was bursting with the rock explosion when Stevens was eighteen. One thing led to another and he was " discovered"; found himself with a new name; a mod image; and a hit record entitled " I Love My Dog". The record was produced by Mike Hurst who had been one third of the British group " The Springfield's" the other two thirds were Dusty and Tom Springfield. His transition from painting to music came gradually. He bought a guitar for eight pounds ( $23.00 ) when he was fifteen and had just played with friends. " I loved West Side Story," he recalls, " it turned me on completely. The some guy turned me on to Dylan and Leadbelly and I really got into folk music. I use to go down to folk music clubs where everyone played guitars and sang, but I never had enough courage to go up on stage and join them."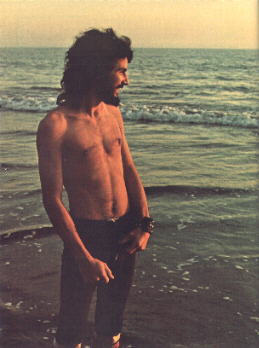 Once he did decide on music as a career however, things happened very quickly; too quickly as it turned out. He had several hit singles in a row, but found that the fine print in his contract prevented him from from exerting any control over his music. While he expressed the desire to make a simple solo LP, the record company insisted on 90 piece orchestras. " I used to dread recording sessions." he remembers. " For days before, I'd spend sleepless nights fearing having to walk into a studio and face a mass of blank uncomprehending and unsympathetic session men who would go mechanically through there chore, put down a technically perfect, but totally antiseptic piece of recording of my music, and then drift off into the next session for the next guy.
" The mistake I made was believing in my own image and believing without truth my music, which wasn't very truthful. The word weren't right. They had meaning, but in a very simplified form. The music was confused. I still like the music. There is nothing wrong with it. The simple things, basic young things. The struggle of everything - young countries. This country for a start is crazy young. the whole thing is really young and everybody's going through hang ups and the things you have To go through to come out the other side. it's the same thing with music. I still look back on it. I still enjoy it quite a bit, but it's just helped me so much to see myself before."
Stevens talks about his time with TB: " In the hospital I was really bored and fed up and I didn't know where to go you know, or what to do. I was stuck in that bed for three months, so I said to myself there's got to be something I could . . . that I could get something from the whole situation. This is ridiculous. I couldn't just come out of it and carry on - you know - cause everything seemed so down. There was a gigantic cloud over my head at the time. I couldn't see through that and I really needed something to see me through. I had a book called " The secret Path" and it was just what I needed. I read that book once and thought about it and I used it to meditate. There was nowhere that was quiet enough in the hospital. I had to creep out and there was this couch shed with a couch in it. I use to go in there and lock the door, then sit down and think. It was completely silent and that is where it came to me. It just happened. You reach that moment and you see it and say ' Of Course ." Then everything sprung from there like light."
Cat got into Yoga, studied metaphysics and wrote a lot of new songs that reflected his new introspective thinking. He recorded some of his songs on a home tape recorder and started playing them for people. He found Chris Blackwell most receptive. Blackwell had just formed Island Records and offered Stevens a chance to record as and when he wanted. FREEDOM ! He used few musicians and producer Paul Samwell-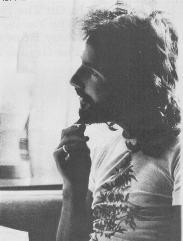 Smith. The album was called Mona Bone Jerkin, was released in early 1970 and was a huge English and European success. A single from the album called " Lady D ' Arbanville" made the English, Swiss, German, and Italian charts. His second album ' Tea For The Tillerman ' was recorded shortly there after and released last winter. It included the single ' Wild World ' that made Cat so famous in the USA, and featured a painting of his own on the cover depicting the title song. A & M is the label in the States.
Recently he has written several film scores and is reported to bethinking about making movies himself: I got into film scoring because my manager introduced me to a man who had just heard some of my music and he wanted to use it for his film, 'Deep End'. We met and talked about the film and then we went to see it and it was good. You know I've always wanted to do a music score. I've always wanted to do a movie actually. To be a director and just make one that's the same as my music.
" I'm doing another movie now called ' Harold and Maude'. It's got Bud Cort in it and Ruth Gordon; they fall in love together which is really strange. I liked it very much because I feel a great kinship with the character of the boy. He is completely abscessed with death. I mean very bloody thing,kind of exaggeratedly so. To get his mother to notice him , he kind of commits suicide or pretend to and goes through these strange scenes.I used to love doing that too, you know. I was always in for a shock thing. I never did the suicide bit but I was always in for the shock of it.
" I use to always draw the most terrible things and used to make those little guillotines. I was so hung up on the Tower Of London, used to dig walking around where they had there heads cut off and in the exact spot I'd say 'here it happened.' That kind of drove me for a long time - there must have been other things I was interested in, but I can't think of them. There was painting, there were school and there were all those hang-ups."
Cat is very happy with the production of Paul Samwell-Smith, mainly because there is such a free communication between them: " Paul has a very clear mind. He can see things clear. He's very technical. Immensely so. I'm just ' anything as long as it feels good and sounds good,' That was a problem when we went to the studio- he surrounded me with ten mikes and I knew that was wrong_ I can't sing in front of ten mikes. All I need is a basically one, you know, and that's it. I thought' well that has got to change' and we started to talk and get it out."
Cat was asked about this " enlightenment " he talks about. Naturally the inner changes that a person goes through cannot be put into words. ("Existence is beyond the power of words to define - terms may be used but none of them absolute"_ Lao Tzu), but Cat does a pretty good job explaining himself: " It's something I'm constantly aware of. I never forget it. I happens sometimes. I can never forget it. It happens anywhere. Sometimes when I look in the mirror and I see myself. I really do say 'whew'. I can't see it for too long because I'm not ready to quit yet. When I look at myself in the mirror and I can stay and I can stand it, that's the day I won't have breathe anymore. I didn't delve any further than that book. I let myself go on and build my own whatever it is and think it's love for life. That' all. It's love I think.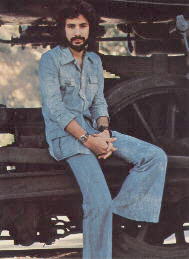 " Being a pop star has helped a lot because I can see what mistakes I made. That's the best way I learn, is from mistakes. Somebody can't tell me not to do something. I've got to hurt myself doing it. That's the only way I can go further."
Cat is a bigger star than he has ever been before. His in person performances are attracting larger and larger crowds. Recently he played the newly located Gaslight A Go Go in New York and drew crowds that lined around the block to hear him. This success has given him confidence. " think the greatest thing now is that I know nothing can be taken from me. You can't say you're not going to sell another record; you're not going to have your car or your house. That 's not going to upset me because it means nothing. There are a lot of things that take my time up now that if I didn't do them, I'd be getting into a lot of other things. I might be into settling down. Right now I'm very happy because I know that I've been waiting to work for a long time and actually get on stage."
One of the things that makes Cat so popular is his songs. " My inspiration for songs? I get it when I'm not thinking, when I'm absolutely flowing, just being. I don't just sit down and be. I pick up the guitar and be through that. I don't write them down I may write some lyrics down, but mostly I just get the melody, and the words go with the melody. I write songs alot in different ways. It might start with a whistle or an old traditional record, listening and suddenly getting an idea and your not listening to the record, it taken you somewhere else and you find something else. It can be talking or it can be a word.You don't kind of create something. I hate that. You can't just say that you're a creator. To be a creator you must be able to make something breathe. What your doing is just taking something that is already there from whatever you see and remember. You use it and you throw it out again - your way.
" After a performance I feel very satisfied. After an interview I never feel satisfied," Cat says with a smile. " There are always things I forget to say, I don't know - words they just mess me up. I get confused and I don't use them right sometimes and it confuses people. They misunderstand what you're saying and it goes through a whole circular winding thing and comes back and hits you in the face."
Cat goes on: " When you find yourself talking, you find yourself almost at peace with things. Talking is almost a strain because your trying to force out solitude and that kind of feeling. Words, they fall short of feeling - the same as eyes, almost. Once you get into the visual thing - I mean what is red anyway? And what are you seeing? If you close your eyes it would still be going on and you still cry. You still do everything. You just wouldn't have eyes.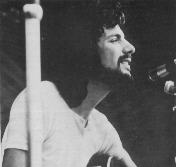 " Music is a stronger thing because it actually causes vibrations in your head. That's simple and it's nice cause it relieves you of the thought of words. Words cut the air, they hit it. Music on the other hand is much more. It can mean a lot of things, but it's one thing constantly. Nobody can say it's not music. This is one of those things I thought about for a long time. They used to say' this is the catchy part.' Now why is a catchy part better than a non-catchy part? Then I realized that a catchy part is something that jolts you slightly. You're going along and it goes thic-ump and it goes along down there and suddenly you remember or realize what's happening and it's like in that meditation thing where you go' right !'
" Everybody comes together on this one catchy part and they say 'right - we dig it, we dig it.' They say ' we dig you' but what they're really saying is ' we dig it - we dig everything.' That's what music does. It just has no boundaries. It's not white or black. It's just music."