This is from the Record Mirror an early British magazine. There was no title but this picture says it all. Most of us, have heard and seen pictures of the fictional character Cat Woman. Well here is our very own Cat Man ready to conquer the world.....dah dah dah dah CATMAN !! (Isn't this a great picture?)
---
Record Mirror - January 14, 1967
PHILIP PALMER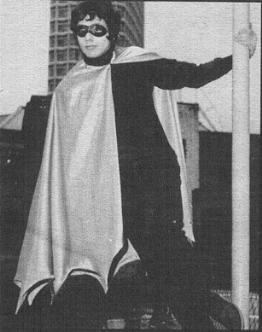 EVER wondered what pop stars do on their time off? I met one recently who draws cartoons. And very good he is at it too. His name is Cat Stevens, who made a sizeable impression with his debut disc "I Love My Dog" on the then newly formed Deram label.
When we met Cat told me, "I'm always drawing. I used to do a lot of it at school. The boys use to ask me to sketch various people and more often the masters. I went to an art school when I left, and I had plans to enter commercial art as a profession, I would love to have become a cartoonist, Gerald Scarfe is my idol, I actually sent him some of my drawings and I got some very nice letters from him back. I used to send my drawings to the papers and magazines, but they said they were far too grotesque!"
As everyone knows, however, song writer and record producer discovered Cat which resulted in his first record.
"Of course I wanted to be a pop star, who wouldn't? The change in me has been fantastic, it's done me a lot of good, it's given me great confidence in myself. I used to go around all moody with a big chip on my shoulder, but, thank God, I've lost all that. All my friends' say that I've changed, but I don't think I have - I think they have changed in their attitude towards me. I suppose they think I will go all big time. My brother I think is a bit envious of me, but that's natural, my mother is very pleased about it"
Cat's follow up record was released at the end of December, it's another of his own songs, called "Mathew and Son" coupled with "Granny".
"I honestly believe that this number will do the trick. I hope so. 'Granny' is more or less a tribute to my mother, so I hope she likes it! Most of the songs I've written have been drawn from personal experiences or from people I have met. Kim Fowley suggested the song 'Portobello Road' the flip of 'Dog', so I took the idea from him. Something, which upsets me, is people that say that I copy. I'm original, I copy no one. I believe that the B side of a number is as equally important as the A side. It's amazing the sales we got from 'Portobello Road'. The Beatles always have a great B side on their records. I want to write all my own songs, or try to. As soon as an artist or group who are used to writing their own songs record someone else's, everyone says that they are slipping or running out of ideas. I've written about 40 songs in all, and I understand that Lulu, and Paul and Barry Ryan are interested in some of my songs.
"You know who my idols are? People like Jerry Leiber and Mike Stutter who wrote all the Coasters hits. I was playing their album the other day, they used to write great numbers. My real love is in musicals. Things like 'My Fair Lady'. 'The Sound of Music'. Elmer Bernstein is the end, he's great. I like all music, especially jazz, I would love to write a jazz piece."
When we met, Cat was talking about the show he was in with Georgie Fame and Julie Felix which opened just before Christmas.
"It will be a great show, I've got to do a hit of dancing in it, and don't laugh, I can dance, if I only say it myself. I think it's a good idea putting on these shows at The Saville Theatres, something which is new to this country. Going back to my drawing I would like to have published a book of my drawings, but I suppose people would say that I was 'doing a John Lennon' It's amazing what you can do with the flick of a pencil, the expressions one can create on faces."
And with that the only "Cat" in the business who can draw, disappeared, possibly looking for his dog!