Annie's Scrapbook
Annie was a teenager in the latter part of the 1960's . Below are a few of her scrapbooks which she placed together and doodled on as a young girl growing up in England. Most of these articles are from teenage girl magazines such as 'Fab 208', 'Veronica', 'Jackie' & 'Diana'. These were donated to Majicat by Chris and Annie Abrams.
---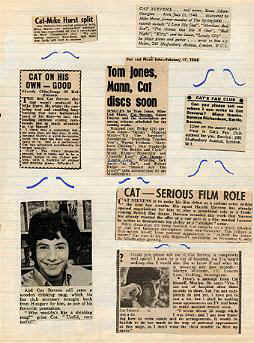 Cat - Mike Hurst split
Cat Stevens has parted company with Mike Hurst-the independent producer who has supervised all Cat's recordings to date. Commented Cat: We are taking separate directions, and I hope that both will lead to success."
---
CAT ON HIS OWN-GOOD
Lovely Cities/Image Of Hell (Deram).
The first Cat Stevens disc that wasn't produced by Mike Hurst. He retains the cantering beat and rumbling busy backing that have hallmarked most of his discs - in fact, the bustling intricate scoring commands as much attentionas Cat himself!
I think this a somewhat better song than his last disc, if only1 because there's a quick-to-register catch line that the fans can soon latch on to. And as a performer, Cat has advanced considerably in recent months.
FLIP The title's dramatic enough, but it turns out to be a bluesy ballad in the 12-bar pattern, with a backing of strings and tinkling plane. Effective!
---
Cat's Fan Club
CAT STEVENS... real name, Steve Adams Georgiou... born, July 21, 1948... discovered by Mike Hurst, former member of The Springfields ... records include "I Love My Dog", "Matthew And Son", "I'm Gonna Get Me A Gun", "Bad Night", "Kitty" and his latest, "Lovely City".
He plays piano and guitar. Write to him to Helen, 245 Shaftesbury Avenue, London, W.C.2. (notice his Fan Club was based from out of his parents home in 1967)
---
CAT - SERIOUS FILM ROLE
Cat Stevens is to make his film debut as a serious actor within the next few months. His agent Harold Davison has already opened negotiations for him to play a prominent role in a forthcoming British film drama. Davison revealed this week that Stevens has already rejected the offer of a star part in a film musical because he wishes to demonstrate his ability as a "straight" actor.
While discussions are being finalised, Cat embarks on a 'heavy schedule of club and ballroom one-nighters from mid-November. This follows a three-month lay-off from personal appearances to "re-think his future career." Cat stars in his own Belgian-TV spectacular on November 4 with the Mindbenders guesting.
---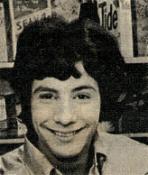 And Cat Stevens still rates a wooden drinking mug, which his fan club secretary brought back from Hungary for him, as one of his favourite possessions.
"Who wouldn't like a drinking mug?" grins Cat. "Useful, very useful!"
---

Question: Could you please tell me if Cat Stevens is completely well again? I know he is out of hospital, but I've heard nothing else. I would also like to know if and when he is releasing any new records.-
Marlyn Xxxxxxx,

133 Xxxxxxx

Lane, Gedling, Nottingham.
Here's a message from Cat himself, Marlyn. He says: "Yes, I am out of hospital after three months in there, but I'm not completely fit just yet. I have got to rest a lot, but I shall be making some appearances on TV and hope to make another record soon.
"I wrote about 20 songs while rest a lot I was away, and I am now learning how to write music and do arrangements. It would be foolish to do too much in the way of personal appearances at this stage, as, I don't want the chest trouble to flare up again.