Rolling Stone
April 1, 1971

By Ben Fong-Torres
Cat Stevens

Out of a Bag
LOS ANGELES — All of a sudden, it's Cat Stevens. His new album, Tea for the Tillerman, is getting the kind of airplay Elton John got for his second American release, Tumbleweed Connection — across the board, across radio formats. "Wild World" is on AM, which means popstar. And of course, now he is writing songs for a feature-length film.
And he has seen it all happen before. The trick is, this time he'd like to avoid tuberculosis.
Cat Stevens started out five years ago, when he was 17, British son of Greek parents. He made the charts with his own composition, "I Love My Dog," and "Matthew and Son." The Tremeloes had a hit with a Cat Stevens song, "Here Comes My Baby." He was a boy wonder of sorts in Europe, and confined his touring to England, Belgium, and France.
"I didn't tour much," he said. "Maybe it was instinct." A combination of "overwork, smoking, and drinking" put Stevens into a hospital with TB in fall of 1968 for three months followed by orders to lay back for at least another year. "It was a good time," he says now. He traveled and wrote songs —quiet, folky reflections of his days in the county hospital, about all the doubts he had musically — "I was listening to too many people and that made me unsure of everything. I had to be sure about myself first." He dropped the songs he'd written during recuperation and simplified things even further, for a first album on A&M, Mona Bone Jakon.
"I decided to start again, with my approach, to go right back to what I started to do. I take exactly what I do and do that." That is, "I get affected too much; I love too much of what I hear."
On Mona Bond Jakon, Cat sang about himself in "Pop Star," the whole "cold bank" scene; about "Lady D'Arbanville," his old lady before she took up with Mick Jagger; about his family. In Tea for the Tillerman, the music is still quite biographical, familial, and, now, more relaxed. Even with strings and a choir backup here and there.
"I wrote and painted while I was away. I decided just to live a bit. It's a strange process, being a popstar. In the music scene you don't quite grow up. It can stunt you if you try and go in any particular direction."
It was, in fact, more than work and play that knocked Cat onto his back with, as he puts it, "screwed-up lungs." His first record label. Deram, began like so many independents — humbly and hopefully, happily it would seem, on the outside — releasing just a few records they thought were especially good. 'But they started putting out more and more, and they asked me to write another 'Matthew and Son,' because it was Top 20 in England." Session s became recessions, musically. "There were these clockwork players who just read the music, sat down and played it. We never went to do an LP; there was no original concept for it; they just tried to dilute everything you had into one standard, commercial tune."
After a year with Deram, Cat decided he'd had enough. "So I decided to freak out. I had this terrible song I brought in and said I wanted a hundred-piece orchestra and choir." He was let out.
After Tea, Cat decided to go on the road again and did his first run through the United States, doing the Fillmore East, and the Gaslight, in New York, the Quiet Knight in Chicago, and the Troubadour in Los Angeles. The receptions were more mild than wild, but it's a strange time for troubadours like him, and Elton, and James and Van.
The audience at the Troubadour somehow reflects the whole pop scene of Los Angeles, and maybe Cat came in a little too soon after the city's collective orgasm over Elton John. That gave Cat a few friendly strokes and just one encore call, and the trade press, which doesn't c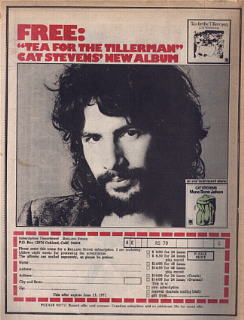 ome that often anyway, also held back, so that it took radio airplay to do it for Stevens.
He'll be back soon for a spring tour, and he'll be somewhere between Cat Stevens and Steven Giorgio (his given name), or something a bit further along. "Everything I wrote while I was away was in a transitional period and reflects that. Like Patti. A year ago we split; I had been with her for two years. What I write about Patti and my family….. . when I sing the songs now, I learn strange things. I learn the meanings of my songs late…"
This full page advertisement appeared on the back side of the Rolling Stone magazine. They were advertising a free Tea For The Tillerman album for a subscription to Rolling Stone Magazine. (Get this : A Rolling Stone subscription was only $8.50 for 24 issues, $14.50 for 48 issues !! )