Disc and Music Echo

February 5, 1972

courtesy of George Brown
Cat's Man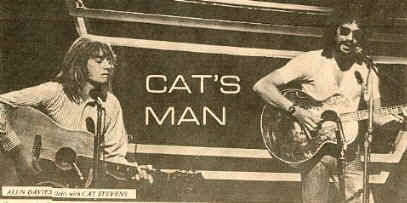 Alun Davies is allowing himself one day a week in London this month. A chauffeured car brings him in and he packs all his other duties into those few smoky hours.
Then he goes back home to Surrey to complete the songs for his first solo LP. When this album arrives in May (hopefully), Alun will have turned full circle, from professional singer, to studio musician, to backing musician, to backing musician and back to solo singer.
But that's about as far as the circle will turn, for Alun, the man on the other stool on Cat Stevens' concerts and albums, has no further plans for himself.
"Maybe if the album is successful I'd like to sing a bit to open Cat's concerts, and if, as I imagine he will soon, he cuts down on touring, perhaps I'd do some dates on my own. But loyalty to Cat is still of prime importance."
Alun's album has been a long time in the planning, and it's only been lack of said time that's prevented him recording it earlier.
"I think a solo LP must always be at the back of a musician's mind and you just wait for the right opportunity to present itself. For me it's been a reality for about a year. The trouble has been finding the time to record it."
As the idea has been at the back of Alun's mind for so long, was there not also some frustration that his songs have so far had little outlet?
"It's true that Cat never sings other people's songs although he has once or twice toyed with the idea of doing one of mine. But I've always felt anything but frustrated – and the last year has been just great; everything has fallen into place."
Despite four American tours and innumerable Continental dates, the one concern Alun remembers with greatest affection is the charity done for CURE, the drug rehabilitation organisation.
"It was at the Drury Theater Royal and was really lovely. The orchestra was perfect, the lights were great and the atmosphere was the best I've ever experienced."
Like Cat, Alun shares the view that stage shows should be professionally organised and believes in giving an audience the best possible evening.
"If for instance during the show, the roadies had had to come on stage and fiddle with equipment it would have ruined everything. Audiences are really not interested in paying good money and then seeing a shabby show on stage. But that was the best show we've ever done."
Alun is convinced now that with an orchestra is the only way to work live.
"I think we'll be doing a world tour soon this year, starting in Britain and taking in America and Australia, and ideally we'd take an orchestra everywhere, sending the arrangements on ahead so it can rehearse in advance of us."
For a pair who were almost literally thrown together by their record producer Paul Samwell-Smith, just two years ago, Cat and Alun complement each other absolutely ideally.
"The first time we met, for the 'Mona Bone Jakon' album, was strictly a business thing. But later, when Cat asked me to go on the road with him, it developed into a major decision."
"I'd thought of joining the Mark-Almond band as I'd already done things as a fold duo with John Mark, but everything just seemed to arrive at the same time and I was forced into a decision."
It's a decision he's in no way regretted, and now that his own album is being recorded – "I'm going to crack straight on with it" – he seems to have reached complete satisfaction. But strangely for an ex-session man he's no friend of studios.
"I can really feel naked in a studio, in the same way that people can feel naked on stage. In the last year I've just got into the rhythm of living on the road and it's changed a lot of things in me. It was getting to be too comfortable and it was making me lazy. But at the same time it did tighten up my playing."
A lot of material on Alun's album will be up to two years old. He's been writing for a long time, but as he puts it, most of his older songs have "decayed" rather than aged.
He'll leave a suitable gap after finishing the album, and then he and Cat embark on a fourth new-look Stevens LP. New-look? Well, that's what many reviewers seem to think.
"But I can't understand reviewers who instantly think Cat wishes to put down those early songs. There are some tremendous songs on that Decca album and we still play "I Love My Dog" sometimes. It's the same with fans. He's got some that who've been with him from the very beginning; they come along to concerts and sit and scream. And if somebody shows that sort of devotion it's stupid to put them down, or even think of doing so."