New Musical Express September '72 review of

ALUN DAVIES: "I'M GONNA LOVE YOU TOO" CBS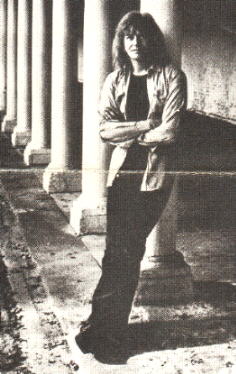 Alun's last single sank without trace but this is possibly the most commercial of all the album tracks he cut - and the most interesting in a way. Expose time - as I remember seeing Buddy Holly at Kilburn State as a schoolgirl. I don't normally take to re-vamps of his old songs. But Alun, with the help of Paul Samwell-Smith and Cat Stevens, has kept the actual "feel" of this hiccoughy little number, stuck in some fine guitar and not abused it one bit.

Photograph from the insert of the Alun Davies ' DAYDO ' Cassette on CBS
---
Photograph and NME review are courtesy of George Brown