This is a wonderful editorial and photographs from Cat Stevens fan Shirley Pena, alias ( Girlhowdy233) on chat. This almost give one a feeling, of being there right with her. Majicat would like to express our sincere gratitude to Shirley, for sharing with us, her special day with Yusuf Islam.
Shirley Pena Meets Yusuf Islam Los Angeles, California
U.C.L.A. Campus, Moore Hall Tuesday, May 23, 2000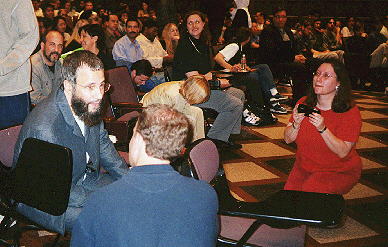 Only Yusuf could get me down on my fat little knees to him (and in public, no less)! Me (in the bright red pantsuit) getting ready to photograph the Man of my dreams, as he talks to fans, prior to his lecture. In the background, the webmaster for Catstevens.com looks on at us, no doubt thinking "Doesn't that woman know better than to wear bright colors?!" (Slimming hint: Don't hunch down on the floor, as it makes you look even fatter, LOL)
Yusuf , myself, Julia and other fans sitting and talking.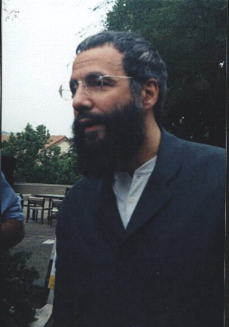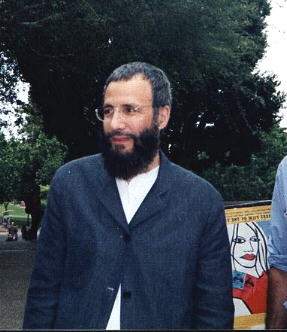 Time has not diminished that beautiful smile! Yusuf in the courtyard at U.C.L.A., next to Moore Hall, where he gave his lecture.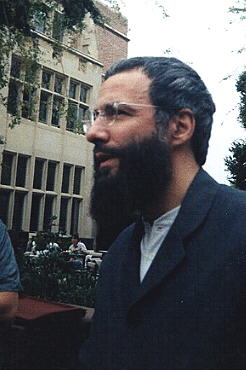 Yusuf, caught in a thoughtful mood.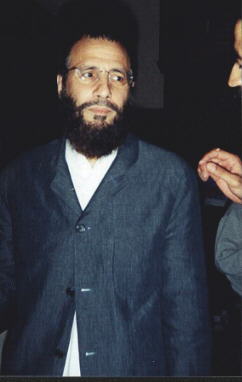 Yusuf caught in a very serious mood, as he talks to some of the lecture organizers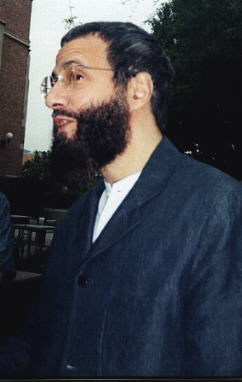 Yusuf, caught in mid-sentence, as he talks to fans in the courtyard near Moore Hall.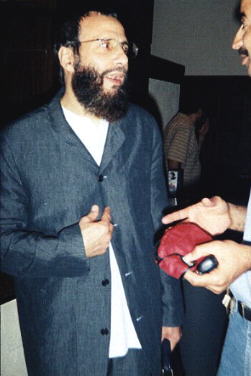 "Are you talking to me?" Yusuf seems to say! Unfortunately, both their voices were too soft for me to eavesdrop on the conversation (I'll bet it was an interesting one)!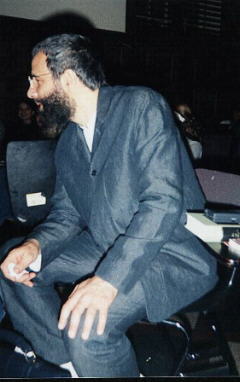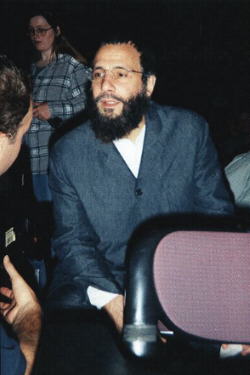 A relaxed-looking Yusuf enjoying conversation with fans in the audience, prior to his lecture.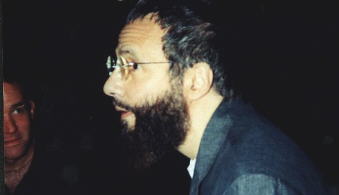 Sweet, open, honest, with a touch of wistfulness: the look is PURE CAT!
Shirley's Story:

Yusuf Islam came over to where I was sitting in the audience, sat down next to me, and we had a lovely conversation. He is much less shy now than he was when I first saw him in 1971 (when he came to the Los Angeles KCET studios to film the concert Full Circle). We laughed about how shy he used to be and he said "Yeah..back then it was hard for me to put three words together!" He really enjoyed talking to all the fans that came up to talk to him! As he spoke with them, I used this opportunity to really look at him: he now wears glasses, has short hair with a touch of grey and is slightly heavier, but otherwise he is the same old Cat (still a cutie)! Shortly before the lecture began, I gave him a beautiful old Navajo bracelet, as a gift to his wife Fouzia. He graciously accepted it and laughingly said it was more likely to go to his daughter, explaining "She's at that age where they know what they like and they get it!"

He was just so sweet and funny throughout the lecture! It was fascinating to hear him play snippets of his old songs throughout the lecture, discussing what he had been thinking about when he wrote each song. He said that even then, he was avidly searching for a religion that would guide him throughout all aspects of his life. He really does seem to have found what he was looking for, and this makes me so very happy! It may be hard to believe, but he is the father of five children now (four daughters and one son, Muhammad, now 15 yr. old). The two oldest daughters are now betrothed in marriage. As for his son, he is really interested in his father's past life as a rock icon! He loves to go to the Catstevens.com site and read all about his father's past exploits (and the fans' comments).

Yusuf gave the crowd a special treat, by ending his lecture singing live! He did this in response to the last question/comment taken from the audience. A fan had begged him to please sing any song of his choosing! Yusuf replied that he had a cold, and the audience literally begged him! He grinned and told them "O.K....you asked for it!" He then took a quick sip from his ever-present bottle of water, before launching into a georgeous accapella version of "God Is The Light" (one of my favorite recent songs of his)!

After the lecture, I joined the huge crowd of people walking Yusuf out to his car. It soon became apparent that the fun was not over with yet! As we were walking to the parking lot (where Yusuf's red Mustang was) we all came to a crosswalk with the red light present. By this time, Yusuf was visibly tired and anxious to get to his car. As we stood at the curb, it was plain to see that this was going to be a long signal! At this point, Yusuf turned to Mohammed Khan (the gentleman who had organized the lecture) saying "Oh! What do we do now?" We ALL looked at Yusuf, stood there a couple more minutes, then I said "Hey! Let's all pretend we're from New York! They pay noattention to street signals there!" Immediately Yusuf gets this mischievous grin and says "Well, I'M FROM ENGLAND! I'm an Englishman, and we don't wait for signal lights there either!" With that he proudly strides across the street, to the concern of the Muslim students who at this point are at his sides, to provide a degree of personal protection for Yusuf! One of them says (with the aire of a frightened child) "OH DEAR! What if a car hits Yusuf as we are crossing?!" I then told him "Don't worry! I'm here at his side, too, and as fat as I am, most any make of car would bounce off my chassis! Believe me, no car will come even close to Yusuf with me here to block!" At this, the student breaks into this hilarious, high-pitched laughter, with Yusuf looking over at us with this quizzical look!

When we reach the actual parking lot, we are some distance from where we had started at the lecture hall, and it's now only Yusuf, me, Mohammed and one of the students left! It's here that we discover that no one can remember where the car is parked! At this point, Yusuf realizes that the only one who knows for sure where the car is parked is his brother, David. Only problem is that David has become lost somewhere back in the crowd! We frantically begin scattering through the lot, running to and fro, searching in a maze of cars that by this time look all alike! It's all I can do to keep from laughter, as Yusuf begins wailing "Where is my car?! Where is my brother, Mohammed... I wonder where my brother is?!" We all give a sigh of relief as the car finally comes into view!

As we reach the car, out of nowhere come two rude young men, each toting acoustic guitars. Both push their guitars right into Yusuf's face, practically demanding that he sign them! One of the young men says "Sign them with the opening lines of the song "The Wind". What the young man doesn't know is that Yusuf gets confused at times over the exact lyrics to his old songs! Yusuf gets this unmistakable look of paninc, at which I slyly lean over and whisper softly "I listen to the wind, to the wind of my soul". At this he gets a bright look and starts signing their guitars! The second young man says "Sign them 'Cat Stevens' ", not knowing that Yusuf no longer signs autographs with his old stage name.

Wisely, Yusuf doesn't bother trying to explain this, but simply signs in a quick script that's imposible to read! still not satisfied, one of the young men then produces the album cover to "Buddha And The Chocolate Box", asking Yusuf to sign this, too. What he does not know is that Yusuf will not sign any item that contains any form of idolatry! As Yusuf stands there, softly trying to explain this, my inner thoughts toward these young men are not nearly so polite as Yusuf (I'm close to telling them exactly what I think they should do with their items, which of course would make them impossible to sign, he he )!

At this point I've had enough, and blurt out "UGH! It's that image! Yusuf is no longer a Buddhist! He cannot sign the album cover, as it goes against his religious teachings! He is onto better things in his life!" Yusuf gets this sweet look of relief, and the young man says "OH! I thought you just didn't like that particular album!" (Sigh...what's a former rock icon to do)

After they finally leave, I produce from my big white envelope several posters, which Yusuf looks at in wide wonder. "where did you get these?!" he asks. I proceed to tell him how I brought them up off the net, then had a friend of mine (who is a professional printer) reprint them in his shop! "Would you like to take some home?" I ask. "Sure!" he says! I then give him four to take home (three from the Majikat Tour and one of a Rolling Stone cover from the early '70's). He holds up a large reprint from an article taken from People Magazine, titled "Lecturing Lords In London". "Look at this one!" he says. He proceeds to happily read it, and I promise to have more prints done of it, to send to him later.

He then begins signing everything for me (5 posters, my personal copy of the Koran, and a book for my friend, Bud). However, I'm paying no attention to what he is writing, as I am engrossed by his beautiful hands! They're big, with long and tapering, yet strong looking fingers! By this time, David has finaly caught up with us, and it's (sadly, for me) time to leave! The last thing I say to Yusuf is "Please come back soon! Don't make me have to wait another thirty years to see you again!"

I'm not ashamed to admit that I was filled with this amazing feeling, just having him near me! It wasn't quite as I had imagined. Instead, it was far more!! It was a feeling of great warmth and satisfaction; it just felt so right! I had thought that it would be hard to talk to him. Instead, it was quite easy!!

WHATTA GUY!!!

Cheers,

Shirley Pena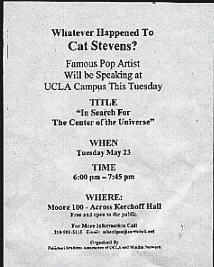 The UCLA Flyer for the Yusuf Islam Lecture on May 23, 2000