This article appeared in the Sunday May 21, 2000 edition of the Gainesville Sun in the Daybreak Section of the Florida newspaper. This article comes courtesy of Vivian Kenudson.
---
THE SEEKER
Written by Bill DeYoung
In 1977 Cat Stevens found enlightenment at last, far away from the music that made him famous.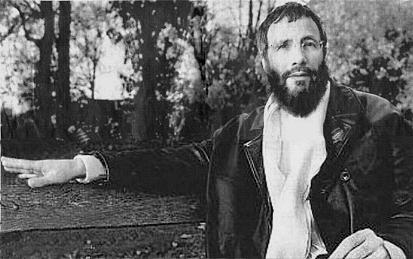 Above: After more than 20 years, Yusuf Islam has broken his silence about his days as Cat Stevens. "The only thing I regret are the people I left behind, friends and people who were really close to me, in a spiritual sense," he says about his hasty departure from the world of secular music. "And that's the only thing I'm coming back for – not anything else, to be honest."
Curiosity killed Cat Stevens.
A singer, songwriter and guitarist 'whose simple melodies were artfully aligned with lyrics both whimsical and mysterious, he'd clawed out a niche for himself in the early '70s with a string of hits including "Wild World," "Moonshadow" and "Peace Train." He had eight gold albums in a row.
The British-born son of a Greek Cypriot father and Swedish mother, Stevens' dark, exotic good looks made him stand out, and women everywhere found him irresistible.
Still, it wasn't enough. Admired and coddled, but troubled inside, Stevens began investigating the Koran, the Islamic holy book, and within its pages he found the answers he felt he'd been looking for. In 1977, he pronounced himself a Muslim, took on the name Yusuf Islam ("Joseph Rescued") and eventually entered into an arranged marriage. He auctioned off his guitars, pianos and awards and bid good riddance to the secular world.
"I was always extremely committed to whatever I did," says Islam today. "And sometimes I had to close my mind to everything else in order' to achieve my goal. I did that when I was a songwriter. I almost didn't listen to anybody else's music, because I thought -it might influence me, and I'd end up copying them.
'And I did it when I entered my spiritual discovery of Islam. It made me think only about just that, and I didn't want to think about anything else."
Reminiscing on the telephone from his London office, Islam, now 52, says those last years as Cat Stevens were marked by half-finished spiritual quests and indecision. The Koran — a gift from his brother David — was the answer. "I'd had many dreams of walking away," he recalls. "But only when I had enough knowledge of where I wanted to go could I do it."
Steven Demetri Georgiou was born in London's West End, where his musical interests included Russian choral music, traditional Greek folk songs, musical theater, the blues and rock n roll. "All that formed the tapestry of my background," he explains. "But one of the songs that really stuck out for me was 'Up on the Roof.' That just brought to life what I used to do. We used to climb those roofs in that part of London. And out came this song, I couldn't believe it was a direct reflection of my life. And my interests.
"One of my all-time favorite figures was Leadbelly; he had such a story to tell. And his words were real. They smacked of reality. That, I liked.
"When Dylan came along and started poetically putting in the ideas of freedom and a new lifestyle, it was just an inspiration. It all came together at once."
He was 19 when a record producer signed him up, changed his name and made him a pop star with "Matthew and Son" and "The First Cut is the Deepest," heavily-orchestrated takes on songs he'd written himself. He opened for Engelbert Humperdinck and Jimi Hendrix, before a bout with tuberculosis put him in the hospital for a year, his career all but over.
In 1970, Stevens re-emerged with "Mona Bone Jakon," an all-acoustic, introspective set of songs that sounded nothing like his teen hits. "I'd just come out of a very dark phase, and that of course gave me a great understanding that I was not immortal," he says, "that life meant hard knocks as well.
| | |
| --- | --- |
| | Of Greek and Swedish descent, Cat Stevens (in a 1971 photo) had exotic good looks that made him stand out among the singer/songwriters of his era. |
"I was coming out of that with some kind of sense of my destiny, but not really knowing exactly which direction it was going to take. But I had a great optimism, I think."
With the smash albums "Tea For the Tillerman" and 'Teaser and the Firecat," Cat Stevens' new style of "gentle folksinging" (his expression) crossed the Atlantic; he was the dark-eyed, hypnotic European equivalent of James Taylor, who came to prominence at the same time.
But for all their cleverness, Cat Stevens' songs frequently referred to God and a hunger for some sort of spiritual balance. "It was just under the surface," he admits. "The nature behind the artist is not really changeable. There are those perceptions, those insights which are privately known and sometimes come out poetically, and in colors, music and sound, and in emotions.
"They're difficult to interpret e when you're experiencing them, but from this perspective now they're easier to see, and more clear. The more distance that there is between those songs and now, and myself today, I can see them."
He points to the songs "Miles From Nowhere," "On the Road to Find Out" and "Sitting" as examples.
He tried Buddhism, Taoism and even numerology, changing his religious convictions as quickly as he took on and discarded new musical styles. "I was always looking for something different," he says. "And like many people, I used to get bored quickly. And if I got a little bit tired with myself, or with my clothes, or with the songs, I'd try something different."
| | |
| --- | --- |
| | Cat Stevens' Top Ten hits, in the early 70's were " Peace train," "Morning Has Broken" and a cover of Sam Cooke's "Another Saturday Night." He also hit with "Moonshadow," "Wild World," "Sitting" and "Old Very Young." |
He moved to Brazil in the mid'70s, to escape Britain's crippling tax laws, and his love of the poly-rhythms of South America gave his music a harder, more syncopated edge. "I was balancing between many different demands," he explains. "One was my artistic expectation of myself, and from that point of view I was always trying to go past new boundaries."
His audience, however, did not follow, and by the time of the last Cat Stevens album, 1978's "Back to
Earth," his sales had fallen sharply. His earlier material remains in demand to this day; this week, MCA Records will issue remastered CDs of "Mona," "Tea" and "Teaser," with the rest of the Cat Stevens catalog to follow later in the year. Islam is helping to assemble a box set for release this fall.
The father of five children, Islam is the chairman of the Islamic Schools Trust, which he set up in 1983. He runs the Islamia primary and secondary schools for boys and girls in London, and recently issued a children's CD, "A is For Allah," which blends a spoken-word explanation of the Islamic alphabet with a capella singing (most Western musical instruments are frowned upon in Islam).
Islam was internationally vilified when he appeared to support Iran's 1989 fatwa (sentence of death) on author Salmon Rushdie, whose book "Satanic Verses" Muslim leaders consider blasphemous.
He won't discuss the matter any more; however, in a statement issued at the time, Islam said he'd been misquoted. While he supports the Muslim idea of supreme punishment for blasphemy, he said, he didn't think it was right to hunt someone down and kill them.
"I've always been fairly misunderstood," he says now. "And life's been a struggle to explain myself.'
Only in the last year or so has he felt comfortable discussing Cat Stevens'again. "I see the value more these days in the kind of heritage which I've left in the music and lyrics," he explains.
"1 can separate in my own mind that which is good and that which is bad, and not only that, but so many people still gain value from those songs. I'm always receiving letters from fans and people who my music has touched. Recently, there was a letter from someone who said literally they were on the verge of suicide, and then they listened to one of my songs and it changed them. And that's really positive."