This article appeared in the Italian radio/TV magazine IL VENERDI February 2001. Translated it means "The Friday". It was translated for Majicat by Italian Cat Stevens Fan known as 'Froggy'. As you read through it, you may notice a few discrepancies with in it. Many are caused by the translation process, others are mistakes made by the author.
---
Il mio Islam non e un rock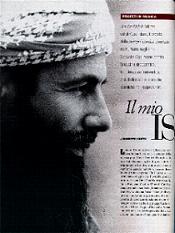 London.
He was a young Ulysses looking for his Ithaca wandering through the flatteries of pop music. Steve Demitri Georgiou, alias Cat Stevens, son of Greek-Cypriote people emigrated in London, was not 20 years old when, on 1966, recorded his first song. It was the beginning of a troubled journey which took him touring with Jimi Hendrix through Great Britain. Today, aged 53, Cat Stevens lives on his island, far from pop. Since 1977 his name is Yusuf Islam, he became a Moslem, and manages several Islamic Schools, which have been visited by Prince Charles on May 5th last. In the offices of the Mountain of Light, headquarter of his activities, a number of employers is called five times a day for the prayers. Since the day of his conversion he has been surrounded by controversies: when he agreed with the sentence to death for Salman Rushdie ordered by Ayatollah; when he married a totally veiled woman in Kensington mosque; when Israel refused to let him and his son Mohammed enter the country; when he complained against the futility of MTV; when he released a record for Bosnia (I have no cannons that roar) and presented it in the only capitalist temple of the Islamic London, Mohammed Al Fayed' Harrod's.
Yusuf just finished to travel around the world proposing his new religious CD, A is for Allah.
Yusuf Islam is a more thoughtful and compliant Moslem now, different from the strict and unbending one who – four year ago – wrote a long article on "Repubblica" stating the irreconcilable between Islam and music. He's convincing, he chooses the right words to tell his story, before as a prophet of the swinging' London, now as a defender of Allah.
"I discovered Islam in a very slow and gradual way- he explains- It started when my brother gave me a copy of the Koran as a present. It took me a long time to read it, as it is not a common book. After a year of study, I understood that it was a very special book and that I could ignore neither it, nor the challenges it was giving to me. Until the day my heart opened itself to its message. I said to myself, well, I can't do anything but espouse the Islam."
How did your life change after the conversion?

"I think I can say that the social adaptation has been the hardest part. For example: stop drinking alcohol. It's easy to stop drinking, but drinking isn't a personal pleasure only, it's a social habit; if you do not drink, people thinks you are not amusing anymore. For many people you are an out-of-tune man. This has been the hardest problem, but I passed through different stages: I stopped eating meat, I became vegetarian, I stopped smoking. Nothing unusual, just a gradual and progressive social adaptation."
Did you ever consider the idea to leave London after 77?
"As all the people who live on an island do, we – London people enclosed – all dream to leave this holy island to reach warmer and more comfortable lands. But life, you know, must be lived together with other people. And there are many people here, and an hard work to do."
It's like a sort of challenge for you to live in a Country where Islamic laws are not always understood.
"The hardest problem to live in a country which is not Islamic are media. When I was Cat Stevens I wasn't badgered by reporters as I am now. Now I am assaulted by any journalist who has something to recriminate against Islam."
Did old friends and fans stick to you when you became Moslem?
"I stopped my musical career so suddenly that many had a shock, many thought I was crazy. The problem was that I could not explain the whole thing. In those years I only wanted to disappear. I left an empty place and many interrogation points. Some fans gave up, many kept on following me. I wish people could understand that my career has been a long evolution process that kept me to a point, now, where I can explain myself more clearly. Many of my ex fans – I call them mes amis – are extremely happy about this now."
Which are the difficulties you had to face when you had children to lead into life?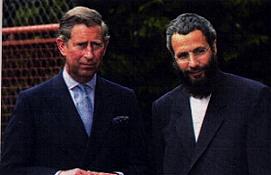 "The first purpose of Islamic education is to know and to faithfully serve the Creator. Schools must take care of all the other aspects: spiritual, intellectual, creative, physical, of language, individual and collective, in order to address to goodness and will of perfection. Our text-books are full of false notions."
Is this the main reason why of founding your schools?
"The four Islamic schools I manage in London represent, somehow, the realization of hopes of Moslems living in the UK The community is growing, as you know. They are English and they are Moslems: in which schools should they go? There were Catholic schools, Jewish schools, and now Islamic schools too, finally avowed and helped with subventions. It has been a 15-years-long battle, and only with the new government we noticed something going different."
You do not agree with media and said that MTV is extremely dangerous for young people.
"Media took attention – mind and heart – of many young people. They have advertised a very appealing and full of flatteries life style . It's not easy to escape from impact with media: they are extremely powerful. Our young people are attracted by entertainment magicians' charisma. Their seductive power has grown up thank to the "syndrome of absent parents". The lack of mediation of parents allows media to reign undisturbed. It's important that our schools, beside offering teaching acknowledgement, can help a creative and critical soul, an efficacious antidote against the negative images of Islam and Islamic people spread by the occidental press and TV"
Do you still believe that pop music grows false illusions inside young people?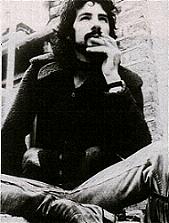 "Everybody can see how fanaticism is growing in young people. And we all know how musical industry takes profit from these "consumers" they call "fan". Beatlesmania was the beginning of this crazy kind of adoration we notice during big concerts. Everybody was in love with the Beatles. Everybody bought their discs first day they were realized. The product quality was not important."
Teens are most vulnerable. Society shows teens' straggler generation.
" Teenage is a time of change. Young need reasons why and models which nowadays are , unluckily, supplied only by an industry starving of money. New modern society is suffering because of the pain of its young people, who are lost any moral control, students killing other students. This is the reason why media should reduce violence in movies, as children cannot distinguish reality from fiction anymore."
The violence we watch on TV isn't always a fiction. During your several journey through Bosnia you saw massacres, yourself.
"The recent Bosnia genocide represented a core moment for the Moslems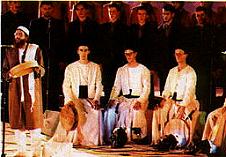 in Europe: it let the whole world know about the Islamic culture and civilization in Europe, a fact which had been hidden before. The television images of the blonde, blue-eyed Moslem children singing the greatness of God and praying the Koran between the smoke and the fury of the war have opened new perspectives to the understanding of Islam in all the people who, like me, was a witness. This terrible thing made me consider again my position about music and its use in the social-political Islam life. The Bosnia war has been the worst violation of the human rights and the most sordid conspiracy made by the International community against European Moslems. We are still working to help thousands war orphans of Kosovo and Balcani."
From time to time you go back to music, even if far from pop. After the song for Bosnia you have made a new CD.
"Yes, a book and a CD called A is for Allah. It's based on one of the first songs I wrote after having become a Moslem, for my first daughter Hasanah, born in 1980. The idea was to teach my little one that first of all the letter A means Allah, the Lord of the universe, and that any other thing in the world, i.e. the Apple, starting with an A itself, has been given to us as a present by Him. This latest project is important because it teaches children some basic concepts in a very easy and funny way. Many abstract ideas are expressed and illustrated to make them understand the meaning of the universe in which they are growing"
Written by

Giuseppe Videtti
The musical history of Yusuf Islam
1947 – He was born in London – Soho – from a Greek father and Cypriote mother

1967 - Matthew and Son – He starts a tour with Jimi Hendrix

1970 – Mona Bone Jakon and Tea for the Tillerman

1971 – Teaser and the Firecat

1972 – Catch bull at four, containing a song in Greek language

1973 – Foreigner

1974 – Buddha and the Chocolate box

1977 – He becomes Moslem and changes his name

1979 – He gets married with Fouza Ali

1985 – During Live Aid the organization want to present him as "Cat Stevens" and he refuses to go on stage

1989 – He agrees with the sentence to death of Rushdie

1990 – He goes to Iraq to negotiate the release of English Moslems

1992 – He refuses to Levi's the right to use one of his song for a tv spot

1995 – The life of the Last Prophet

1998 – He recorded a song for the ' I Have No Cannons That Roar' CD. A CD recorded together with Bosnia musicians.

2000 – A for Allah