Worlds Apart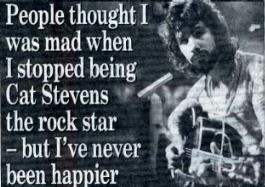 Daily Mail 24 March 1998

By Jane Kelly
After almost 20 years out of view, hidden within the Moslem community of North London, Yusuf Islam, formerly the pop singer Cat Stevens, is willing to talk. If you had interviewed him at the height of his fame, between 1967 and 1977, you might have met him overlooking the bay in Rio, where he lived as a tax exile. Now he holds court in a building that looks a cross between a council flat and an old people's home.
Once a lodging house for single policemen it is now an 'Islamic hotel', set up to fund two Islamic schools he founded in Kilburn.
In the lobby there was a noticeable lack of piped music. "There are different opinions about music," the veiled girl behind the desk said. "I listen to it, but many think it is corrupting."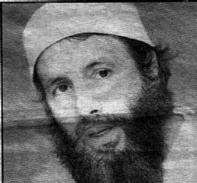 Yusuf, now 50 and once one of the most popular pop stars in the world, gave up his singing career in favour of Islam in 1977. But this week he broke his silence with a new album, I Have No Cannons That Roar. Even this he would not have agreed to do if it was not for his desire to support the Bosnian Moslems.
He also recently gave a concert in Sarajevo, to an audience mostly too young to remember his heyday. Then he had a string of memorable hits from Matthew And Son when he was 19 to his triumphant Moonshadow and Tea For The Tillerman, which resounded through university bedrooms throughout the Seventies.
It cannot have been easy for him to step out there on stage again. He is a frail, nervous man, which cannot be disguised by his bushy, badly dyed beard, and rather sinister khaki clothes.
"I was very nervous before I went on stage in Sarajevo," he says. "In the past, as Cat Stevens, I always had a huge backing group supporting me— drowning me out really. This time I was alone. It all went well, except they applauded, which is non-Islamic. But I don't feel like doing it again."
The last time he volunteered to perform was at the Live Aid concert in 1985.
"I was supposed to go out and sing a solo," he says. "I was petrified, but Elton John went on too long, so I missed my turn. I took that to be God's will."
His life has achieved a remarkable degree of security and order since 1977, when he decided to put music behind him and 'God's will' first. Since then he has obliterated his original self and replaced it with a disciplined, austere man.
"People are fascinated by the differences between my two lifestyles," he says. "But it was really just a natural evolution."
Hardly. It appeared to be a sudden dramatic event. He abandoned a world tour and declared himself a Moslem, astounding the whole rock business. At the time it seemed inexplicable that he should abandon fame for a religion perceived by many to be harsh, rigid and cruel.
He explained to me in his quiet cockney voice that fame had been a kind of nightmare. When he talks now, the famous luminous brown eyes that shone out from record sleeves and posters are cast down, out of shyness and modesty.
"After the initial success, I found myself a fantasy figure," he says. "My image fulfilled other people. It did not fulfil me, but I bad to keep on with it because so many people
depended on me. My whole life became exaggerated, and based on people's idolisation. Unless you have experienced it, you can't understand how terrifying that is.
I needed to talk about my fears and weaknesses but, despite the fact that I was surrounded by people all the time, there was no one for me to talk to. No one would listen.
I wrote all my intimate thoughts in my songs — that was my only outlet — but it didn't help. I did try to retire, but people would never leave me alone. I was always being thrust back into focus. Islam was finding normality again. The community were welcoming and caring. They saw me as a real person."
When he first declared for Islam, many people believed he'd become insane. At the time, he said he feared that he was going mad.
"I always had a fear of madness," he says. "When I was famous I increasingly found that people didn't understand my concerns. I thought that either they were mad, or I was. I became confused and anxious. I need order not chaos. I want to understand the causes of things and I want to protect myself from the unknown. All that came together with Islam."
As a rock star, he had been known for many passionate affairs. He immortalised his love for actress Patti D'Arbanville with his song Lady D'Arbanville. She later dumped him for Miami Vice star Don Johnson and had her bottom tattooed. There was also a woman from Boston named Lucy Johnson, who called herself Princess Cheyenne when she worked as a stripper. She claimed to be having an affair with Yusuf in the late Seventies, after he became a Moslem. When I ask him about this, he gives a shocked cry, raises his hands to his face and blushes.
"How can you ask such a question?" he says, sounding like a maiden aunt.
"Converting was difficult in some ways. It took time. It was a slow process."
That was all he would say about the transmutation of his rock star habits into those of a mullah who even believes that small boys and girls should not swim together. As a good Moslem, he had to give up loose women and get married. In 1979 he chose Fawzia Ali, a Central Asian woman whom he saw at a mosque and was introduced to in a 'chaperoned encounter'. He married her for practical reasons.
"I liked her family and her cooking," he says. "You have to look at a woman and say: 'Will she be a suitable mother for my children? Will she make a comfortable home for me?'"
They now have five children aged between 17 and ten — four girls and a boy. One son died when he was two weeks old.
"It was God's choice that he died," he says softly. "Children go straight to Paradise. I read about a Jew whose son died in an accident, and he couldn't accept it."
His digressions are fascinating to the modern ear, like overhearing the conversation of people from another age. Rather than strutting the world's stage, he is happy within the walls of his modest London home, where his word is law. But you can believe it when he says he is not a strict father. There is something naive and childlike about him.
"Home is a place of joy," he says. "I have built my children a lovely garden. We have two goats and some chickens. I would like a cat, but my wife doesn't understand about animals coming into the house."
His daughters are fully veiled.
"They don't question it," he says. "They understand the wisdom of modesty. Whether they go out to work one day will be up to their husbands. They will have to marry, but when they do so will be up to them."
One thing they won't be able to do is leave the faith — "no possibility," he says — or question its tenets, no matter how badly they fit in with modem thought. If his children ask him about Darwin's Theory of Evolution, for instance, he will refer them to the scriptural version.
Born Steven Dimitri Georgiou, he was the son of Greek Cypriot parents who ran a restaurant. They sent him to a Roman Catholic school but he says Christianity did not attract him because it is so often 'contradicted by science'. His ideas on history are unorthodox. He writes poetry and, after thinking hard to name a European poet that he likes, says he admires Shakespeare: "He has influenced everything, even the Bible."
There will probably be no more records or concerts. He says his role in Britain is now 'political'. He sees himself as a broker for Islam, explaining it to the mystified British.
He has no long-term worries about his view of the world finally being accepted.
"Within the next hundred years, the British public will have accepted Islam," he says.
But will they ever really accept Yusuf Islam in preference to Cat Stevens?
"If I keep on speaking out, Yusuf will eventually eclipse Cat," he says. "Where there are moral issues or causes that I believe in at stake, you will find it very difficult to keep me quiet."
---
Article contributed by Linda Crafar