This is from one of the gossip tabloids over in England and comes courtesy of Derrick Stott.
---
Cats Way To Do It, Says Charlie
By Charles Rae—The Sun Thursday May 11,2000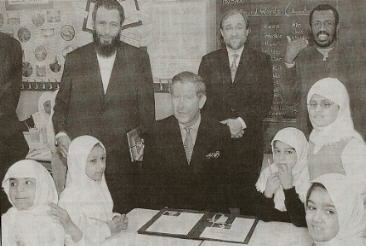 Write royal success—Charles sits on a lesson at ex-pop star Cats London School.
Prince Charles yesterday met seventies pop star Cat Stevens ~ who renounced celebrity lifestyle to become a Muslim ~ and told him. " I'm a fan ."
Charles said he had his albums then praised his work as an educationist since his converting in 1977.
Cat, who changed his name to Yusuf Islam, founded the Islamia school in Brent in North West London, with his pop earnings. The 51 year old still donates royalties from hits like Moonshadow and Matthew and Son.
Charles met pupils and saw displays before taking off his shoes to join an assembly in the prayer hall.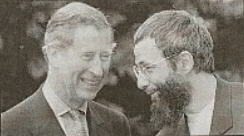 Charles and Cat share joke.
---
Link to another article about Prince Charles visit to the Islamia School. This is from the Prince of Wales website.