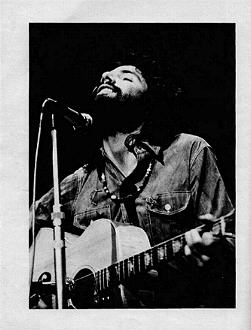 Singer, musician and songwriter. As such, in the opinion of many, Cat Stevens is one of the most brilliant and worthwhile talents to have emerged in the music scene in Britain in recent years.
He has been described as . . 'One of the biggest and most genuine writing and performing talents of our time.' 'One of the most important artists of the 20th Century.' And 'One of the few people in the world capable of creating a total new world in which you an believe.'
Not only has Cat Stevens numerous singles and 3 albums behind him, he has already finished the music score for the movie production of 'Deep End' starring Jane Asher, and his musical fantasia 'Revolussia' is near completion.
Cat Stevens was born Steven Georgiou in July 1948 in the Hammersmith area of London. The second son of a Greek-born father and a Swedish-born mother, he grew up in the hectic atmosphere of central London where his parents still own and run a bustling cafe, the Moulin Rouge.
The complete 20th Century child, he attended school in London's West End and grew to accept the sight of strippers running from one club engagement to another, to ceaseless traffic, to air pollution, to miles of glaring neon, and the complete lack of wide-open spaces, trees and running streams.
On the completion of his basic schooling, Cat was accepted as a student at the Hammersmith College of Art to study his first love -- Art.
During his one year stay at the Art College he began writing his own songs. He played these compositions to friends who listened with appreciation, and then, as fate would have it, he was discovered.
His patron was a businessman, complete with long cigar and the age-old cliche, 'I'm gonna make you a star'.
The initial intention was that the 17-year-old artist would work in the movies, but a series of events changed all that. Mike Hurst, former member of the Springfields, and then producer at Decca Records, heard a tape of Cat Stevens doing his own songs. Impressed with what he heard, Hurst set up an elaborate demonstration session, and the results were presented to Dick Rowe, head of Decca's A-and-R department.
Rowe raved over the results and before you could say sign on the dotted line, Cat Stevens had signed and was launched on Decca's new Dream label.
Pretty soon that original star-making cliche became a reality -- Cat Stevens WAS a star and only the backing had changed. The cigar-smoking businessman disappeared into oblivion as a big and heavy Agency moved in behind Cat.
Cat became the focal point of their operation. Everything was done for him -- clothes, presentation, manner, the lot -- the machine took over -- he was now a product and had no personal control over the situation. Consequently, despite a number of big hits including 'Matthew and Son' and 'I Love My Dog', Cat Stevens started to fret.
Desperately unhappy and disillusioned as all his own wishes were either ignored or thrown out, and because is agency demanded that he do constant tours and make appearances on television shows one after another, he drove himself into the ground and a state of serious physical health.
So sick in fact that he went to the doctor for a check-up and was told that one of his lungs had collapsed and the other was in real danger of doing the same.
The case was stated simply -- go into the hospital now for a lengthy curative rest or face the possibility of dying within a couple of years. Cat Stevens had contracted tuberculosis. So in 1968 he disappeared from the scene for 2 years. He spent some time at a sanatorium in the country studying yoga and generally getting into metaphysics.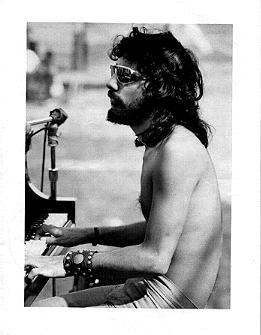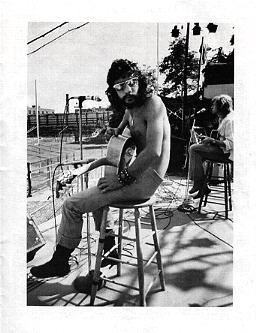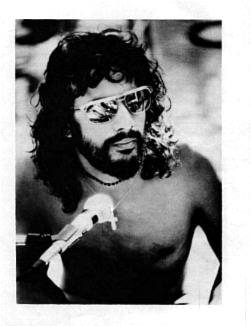 He did a great deal of introspective thinking and wrote new songs, reflecting his true feelings at this time. His illness is widely supposed to have been the stem of his present music. Many of the songs he wrote at this time ultimately became tracks on his first album 'Mona Bone Jakon'.
On his release from the hospital Cat made some rough versions of his own songs on a home tape machine and played them to several people including Chris Blackwell, head of Island Records. Blackwell, in turn, offered him a chance to record them whenever and with whoever he liked, and more importantly to Cat, however he liked.
So Cat signed with Island and completed writing the material for 'Mona Bone Jakon'.
With a few hand-picked musicians and producer Paul Samwell-Smith, he gradually recorded the album, finally released it in the early months of 1970. The sound Cat wanted was captured perfectly on the record with the help of Samwell-Smith who became an integral part of the Stevens 'team'. The music is pure, uncluttered, centered around the haunting rhythms of Europe and coming across with such an honesty that is both startling and razor sharp.
The album was an outstanding success, both artistically and financially. A single from the album, 'Lady D'Arbanville', made the top ten charts in Britain, France, Holland, Sweden, Italy and Germany and the album itself made No. 1 in France, got very high in Holland and Germany, and concerts he gave in those countries were sold out weeks in advance.
As a result of the response to 'Mona Bone Jakon', Cat Stevens flew to Paris where he was presented in a solo concert in a 35-minute television special, networked nationwide.
Playing a few selected clubs and concert dates Cat soon established himself as a much-in-demand live performer in Britain. The climax came when he blew all the other name acts off the stage at the Saturday afternoon concert of the 1970 Plumpton Jazz Festival.
The Cat was well and truly back -- at the top.
Following the success of 'Jakon' and the restoring of his confidence, Cat began working again with Paul Samwell-Smith -- the outcome being his second album 'Tea for the Tillerman' which was released in Britain and Europe in October 1970, and the United States shortly afterwards. A fortnight after its release 'Tea for the Tillerman' rocketed to No. 23 in the British album charts, sold twice as well as 'Jakon' and followed its predecessor up the European chart listings.
Reviews for 'Tillerman' were every bit as good as those for 'Jakon', if anything, better. Numerous people who gave cursory attention to the album because of the past history of the artist as a young man, suddenly became aware of his amazing talents.
After completing a number of British concerts Cat embarked on his first trip to the U.S.A. He stepped for the first time on to an American concert platform to face one of the toughest audiences in the world -- that of a packed house who had come to see, not him, but the headliners, Traffic.
But the tables were turned and at the end of his performance Cat Stevens received a standing ovation and was brought back for three encores.
Back in Britain Cat began work on his latest album 'Teaser And The Firecat' which again proved an outstanding success.
'Teaser And The Firecat' follows his first two albums not just as another step in the passage of time but as evidence of the inexorable linking of a man's life with his work. 'Jakon' told the story of Cat's early rise to success, the effects of this, his illness and the beginning of his comeback.
'Tillerman' consisted of a series of tracks that reflected his state of mind, his opinions and his life as he then found it.
'Firecat' takes this relationship between the man and his life another step forward. It is a beautiful album reflecting the happiness of the artist who has found truth in his work. Cat Stevens wants to communicate his feeling of happiness, peace and optimism by singing out to the world as he does in the track 'Peace Train' . . .
'Now I've been happy lately

Thinking about the good things to come . . .

Peace train take this country

Come take me home again . . .'

Centerfold poster
MANAGEMENT
for THE PAUL DAINTY CORPORATION (AUST.) PTY. LIMITED
| | |
| --- | --- |
| TOUR DIRECTOR | RON BLACKMORE |
| ROAD MANAGER | NICKY CAMPBELL |
| Secretary To Mr. Dainty | Vivienne Horne |
| Secretary to Mr. Blackmore | Lenie Harrison |
| Press representative U.K | Michelle O'Driscoll |
for CAT STEVENS
| | |
| --- | --- |
| TOUR MANAGER | KARL MILLER |
| AUDIO ENGINEER | JOHN THOMPSOM |
| STAGE MANAGER | DICKIE BELL |
| LIGHTING ENGINEER | ERIC BARRETT |
Sound by WEM SOUND SYSTEMS
We gratefully acknowledge the assistance of countless people throughout Australia
in the organizing of "Zimmering", and a special thank you to: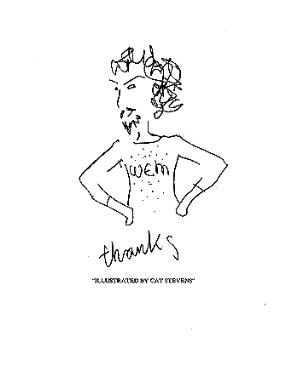 PAN AMERICAN WORLD AIRWAYS INC.

ANSETT AIRLINES OF AUSTRALIA

COCA COLA BOTTLERS THROUGHOUT AUSTRALIA.
2 S.M. SYDNEY
3 X.Y. MELBOURNE
5 K.A. ADELAIDE
4 I.P. BRISBANE

6 P.M. PERTH
THE CHANNEL 7 NETWORK, MELBOURNE,

SYDNEY, BRISBANE, ADELAIDE

and CHANNEL 9 PERTH.

Advertisement for Cat's 1st book 'Teaser and the Firecat'