On May 7, 1967 Cat Stevens performed at the Poll Winnners - All Star Concert in Wembly, England. This Concert program comes courtesy of Jill Mallow.
Cat Stevens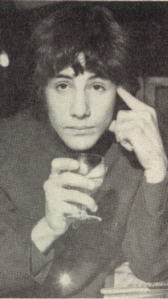 It's not often that a complete unknown sauters casually into the pop business carrying a folder full of his own songs.
It's not often that a complete unknown makes his first record singing one of his own songs and climbs into NME Chart.
Cat Stevens did just that, Son of a Greek restaurant owner and Swedish mother. Cat is something of a pop phenomenon in a business where terms like that are bandied loosely. For proof you just have to glance at his credentials.
Three hit discs on his account with " I Love My Dog" which gained a foothold in the lower reaches of the hit parade; the beautifully written arranged and orchestrated " Matthew and Son" (sincere thanks from Cat to both Mike Hurst and Alan Tew who have contributed their profound musical knowledge to his success) and the controversial " I'm Gonna Get Me A Gun " which simply leapt into the NME's ratings at No. 13.
This, of course is to say nothing of the highly successful and very stimulating " Matthew and Son" LP, Cat put out. And his work for other artist including Paul and Barry Ryan, Wayne Thomas, David Garrick and above all the Tremeloes with there smash " Here Comes My Baby. "
Cat Stevens has made a deep impression on pop in a very short time. In fact, he has set pop by it's ears writing lyrical poetry set to unusual chord sequences and then married to poignant orchestration. Nothing raucous about him, he would describe himself as a romantic, a dreamer even.
Cat is a most unusual personality, fluent, occasionally moody, amusing, witty, preoccupied with the sounds that whirl within his head, he has remained totally unchanged by the razz of fame and a small fortune. Cat Stevens is a sensitive, modest individual laying down superb sounds.