This is the first installment of Qizlo's London Journal, which contains all the details & my thoughts during my recent trip to London. I'm including photos as well to give you an idea of what I saw over there.

Right now I'm having major computer problems, so I must communicate with you while I'm at work.
Mike ( QIZLO )
Friday, March 12, 1999
9:05PM PST
You know, I still can't believe I'm doing this; that is, this trip to
London. Well, I've been in the air for 40 minutes now, so I guess I can't turn back. <g>

The fight has bone very well, I'm surprised they can get so many people on this plane - over 400 - and leave close to time (only about 7 minutes late). I also can't believe that I will be sitting here for 10 more hours! Well, if I didn't put up with this, then I'd never get to see the rest of the world.

The flight left LA International Airport & flew up the coast a bit. I could see the lights of Malibu below. Soon we were so high that I couldn't see anything at all. It's going to be like that for a while.

The pilot just announced our flight path, over LA to Denver, to the mid-west north of Chicago, to Toronto, then along the St Lawrence river to Quebec, then on to Newfoundland where we say good-bye to North America (sounds ominous.). From there we hit land at Shannon in Ireland, go along the south Irish coast over to Wales, then on into England. The pilot will talk again to us tomorrow morning. Can't wait.

Well, I saw the sun rise during the flight, though it was still 2:00 AM California time. The plane was somewhere over Quebec in Canada. I didn't get much sleep on the plane, but enough so I'm not tired.

After flying over the ocean for a few hours I finally saw land - Ireland ! I could see the cliffs off of the west coast of Ireland. The country is such a deep green, the way I imagined it would be. We flew all across Ireland to the other side, then across the Irish Sea to Wales on our way to London.

We had a good landing at Heathrow airport. I got my luggage & went through immigration, all in less than an hour. Then, I got the Heathrow Express train that goes to Paddington Station. From there I took a taxi to my in Kensington. The taxi took me through Hyde Park, which was full of people. The weather was sunny & mild. Reminds me of San Francisco.

After checking in the hotel, I took a walk down the Kensington High Street. It's an upscale shopping area - full of shops, restaurants and pubs. I went to the local tube station to get my weekly Travel Card for London Transport, which can be used on the underground and buses. Looks like I'm ready for the rest of the week.

Well, I started the day with a trip to Portobello Road. Unfortunately, the tube (what we call a "subway") wasn't running this weekend from my local station at High Street Kensington, so London Transport provided buses to the tube stops. I got to Portobello Road, then walked from one end to the other (walking down Portobello Road for miles.). The end near Notting Hill Gate is a residential area. Further down the road there are more shops and businesses. Unfortunately, the market is held on Saturdays, so there was nothing going on when I got there. There were only a few wholesale fruit and vegetable deliveries.

I walked a block away over to Basing St, at the site of the old Island Records Studio. There is a recording studio there, but under a different name. I then then got a shot of the apartment that appears on the View from the Top LP. It's right across the street from the studio.

From Portobello Road I went over to Oxford Street, on my way to Shaftesbury Avenue. I ended up at 245 Shaftesbury Ave., site of the Moulin Rouge Restaurant, below the childhood home of Cat. It's now the Alfred Restaurant. There are three stories of apartments above the restaurant where the family used to live. The Alfred Restaurant looks very new, as if it had just been remodeled. It was closed, so I'll have to come back for
lunch some other day.

From there I walked over to the Shaftesbury Theatre. They were playing Rent. Then, I walked down to Drury Lane, where I found the Catholic school. I didn't see a school yard, though; just a lot of brick buildings. I continued walking till I got to the Strand & the Justice Courts. From there I took a bus over to Picadilly Circus to visit the British Tourist Centre.

Picadilly Circus reminds me of Times Square in NYC, with its flashy neon billboards. I stopped at the Tower Records there to pick up some CD's (a Clannad & a Fairport Convention CD that I can't find anywhere in the US). Then, I went off to Leicester Square to have lunch at an outdoor Italian café.

After that, I took the tube to Waterloo Station to get my Eurostar train tickets for Paris on Saturday. I then took the tube back to Oxford Street to visit the Virgin Megastore & to visit a cyber café, the Webshack, to send some e-mail. BTW, I was originally going to send e-mail from a cyber café on Portobello Road, but the place is no longer there ! Go figure.

On my way back to the hotel, I stopped at the Hard Rock Café near Hyde Park Corner to pick up some t-shirts for the people at work. I'll probably come back to pick up some other stuff later. I had to forget about eating there - the line is so long to get in !

The weather today has been sunny & cool. I hope this keeps up. This has truly been a Lovely City.


Well, another beautiful day out today, sunny & even warmer than yesterday. I even had to pack away my jacket.

I started today's outing with a trip to Fulham Road and the Walham Grove area. The Fulham Road has a lot of interesting boutiques - like something out of the sixties. I can see why Cat decided to move into this area. I walked down Walham Grove Road, where I imagine Cat's old house used to be.

There is a row of houses there that match the description I read. The houses are all 3 stories high with terraced gardens leading down to a basement entrance. I didn't see a house with a zen garden, which would be a dead give away.

From there I took the tube all the way over to Westminster to start my visit of the City & all the tourist sites. I started at the Houses of Parliament. As soon as I stepped out of the tube station, I saw Big Ben right in front of me. That thing is huge ! I walked across Westminster Bridge to get a better picture of Big Ben. Then, I walked over to Westminster Abbey.

There is so much to see here. I was fortunate to get here early, as there was already a long line to see the tomb of Queen Elizabeth I. The tombs of the kings & queens were very impressive. There is also the poets' corner, where so many famous writers are buried or at least memorialized - Chaucer, Tennyson, Lord Byron, Dickens and even Frederick Handel. I didn't know so
many famous people were buried in the same place.

From here I was going to go up to St Paul's Cathedral, but the tube station over there had been evacuated because of an emergency. (!) Instead, I went on to the Tower of London.

I made it to Tower Bridge to get some photos of the tower. From there I walked over to the Tower of London, which is actually a large complex of towers and other buildings. It's almost a small city in itself.

I started at the Medieval Palace, then on to the White Tower which houses the national armory. The armory has hundreds of swords and pistols, along with canons and kegs of gunpowder. I visited the Jewel Tower, where the royal jewels are kept. They presented a multimedia projection of the coronation of Queen Elizabeth II. It's all very impressive.

There were about 4 towers there, but I only climbed 3 of them. There were no elevators back then & I had to climb all those steps, mostly on stone spiral stairs. Outside on the green was the chopping block where Anne Boleyn & others lost their heads.

From there I finally made it to St Paul's. Now, I thought I was done with climbing for the day. However, at St Paul's I climbed to the upper gallery, then on to the top of the dome, over 300 steps ! I thought I was going to die. In the end, it was worth it. The view from the top of St Paul's is worth it, especially with all the sunny weather outside. Of course, there was that climb back down, which I didn't look forward to. After I got down, I stopped at the cathedral café for a well-deserved break of tea & cake. Then, I headed back to the hotel. I just wonder how I'm going to feel tomorrow.


Well, I started today with a trip to the Mayfair area. Of course, I went to visit 27 Curzon St, the former office of Barry Krost Management. There is nothing there now; it looks completely vacant. Also, the bank across the street is no longer there (are we rich yet?). The Mayfair area is quite posh, with a lot of foreign embassies located here.

From there I took the tube over to Euston Station to take the train over to Coventry for the day. I've heard so much about Coventry Cathedral that I had to see it first hand.

The train trip was great! It was still sunny out & it made the English countryside look so beautiful. There were rolling green hills and pastures full of sheep, cattle & horses. I wish I had time to explore the countryside first hand. There must be some great hiking trails lurking around.

After about an hour, the train rolled into Coventry. The city centre is closed to traffic, and is full of shops, something like a large pedestrian mall. Just off to the side is the cathedral and the visitors' center.

The cathedral is very impressive. Only the outer shell remains of the original cathedral, once one of the largest in England. The effect of standing in the middle of the ruins is chilling. I can't imagine what it was like back when the city centre was bombed by NAZI planes during the war. What was the point of all that? The new cathedral stands right next to the ruins of the old one. It's architecture is very modern. It's more a symbol of the rebuilding of England after World War II.

From there I walked over to Spon Street, which was the main street back in medieval times. Right now, it looks more like a medieval construction zone. Most of the shops were closed & there was a lot of remodeling going on. I guess they are getting ready for the summer crowds. BTW, this is also the city of Lady Godiva. I can just imagine her riding her horse down
the street. There are a lot of tributes to Lady Godiva throughout the town. There are also reminders of Peeping Tom, the guy who actually watched
her while everyone else stayed away. Oh well, I guess there's always one in the crowd. <g>

On my way back to London, one thing I noticed was the canals. They seem to run the length of the railways. There were some colorful barges along the
canals too, so they must still be in use. It was so sunny out that I would have taken a barge all the way to Coventry, if that's possible. That would be a great way to see the countryside.

Wednesday, March 17, 1999


It's such a lovely morning today that I decided to go across the street from my hotel to visit the Kensington Gardens and Palace. I was surprised to see so many people out this early in the morning, around 8 AM.
Kensington Palace was where Queen Victoria was born, also where Princess Diana used to live. It wasn't open to the public at this time, as I think one of the royal family is still living there. I imagine the palace has a lot of empty rooms too.

>From here I went over to Kilburn to visit the Islamia school. The school is actually pretty large, with a main building and many smaller brick bungalows. The school is surrounded by a high fence, so it's hard to see what's going on inside. The place actually looked abandoned. I only saw a woman in full hijab with a boy in the courtyard. Across the street is an islamic high school for boys & girls. I saw a group of girls outside
wearing long black robes and white head scarves. They almost look like a group of nuns.

From Kilburn I went down to Waterloo Station to get my tickets for the Paris metro. The station sells a Paris Visite card which I can use to access the metro, and offers discounts to different attractions in Paris. The sales girl told me I don't have to queue up to get onto the metro when I get there. Tant mieux !

From Waterloo I took a train over to Hampton Court Palace. It was originally built for Cardinal Wolesly, but he gave it over to King Henry VIII. About 200 years later, King William III built another palace next to the original one, which are both connected.

This has to be the most amazing site I've seen in England. In the old palace I visited the Tudor kitchens, a Tudor portrait gallery, and the hall where King Henry VIII held court. The hall was huge & the walls were
covered with tapestries. There is also a chapel that was built for Cardinal Wolesly. It's still a functioning church, with its own choir and evensong services.

The newer palace is even more spectacular. It's full of baroque furnishings, sculptures, paintings and murals. Outside there is a huge garden, with fountains and topiaries. There is also a maze made up of hedges, which were popular at that time. I got lost inside that thing for over 25 minutes ! After that experience I headed over to the tea room for a tea and cake break before heading back to London. I sometimes wonder if
afternoon tea was invented by some exhausted American tourist. <g>

The weather today was the best this week. It was completely sunny out & got up to 70 degrees. I brought all these heavy clothes which I don't think I'm even going to need here. I thought it was supposed to be cold and damp in England.

When I got back to London, I hung around the Soho area. It's St Patrick's day, so there were a lot of people out at the pubs. What I notice is that the crowds from the pubs spill out into the streets. People will stand
outside with their drinks in hand, something you'd never see in the US. There were crowds of people in Soho, just standing outside the pubs. The streets are rather narrow, so it looked like a block party. The area is full of pubs and restaurants, though the shops mostly close around 7PM.



Today I started out by making a visit to Yusuf's office over in the Highbury area. The office itself is not open to the public. It's in a whitewashed brick building with no windows. There is only an intercom at the door to let people in. There was only a list of tenants outside the door on the intercom. The only tenant I recognized was the UKIEW, an educational organization the Yusuf is involved with. I didn't see anyone around, so I headed off to my next destination.

Next, I went to Buckingham Palace to see the changing of the guard. There was already a large crowd of people outside the palace, so it was hard to see what was going on. The whole thing looked like a huge parade, with marching bands and soldiers on horseback. There were people standing outside the palace. Later on, they were taken away in horse drawn
carriages. I imagine they were diplomats. I didn't see the queen or any of the royal family, though. She was there, because the flag was up at the palace. The proceedings went on for over an hour.

After that, it was time for lunch. I went over to Alfred's Restaurant on Shaftesbury Ave. to see what they had to offer. The restaurant itself isn't very large, though there were a lot of tables. The restaurant has windows facing New Oxford Street as well. The place looks very modern, with new furniture & fixtures. The food here is contemporary continental cuisine. I have no idea what it was like when it was the Moulin Rouge. I had a great salmon salad and a confit de canard with orange sauce, served over mashed potatoes. I guess you could say they do a great duck & mash over here. <g>. The place got very crowded later on, mostly full of business people. The place is obviously very popular. I don't see why not, 'cause the food was great. I also couldn't believe that I was inside Cat's old home. Too bad I couldn't go upstairs to check out the living quarters.

After lunch, I walked over to the British museum, which is a few blocks away. This place is huge! The admission is free, though they do request a 2 pound donation. The collection of Babylonian and Egyptian sculptures and artifacts is very impressive, as are the Elgin marbles taken from the Acropolis in Athens. The famous Rosetta Stone is there as well. The is also a good collection of ancient British artifacts, from early Celtic times, from the Roman occupation and from Anglo-Saxon times. There was the ship burial from Sutton Hoo, full of old Anglo-Saxon artifacts. There are also sections for Asian and Islamic art. The place is so huge that I didn't get to see everything. After a few hours there, I headed to the café for tea & cake, then on to the bookstore. I picked up a book on Egyptian hieroglyphics published by the museum. Perhaps if I ever come back here, I'll be able to read some of the inscriptions on the sculptures.

After the museum I walked over to Denmark Street in Soho. The street is full of music shops, selling musical instruments, sheet music and a bookstore devoted to popular music called Helter Skelter. I didn't find any material on Cat, though. It's almost as if the City has forgotten him.

I ended the day with dinner at Govindas, a vegetarian restaurant run by the Hare Krishnas. It was a rather exotic experience. The people there were very friendly, not as strange as I would have expected. The food there is great, with an all-you-can-eat buffet full of Indian style vegetarian dishes, along with pizza and lasagne. The place fits right into this eclectic, trendy area.

Well, today is my last full day in London. I started out by going over to Hammersmith to visit the art college. I don't know if the place I visited was the same place Cat attended. The campus was full of modern looking buildings. Perhaps they were added later. I also didn't see anyone playing guitar on the stairs. <g>
From Hammersmith I went over to Regents Park to visit the London Central Mosque, just in time for the Friday services. When I got to the Baker Street tube station, there was a guy standing outside dressed up like Sherlock Holmes. I should mention that the Sherlock Holmes museum is close by, along with the Planetarium and Madame Tussaud's Wax Museum. There was such a long line at Madame Tussaud's that I thought I'd pass it up for now.
At the mosque I saw a lot of people arriving for the Friday service. I noticed that there was an old lady outside the mosque in full Muslim garb begging for money. She said something to me in Arabic, which I didn't quite catch. I couldn't tell if she was begging for money for herself or for some charity. I didn't see any sign of Yusuf while I was there. There were other guys who looked like Yusuf, in similar Muslim garb. Maybe I'll catch him some other time.
The mosque has a huge dome and a minaret. I was surprised that I didn't hear the adhan, or the call to prayer being shouted from the minaret. Maybe the neighbors would complain or something. BTW, I did notice that on Sundays, the church bells do ring out in London. That's something I don't hear anymore where I live, I guess because people nowadays complain about the noise. Oh well…
On my way back I stopped at the Globe restaurant for lunch, near the Baker Street tube station. The place has been around since 1735, and was frequented by Charles Dickens, Alfred Tennyson and Sir Arthur Conan Doyle. If they used to eat there, then the food must be good. I had an excellent pie & mash there. It's also the first time I sampled English cuisine in London. There is such a variety of restaurants here, and every place I went to had excellent food. I found French, Italian, Indian, Thai, Chinese, even Mexican cuisine. People kept telling me that the food in London was terrible, but I found it otherwise.
Then, I went over to Oxford Street to check out some of the stores in Soho. I spent a lot of time at Foyles, a huge bookstore. You can find practically any book your looking for there. I then went over to the Borders Books & Music where I found Yusuf's Prayers of the Last Prophet. I didn't see it at all at the larger music stores (Virgin, Tower, HMV). Too bad I couldn't get Yusuf to autograph it for me.
From there, I went over to Harrods in Knightsbridge to find some gifts to take home. This store is huge! I spent over an hour there and didn't even see every department. The store is owned by Mohammed El Fayed. He set up a memorial for Princess Diana and his son Dodi in the store. It is the only place where you can take photos inside Harrods. The memorial is simple, just photos of Diana & Dodi, with candles & flowers surrounding. There is a table where people left cards & messages.
I next visited the Egyptian Room, which has sculptures and artifacts from ancient Egypt. It's like the British Museum in miniature. From there, it was on to the food halls, which are quite overwhelming. There are all kinds of gourmet foods available, rooms set up for meats, cheeses, teas, a bakery, wines, sweets and other things. There must have been at least 30 varieties of paté available. Then, it was on to the gift shop, with all sorts of Harrods inspired gifts. There was also a room devoted to Easter things, with baskets, Easter eggs and a huge chocolate Easter bunny (he must have been 3 feet tall).
I just took a quick look at the men's department, then headed out before I totally blow my travel budget.
Next, it was off to Hard Rock café to buy a few more souvenirs and gifts. The crowd was still there to get in, so I never actually got to go inside. From there, I went over to Picadilly Circus to pick up a few more souvenirs & check out the lights at night. I kept getting the impression that I was back on Broadway in New York City, with all the neon lights and the crowds of people. It's was an exciting ending to my London visit.
Well, today I am off to Paris. I started out early to get the tube to Waterloo Station for the Eurostar train which left at 7:00 AM. The trip takes about 3 hours, with a one-hour time change in France. It brought me into Paris after 11:00AM.
The train trip went very well, with one stop only at Ashford in Kent. The train is very modern & comfortable. After an hour & and half, we reached the channel tunnel. I never actually saw the English Channel before crossing over to France, just a dark tunnel entrance. The trip through the tunnel lasted about 20 minutes. I didn't feel anything different while traveling under the channel. I thought my ears were going to pop. Afterwards, we were on the other side in France, racing through the countryside at 300 kilometers per hour ( about 186 mph). The train didn't travel that fast while we were in England. I imagine it was because of the speed limit there… The train traveled on for over an hour, passing by the city of Lille, near the Belgian border. We finally pulled up to the Gare du Nord in Paris.
What struck me as unusual is that when I got into Paris, no one checked my passport. I just walked straight into the train station and off to the metro station. With my metro ticket ready, I was off to explore the city.
I first went over to the Place de l'Opera to go to the American Express office to buy some francs. The opera house is very impressive, with crowds of people gathered on the steps. After I got some francs, I walked over the Galleries Lafayette, which is a huge department store here. I didn't have time to check the whole place out, as I was on a tight schedule. There were street vendors outside on the sidewalk, which is not something I'd expect to see. I imagine you could get a better deal on the street than in the department store.
From here, I went over to the Quartier Latin for lunch, then off to Notre Dame Cathedral. The whole time I was in Paris it was cloudy and cold, very gloomy.
Inside the cathedral the huge stained glass windows still gave off some great colors. The cathedral is just breathtaking, with its high ceilings & buttresses. Unfortunately, they were remodeling the outside, so I didn't get to go up to the bell tower to visit Quasimodo & the gargoyles. I'll have to do that some other time.
From Notre Dame, I took the metro over the Champs de Mars and the Eiffel Tower. From close up, the tower isn't that impressive. In fact, it looks ugly, with all those steel beams reaching to the top. However, at a distance the Eiffel Tower is very impressive, and it looks spectacular when it's lit up in the evening. There was a long line of tourists waiting to buy tickets for the elevators (there are three levels you can visit). Then, there were longer lines waiting to get into those elevators.
I did eventually make it to the top. The view is great, but I wish it were as sunny as it had been in England. Of course, there was a long line waiting for the elevator to go down. I went down to the second level, then took the stairs all the way down. Once again, I thought I was going to die, but I really had to watch my time. I spent far too much time at the tower just standing around waiting. At least there was a snack bar on the first level, and even a post office to send off some postcards. All in all the Eiffel Tower was an experience, though I don't think I'll repeat it any time soon.
From there, I went over to the Pont d'Alma, where I visited the memorial set up for Princess Diana at the site of that fatal accident. The monument is a golden flame sculpture, something like the top flame from the Statue of Liberty. All around there were flowers and cards from different people. It was certainly a tragic event that affected so many people around the world. To me it links London and Paris together like the channel tunnel, but for different reasons.
Next, it was off to the Champs Elysees to see what I can see. It's a very wide boulevard, with the widest sidewalks I've ever seen. Still, the sidewalks were crowded with people heading in & out of the shops, restaurants and cafes. I spent some time at the Virgin Megastore there, and at another music store to see what goodies I could find, picking up a Francis Cabrel songbook in the end. I walked from one end of the Champs Elyesees to the other, at the Arc de Triomphe. It looks like you can climb to the top of that thing as well, though I declined this time. My time was running out & it was time to head back to the Gare du Nord & take the train back to London. In all, I was in Paris for about 7 hours. I'll have to spend more time here to see the rest of the sites one of these days.
Well, today is my last day in England's green and pleasant land. I arranged a shuttle this time to take me back to Heathrow, where I did some last minute duty free shopping before boarding the plane back to LA. Gosh, is it time to go home already?
I've had such a wonderful time here. The weather & everything else went so much better than I had planned. In the end, I didn't get to meet Yusuf, but I did get to visit a lot of sites from his past. Even better, I got to share my sights & thoughts with you all. I wish you could have all come out with me. I'm still a little weary about travelling by myself, but I was so busy that I didn't let it bother me. To me, it was almost a fact-finding mission. Who knows, I might make take more adventure spring trips in the future.
Take care y'all !
Mike Valenzuela (aka Qizlo).
The Moulin Rouge ( aka )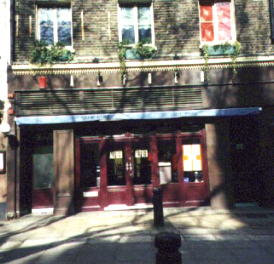 The Alfred Restaurant on Shaftesbury Ave.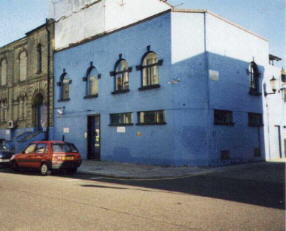 The old Island Studios building.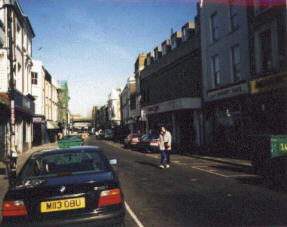 Portobello Road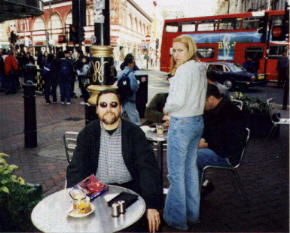 Qizlo goes to Leicester Square.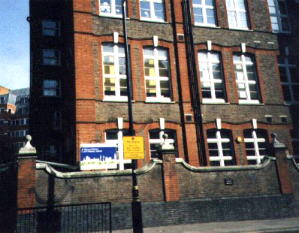 The Catholic school on Drury Lane.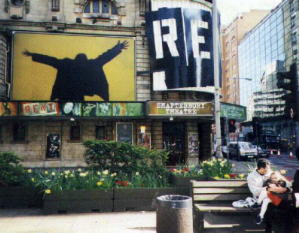 The Shaftesbury Theatre.

The Basing St. apartments from

The View from the Top LP.




Big Ben, of course.





The chopping block where lovely Queen Anne Boleyn lost her head.





Coventry Cathedral - where it's " so quiet in the ruins."




The former office building of Barry Krost Management - 27 Curzon St., Mayfair



Walham Grove, looking at Cat's old neighborhood.





"The View from the Top " - of St. Paul's, that is.




St Paul's Cathedral, though I couldn't find that lady who feeds the birds.





The British Museum




Buckingham Palace, during the changing of the guard.


The clock tower at Hampton Court Palace




Hampton Court Palace, as seen from the gardens


The Islamia school in Kilburn




Kensington Palace (I don't want to live in a palace.)





Qizlo at the Alfred Restaurant (does the meal come with peas?)




Yusuf's office in Highbury





London's central mosque.





The Eiffel Tower !





Notre Dame de Paris


"The view from the top " - of the Eiffel Tower, that is.