This songbook comes courtesy of Vince Wilson and is a wonderful songbook with many beautiful photographs and all the song chords for both the guitar and paino. Not to mention all the drawings for all of the polygon cartoon characters.
---
THE NUMBERS SONGBOOK
A Pythagorian Theory Tail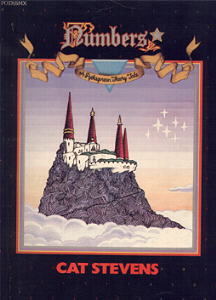 How come things seem to happen in threes? Is it sheer coincidence or merely the normal cycle of happenings?
But then, numbers have always figured into Cat's life. As a child, there was the lucky number three. As a recording artist, when he first started writing, all verses came in threes. The number created a unified form: the beginning, the middle and the end.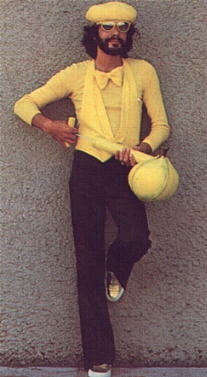 It was during Cat's 1974 Australian Tour that the doctrines of Pythagoras were revealed to him by a tall lady named Hestia Lovejoy. In return he dedicated his album NUMBERS to her and proceeded to complete his musical concept.
From the remote teachings of Pythagoras, Cat began to develop an idea about using numbers as symbols or manifestations of the laws of life as they happen in the Universe.
In November 1975, the idea began shaping into a fantaspiritual musical set on the planet Polygor. In the story, there is a castle with a number machine. This machine existing to fulfill the sole purpose of the planet: to disperse numbers to the rest of the universe. Only ten inhabitants exist on Polygon. 1,2,3, 4, 5, 6, 7, 8, 9 and 0. 0, known as Jzero, turns out to be a prophet who comes from nowhere as a slave and eventually confuses everybody with his simple truth.
It took Cat three months in Brazil to complete writing NUMBERS. He then set out to find writers for the story. He found them in two English humorists named Chris Bryant and Allan Scoff. The combination proved to be synergetic, for when they joined Cat in Canada for the recording of the album, they quickly outlined and worked out the story. Most of the work was completed before Cat flew to Paris in June 1975, to begin his drawing.
As though drawing in Paris weren't enough inspiration, Cat drew from Disney for a feeling of detail and reality. He borrowed from Disney's use of shadows to lend a quality of mystery. Often detailing from the interiors of a design before ever approaching the exterior scenario. By July, Cat was ready to return to the States, with 50 illustrations in hand, for the release of his new album.
One wonders whether the album NUMBERS and the book, both filled with magic, fantasy and spirit, are the finale for this phase in Cat's creation, They are, after all, two remarkable pieces. But as numbers seem to go, especially for Cat Stevens, we can probably expect a third. Things do seem to happen in threes.
THE PHOTOGRAPHS
THE POLYGONS