These are Linda Crafars pictures from her recent trip to London this past fall during her Cat Stevens Moonshadow pilgrimage. She was able to eat at a restaurant now called Afred's but was once under the watchful eye of Cat Stevens fans in the 60's and 70's as Cat Stevens parents restaurant. She also strolled through the street made famous by a Cat Stevens song. And took pictures of the stairwell that Cat was photographed standing on in many pictures.
The Restaurant
Cat Stevens parents restaurant ' The Moulin Rouge' later renamed Stavros in the 1970's. It is now under new ownership has been rename to Alfreds.
The actual address of the restaurant is:-

245 Shaftesbury Avenue
London WC2H 8EH

The closest tube station would probably be Tottenham Court Road.
I went and had lunch there when I was in London in August. I felt like standing on the table, clinking a spoon on a glass to get attention, and yelling to all the oblivious diners, "EXCUSE ME BUT DO ANY OF YOU REALIZE THE HUGE SIGNIFICANCE OF THIS BUILDING?" I got a warm glow just thinking about all the beautiful music that was composed in the home above me.
Cat Stevens Parents Restaurant
3 photos of Cat's old house, as per the beginning of chapter 2 in Davids Evans book. The building actually has 3 sides visible.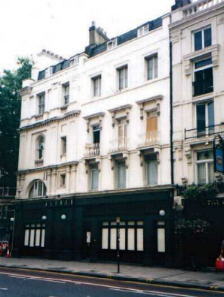 North Oxford Street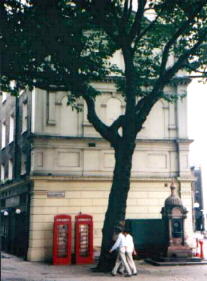 Side View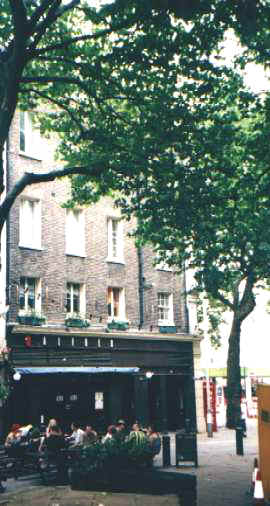 Shaftsbury Avenue
---
The street turned into a song

Portabello Road

GETTING HUNG UP ALL DAY ON SMILES, WALKING DOWN PORTOBELLO ROAD FOR MILES, MEETING STRANGERS IN INDIAN BOOTS AND YELLOW TIES AND OLD BROWN SUITS, GROWING OLD IS MY ONLY DANGER.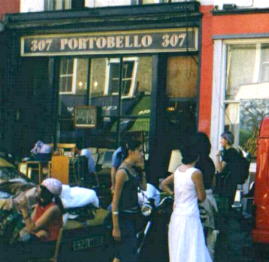 CUCKOO CLOCKS AND PLASTIC SOCKS, LAMPSHADES OF OLD ANTIQUE LEATHER, NOTHING LOOKS WEIRD NOT EVEN A BEARD, OR THE BOOTS MADE OUT OF FEATHERS,

OH I KEEP WALKING MILES TILL I FEEL A BROOM BENEATH MY FEET OR THE HAWKING EYES OF AN OLD STUFFED BULL ACROSS THE STREET.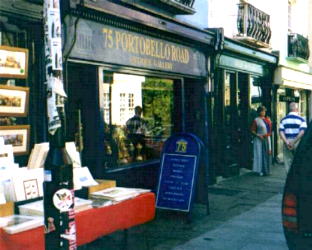 NOTHING'S THE SAME IF YOU SEE IT AGAIN, IT'LL BE BROKEN DOWN TO LITTER, OH AND THE CLOTHES, EVERYONE KNOWS THAT THAT DRESS WILL NEVER FIT HER
---
The Stairwell

Basing Street
The Stairway from Basing Street and the European "View from The Top" album cover, also the photograph on the' Morning Has Broken' music sheet and other photographs were taken from this stairwell.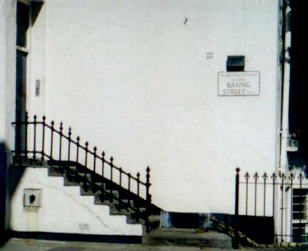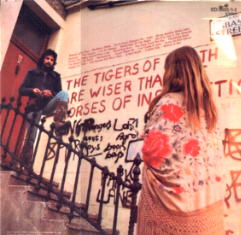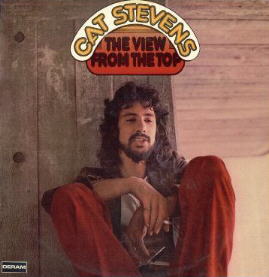 ---