This comes courtesy of Gloria Mills, who had in the midst of Cat Stevens career had written and asked about a Cat Stevens' fan club. This is the letter she received from Sarah Harrison, explaining the Fantasy Ring - Cat Stevens fan club.
Cat Stevens Fantasy Ring Letter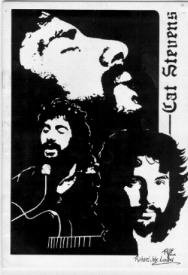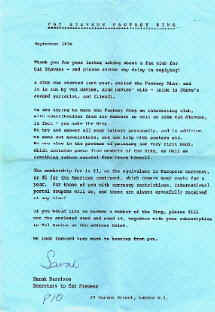 September 1974
Thank you for your letter asking about a fan club for Cat Stevens - and please excuse any delay in replying!
A club was started last year, called the Fantasy Ring, and it is run by Val Davies, Alun Davies' wife - (Alun is Steve's second guitarist and friend).
We are trying to make the Fantasy Ring an interesting club, with contributions from its members as well as from Cat Stevens, in fact - you run the Ring.
We try and answer all your letters personally, and in addition we send out newsletters, and can help with posters etc. We are in the process of printing out our very first book, which contains poems from members of the ring, as well as something rather special from Steve, himself.
The membership is 1 pound or the equivalent in European currency, or $5 for the American continent, which covers most costs for a year. For those of you with currency restrictions, international postal coupons will do, and those are always gratefully received at any time.
If you would like to become a member of the Ring, please fill out the enclosed card and send it together with your subscription to Val Davies at the address below.
We look forward very much to hearing from you.
Sarah
Sarah Harrison

Secretary to Cat Stevens

27 Curzon Street,

London W.1.

---