Wish Upon A Christmas Star
This song was released in New Zealand in the winter of 2001, to help benefit the New Zealand Red Cross and an attempt to seek harmony within our turbulent world, after the tragedy of September 11, 2001. Courtesy of Linda Crafar.
To listen to this song, Click Here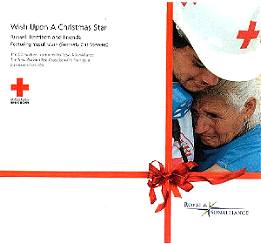 Wish Upon A Christmas Star
Russell Harrison and Friends
Featuring Yusuf Islam (formerly Cat Stevens)
This CD has been sponsered by Royal & Sunalliance.
The New Zealand Red Cross benefits from your purchase of this CD.
OPENING MONOLOGUE: YUSUF ISLAM (FORMERLY CAT STEVENS)

SINGERS: RUSSELL HARRISON, SUZANNE LYNCH, TAISHA KUHTZE, HAMMOND GAMBLE

BACKING VOCALS: JAMES GAYLYN

WRITTEN BY: TROY SUGRUE, TONY PIGGOTT, DEAN KERR, AND BRUCE LYNCH
Monologue Narrated By Yusuf Islam
"Today, there's a growing sense for the need to heal the cuts on the wounded body of humanity. Out of the shadows of death, positive signs are arising — human beings banding together to help ease each others pain — helping to re-build not just the structures but the human spirit and in the process, learning more about our fellow man & knowing our neighbours.

….Yes, why must we go on hating?
Why can't we live in bliss?"

Wish Upon A Christmas Star - Lyrics

Written By T Sugrue / T Piggott / D Kerr / B Lynch

Let there he peace in the world this Christmas

When war is over no guns to he heard

The songs and laughter of Children will cover the earth

We will hear the choir of angels singing hallelujah

Come join Lis and wish upon a Christmas star

Let there be peace

Let there be hope in the world this Christmas

The promise of a future that's bright

When times are hard let hope be your strength and your light

We will hear the choir of angels singing halIelujah

Come joinn us and wish upon a Christmas star

Let there be hope

Through the tears of this sad night

Join our hands, together we rise

Though you may feel it's out of control

By changing yourself you can change the world

Let there be love in the world this Christmas

A child is born all beauty and light

Those who behold are touched by love at first sight

We will hear the choir of angels singing hallelujah

Come join us and wish upon a Christmas star

Let there be love